Everything You Want To Know About EHTERAZ app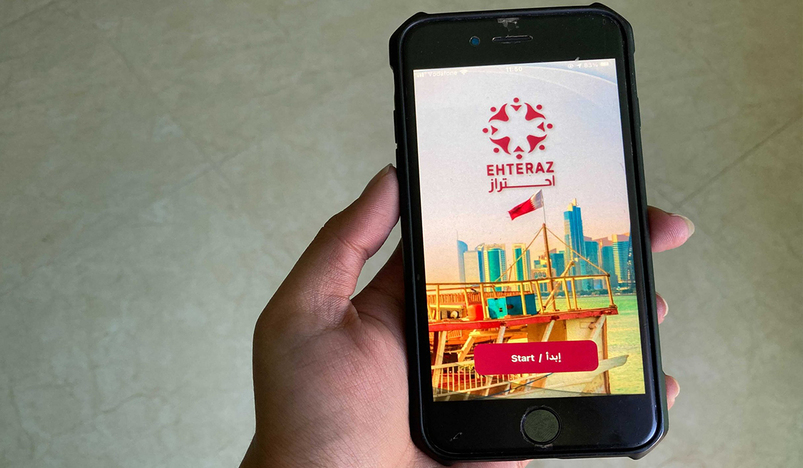 Everything You Want To Know About EHTERAZ app
All citizens and residents are obligated to install the Ehteraz app on smartphones when leaving the house for any reason. This decision is effective from Friday, 22 May 2020 until further notice.
The app, which will help track COVID-19 transmission chains, alerts individuals and stakeholders to expedite the provision of medical support and prioritise testing, is now available for download in App Store and Google Play. 
How to install and register?
- After installation and opening the app for the first time, you will be asked to allow the app to use Bluetooth, to send notifications, and to change location authorization to 'Always' from the settings.
- Press the START button.
- Choose language and press ACCEPT after reading the Terms & Conditions.
- You will be asked to type in your mobile number, QID number, and QID expiration date. Press the REGISTER button.
- An OTP number will be sent to your mobile number. Enter it on the space provided on the app to complete the registration.
- You will then be able to see what is your QR Health Code and will now be able to use the app.
App Highlights:
- Track those in quarantine and ensure their presence at home/hotel/hospital during the assigned period
- Relevant authorities can reach suspected cases and provide necessary healthcare without any delay
- Sends out an alert if the person comes in contact with infected people
The above infographic shared on MoTC Twitter page shows that the profile of each user is linked to respective QR Codes by auto-matching the person's health information from official entities.
QR Code categories will be:
Green: Healthy individuals who do not show any symptoms or those with negative outcomes
Grey: Suspected cases, individuals with symptoms, or in contact with positive cases and have not been tested
Yellow: For individuals in quarantine facilities
Red: For people who have tested positive for COVID-19
Which hotline number can I call to ask about the app?
For all technical related questions and inquiries, you can call the Qatar Government Contact Center 109. It is available 24/7 and available in 9 different languages. 109 QGCC is the official and unified hotline supporting Qatar government e-services.
Compatibility requirements
For Apple users, the app requires iOS 13.1 or later. It is compatible with iPhone, iPad, and iPod touch. As for Android, it requires Android 5.0 and up. Before downloading the app, make sure you update your phone's software first.
iOS 13.1 compatible phones are iPhone 11, iPhone 11 Pro, iPhone 11 Pro Max, iPhone XS, iPhone XS Max, iPhone XR, iPhone X, iPhone 8, iPhone 8 Plus, iPhone 7, iPhone 7 Plus, iPhone 6s, iPhone 6s Plus, iPhone SE, iPod touch (7th generation).
What languages are available?
Only two languages are currently available, Arabic and English. You can choose the preferred language after installing the application on your phone.
The app is being enhanced and urged all residents to keep it updated. Besides helping enhance preventive measures and curb the spread of Covid-19, Ehteraz displays the latest developments and official statistics related to the outbreak. The app also shares awareness and precautionary instructions issued by the official authorities.
Meanwhile, Vodafone and Ooredoo have removed data usage charges for Ehteraz.
A tweet by Ooredoo said: "Dear customer, we The recently launched Ehteraz app seeks to protect the community from coronavirus (COVID-19) infections and strengthen preventive measures to limit the spread of the virus in Qatar, a top Ministry of Public Health (MoPH) official has said.
Why are there more app permissions for EHTERAZ in Android than on iPhone?
For iPhone, these are the settings that Ehteraz will ask you to allow to access:
- Bluetooth
- Siri & Search
- Notifications
- Background App Refresh
- Cellular Data
Compared to the iPhone, the Android version of the app needs more permissions but we must also remember that they run on different operating systems.
In a Twitter thread posted by Bo Arhama, a tech columnist in Al Arab newspaper, he mentioned that he got in touch with the team responsible for the implementation of Ehteraz and that the app does not collect any user-specific information. "It also does not use any of the tracking information for any other purposes. The application follows the state's regulations and legislation in this regard and referred to in the application. The full text of the privacy policy will be included in the application soon.", he further mentioned in his tweet.
Why does the app need Bluetooth and location to be always turned on?
According to the pop-up text once the app is opened, Bluetooth is used by the app for contract tracing with different users of the same app for COVID-19 prevention. The MOI replied on Google Play reviews that it is used to help identify if the person near you has been quarantined or infected.
In the FAQ section of the app, it says that the application will not work without Bluetooth being enabled.
Ehteraz app does not violate the privacy of individuals, he added.
"We confirm that all user data on Ehteraz app is completely confidential and is only accessible to relevant, specialised teams when necessary," Director of the Public Health Department at the MoPH Sheikh Dr Mohammed bin Hamad al Thani said.
He said the app seeks to protect society from COVID-19 infections by alerting people who have come in contact with a person who has been infected.
"When someone is diagnosed with COVID-19, every person with the Ehteraz app that they have recently been in contact with receive an alert to go to the health center to be checked," he said.
The app also provides the latest, official updates and statistics issued by the Ministry of Public Health around COVID-19 in a simple, concise way. It also has a feature to notify users of the latest awareness and precautionary instructions issued by the official authorities in the country, he pointed out.
The official said the app installation steps are easy as Ehteraz is available for smartphones and can be downloaded from the Apple Store and Google Play.
Once installed, he said, there are several steps that have to be completed to activate the app. These include reading and agreeing to the terms and conditions of the app and providing the required information (mobile number, ID number, ID expiry date). Then, a text message is sent to the user's mobile number which includes a verification PIN that has to be entered in the dedicated field on the app, with which the final phase of user registration on Ehteraz is completed.
After the app has been fully installed, a page containing the current health code of the user appears, through which they can know their health status through different colours, he said.
The green colour means that the user does not have COVID-19. The grey colour means that the user has either come in contact with a person who has the virus or has been tested and is awaiting test results.
The yellow colour is for individuals currently under quarantine, and the red colour means that the user has COVID-19.
The app also has a page that contains the latest statistics from the Ministry of Public Health around COVID-19 in Qatar. It also has another page containing contact numbers in case of any health or technical inquiries.
Regarding how the app can help to trace those isolating at home or under quarantine, he said when individuals under quarantine, be it at home, a hotel, or in quarantine facilities, leave the quarantine without the knowledge of relevant authorities, the user receives an alert through the app and is contacted by the Ministry of Public Health to inquire about reasons of leaving quarantine and then the necessary steps are taken.
On the confidentiality of the data in the app, he said all user data on Ehteraz app is completely confidential.
"Permission to access photos and files may appear automatically on some Android phones. It's a common permission on Android phones for an app that needs access to certain phone files," he said.
He pointed out that Ehteraz needs this access to ensure the user's data remains completely confidential and not tampered with or otherwise compromised.
This data also provides an important, temporary, redundancy in the event of connectivity interruption by providing location data gathered during the interruption to ensure users are provided with the correct status and information, he said.
Regarding the Bluetooth feature, he said through location services, it is possible to determine the location of the user when contacting an infected person, and to know whether this location is a public place such as food stores or any other public location to limit the spread of the virus.
Also, the Bluetooth feature allows the app to accurately determine the distance between users' phones and identify whether the contact has been within the safe, two-metre distance or more.
Through turning on these two features, relevant authorities have access to the needed, accurate information to trace transmission in a better way.
The official said the data provided to the app is only used by relevant authorities for medical and health reasons and is not captured or used for any other purposes.
The app, he said, operates under the strictest privacy and data retention policies, to ensure that any data shared is correctly used. The use is governed by the highest international standards and Qatar's privacy and health laws. Specific details are mentioned in the terms and conditions and the privacy policy of the app.
On why the app requires multiple permissions, and why it is always running - even when users aren't using their phone, he clarified that Ehteraz app requires permissions in order to access parts of your phone that enable it to run in the background, even when the app is not in use.
It is important that the app is always running in order to accurately record interactions with other users and correctly alert you if you have come in contact with an infected person. It can urge you to maintain social distancing and can provide vital information that will let you know when you should get tested or enter quarantine, he pointed out.
Why does it need access to storage?
According to the Ministry of Interior's reply on Google Play Store reviews, the storage permission is required to check the rooted or jailbroken device for security.
What if my phone cannot update to iOS 13.1 and up or Android 5.0 and up?
We called 109 regarding this matter and according to the contact center staff we talked to, if you cannot change your phone, there is no solution for this as of the moment as this is currently the minimum requirement of the mobile application for it to work. We have also sent an email to Hukoomi, the Qatar e-Government Portal, and have yet to receive a reply.
We will have to wait for the next update if they will be able to fix this.
App keeps crashing and showing error
The 109 contact center staff advised restarting the phone as well as uninstalling and reinstalling the application.
I'm on a visit/tourist visa. How can I use the app?
As the app requires a valid QID number for you to register, it is not possible for people who do not have QID to use the app.
My QID is expired. How can I register?
As stated above, the app requires a valid QID number. You need to first have your QID renewed. QID can be renewed using Metrash2 app or the Ministry of Interior's e-services portal. Check here for the steps on how to renew QID online.
The app is draining my phone battery very fast. Can I turn it off when I'm at home?
We have also asked this when we called 109 and were told that it is okay to do so. As long as we make sure to have it turned on when heading outside for any reason.
Mobile applications using Bluetooth and location sharing can typically cause a phone battery to drain. However, contact tracing apps seem to be draining batteries faster than other apps. Contact tracing app users in Australia and Singapore have been facing similar issues as well.
Source: QNA, Gulf Times, Qatar Tribune, Marhaba Qatar, MOPH, GCO Qatar, ILQ.net