Enhanced MCO for most parts of Selangor to end as scheduled on Jul 16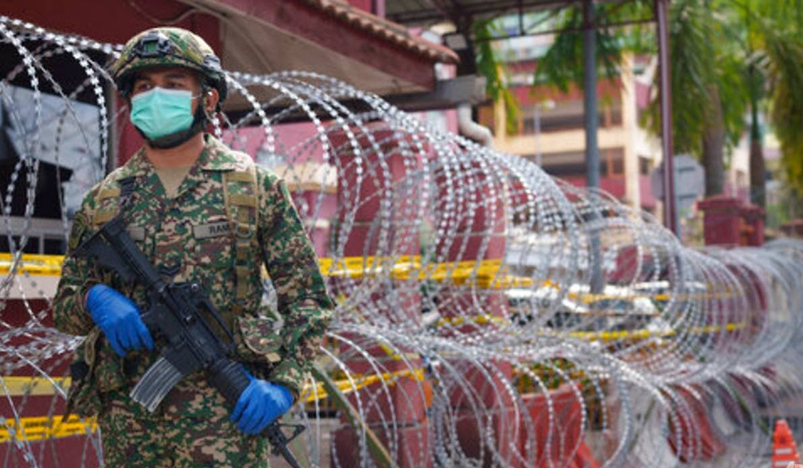 An armed soldier stands guard outside a high density residential area placed under the enhanced movement control order (EMCO) on the outskirts of Kuala Lumpur, Malaysia on Jul 2, 2021. AP, Vincent Thian)
KUALA LUMPUR: The enhanced movement control order (EMCO) in many parts of Selangor will end as scheduled on Friday (Jul 16). 
In a press statement on Friday (Jul 16), Deputy Prime Minister Ismail Sabri Yaakob said the decision was made following a National Security Council (NSC) meeting. 
"The MKN special meeting has reviewed the presentation of Malaysia's Health Ministry on the current situation and agreed not to extend the EMCO in all sub-districts involved," he said. 
The EMCO, which required residents to stay at home after 8pm and most factories to shut, took effect from Jul 3 in many parts of Selangor and Kuala Lumpur. 
Sub-districts of Petaling, Damansara, Ampang, Cheras, Kajang, Sepang, Setapak and Klang in Selangor were among many others in the list.+
The restrictions were lifted ahead of schedule on Jul 11 for six of the localities in Kuala Lumpur, and Mr Ismail Sabri had announced on Thursday that the EMCO would end on Jul 16 as scheduled for the rest of the affected places in the capital. 
Currently, both Selangor and Kuala Lumpur recorded the highest number of new COVID-19 cases, along with the neighbouring state of Negeri Sembilan.
According to the statistics provided by Health Ministry director-general Noor Hisham Abdullah on Friday, Selangor, Kuala Lumpur and Negeri Sembilan accounted for 70 per cent of Malaysia's new COVID-19 cases.