Employers not forced to recruit workers of any particular nationality: ADLSA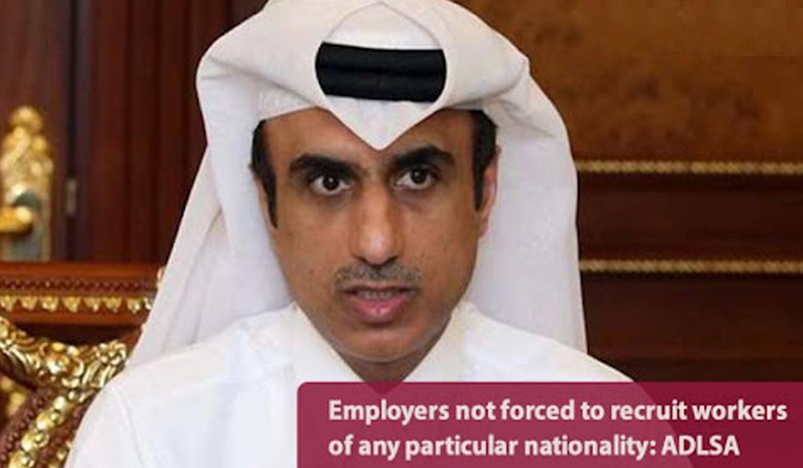 Employers not forced to recruit workers of any particular nationality: ADLSA
Qatar only seeks to attract skilled foreign workers and limit staffing of unskilled workforce as it begins to unfreeze recruitment of foreign labour coming into the country.
The Assistant Undersecretary for Labour Affairs at the Ministry of Administrative Development, Labour and Social Affairs (ADLSA), Mohamed Hassan Al Obaidly has said that Qatar only seeks to attract skilled foreign workers and limit the staffing of unskilled workforce, as it begins to unfreeze the recruitment of incoming foreign labour, into the country.
The senior labour ministry official also remarked that the current State's policy aims to attract specialized, skilled workers, and therefore that is the most important group targeted by this decision. 
Furthermore, Qatar has started issuing 'labour approvals' for foreign recruitment from November 15, paving the way for companies to bring expatriate workers into the country.
"We aim to encourage recruitment of skilled hands and try to reduce the recruitment of unskilled workers as the contribution of specialized and skilled workers will have a positive impact on the national productivity and overall development of the private sector in the country," Obaidly added.
The Assistant Undersecretary reiterated that ADLSA does not inhibit or favour any nationality when it comes to recruitment process. The employer has the right to submit the application for any nationality and the application will be considered as per the relative share of the nationality-based quotas.
Commenting on the priority in issuing working visas to small- and medium-sized companies, especially those that are committed to the labour laws and wage protection system, Al Obaidly explained that the move is aimed at helping these SMEs recover from the negative impact of the pandemic on their businesses as well as employee attrition.
"If a worker seeks to transition from one firm to the other, the company that is losing the worker will be immediately 'compensated with a labour visa' or be given the right to extend the notice period, until it can find suitable alternatives," he added.
Al Obaidly  also revealed that Qatar was on the verge of launching several massive projects, making it necessary for the country to resume foreign labour recruitment, in line with the rollback of measures to contain the spread of COVID-19, adding that the move will benefit the country in general and the private sector in particular.
"The labour ministry is reviewing applications for labour recruitment approvals to assess the actual need. It also checks the compliance levels of the applicants with the labour laws, wage protection system and sees if the company is capable of providing adequate housing to the workers it is going to bring in," he said.
Foreign recruitment will also be in line with Qatar's entry and exit protocols and be facilitated in co-ordination with the Ministry of Interior and the Ministry of Public Health. 
"Qatar takes utmost care to prevent labour exploitation by unauthorized offices, companies and websites and ADLSA strictly monitors recruitment activities to ensure no violations are committed," Al Obaidly concluded.