Embassy of State of Qatar in Mexico Inaugurates New Premises in Capital Mexico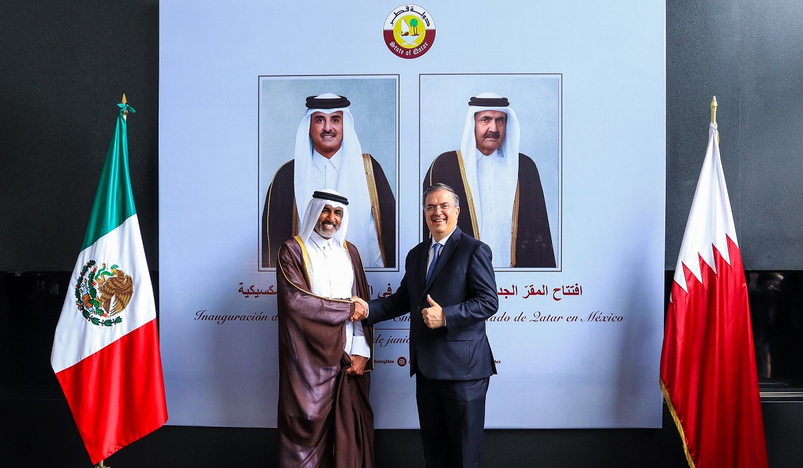 Embassy of State of Qatar in Mexico Inaugurates New Premises in Capital Mexico
The Embassy of the State of Qatar in the United Mexican States inaugurated its new premises in the Capital Mexico with the attendance of HE Mexican Secretary of Foreign Affairs of the United Mexican States Marcelo Ebrard Casaubon as Representative of HE President of Mexico Andres Manuel Lopez Obrador.
The inauguration ceremony was also attended by a wide range of government officials, Heads and Representatives of the diplomatic missions, in addition to dignitaries and figures of the Mexican community.
In his remark delivered during the ceremony, HE Minister of Foreign Affairs Marcelo Ebrard underscored the great importance of the bilateral relations between the two countries in multiple areas, specially the cooperation in the field of sports and Qatar's organization of the FIFA World Cup Qatar 2022.
He expressed his thanks for the significant role undertaken by the Embassy of the state of Qatar in achieving effective and decent communication between the two friendly countries, pointing out to the role of HE Ambassador of the State of Qatar to the United Mexican States, Ambassador Mohammed bin Jassim Al Kuwari, in establishing numerous bridges of communication between the two countries.
For his part, HE Ambassador of the State of Qatar to the United Mexican States confirmed that the inauguration of the Embassy's new premises primarily reflects the state of Qatar's orientation towards solidifying the bilateral diplomatic relations with Mexico in various fields together in the pursuit of achieving peace and maintaining cooperation framework. 
Source: QNA