Egypt falls in love with its new Olympic gold medalist Feryal Ashraf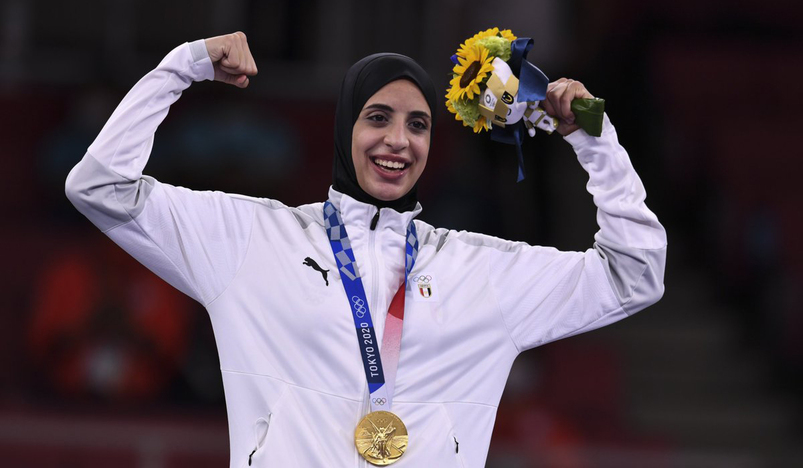 Acclaim pours in for 21-year-old student after karate win
Feryal Ashraf woke up on Sunday morning as the most famous athlete in Egypt. Sorry, Mo Salah.
On Saturday, she claimed gold for Egypt after beating Irina Zaretska 2-0 in the final of the women's karate kumite +61 kg competition at Tokyo's Nippon Budokan arena.
It was Egypt's first gold of Tokyo 2020 and the first Olympic gold won by an Egyptian woman.
"I am very tired, and God did not waste my fatigue," she said the day after her victory. "I thank my father, my mother, my brothers, all the Egyptian people, and my coaches. I hope to make the Egyptians happy."
Her family followed the action from Cairo, staying in touch with her while she was in Japan and helping to ease the pressure while she prepared herself for success by joking with her.
Ashraf's mother was the first to jump up in front of the TV screen at the moment of triumph, with the rest of the family close behind and all screaming with unbridled joy.
Even Egyptian President Abdel Fattah El-Sisi was captivated, congratulating the 21-year-old medalist on her success minutes after she won the final.
"I congratulate the heroic daughter of Egypt, Feryal Ashraf, for winning the gold medal for karate at the Tokyo 2020 Olympics," he said. "It is a new achievement that calls for pride and confirms the ability of Egyptians. I am proud of my daughter, Feryal Ashraf, and every Egyptian who is raising Egypt's name high in international forums."
Her new army of fans cannot get enough of their Olympic champion.
Ashraf loves drawing and reading. Her favorite food is pasta with sausage and mozzarella. She would rather have a partner who is an athlete, someone who can understand her lifestyle of training and championships.
"We are all very happy, this is Egypt's first gold medal in this year's games, and Egypt has risen dozens of places in the classification," her brother Ahmed said. "In addition to that Feryal is the first Egyptian woman to win gold in the history of the Olympics. Feryal was born a hero and will remain a hero."
He added that while Ashraf's success had not been an easy process, she had always been confident about eventually succeeding.
Ashraf's Olympic triumph was years in the making as she took up karate when she was just eight years old.
According to her coach Hani Qeshta, Ashraf's typical training day in preparation for Tokyo would start at 6 a.m. and end at around 10 p.m., despite the fact she is currently studying pharmacy at the British University in Egypt.
Her haul of local and regional titles include a bronze medal at the 2018 African Nations Championship in Rwanda, a gold medal at the World Junior Championships 2019, a gold medal at the African Championship 2020, a silver medal at the Premier League in France 2020, and a silver medal at the Premier League in Turkey 2021.
And, as of Aug. 7, 2021, a glorious Olympic gold.