Education Ministry Partakes in National Sport Day Activities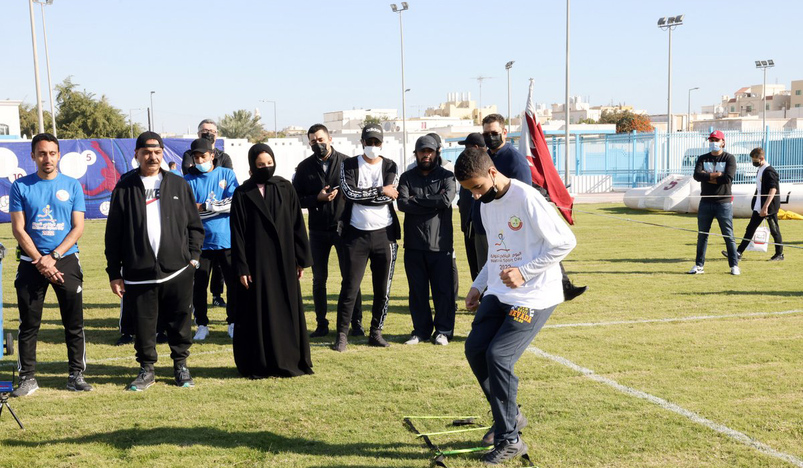 Ministry of Education and Higher Education participated National Sport Day Activities
The Ministry of Education and Higher Education participated in the activities of the National Sport Day with several sports activities organized in Yarmouk Preparatory Schools for Boys, Maria Al Qibtiyya Preparatory School for Girls, and Al Andalus Preparatory and Secondary Private Schools for Boys, which the Ministry designated as sports centers for this day.
The activities of the National Sport Day in the boys center included football, handball, volleyball, jumping, horse riding, and archery. The girls' activities included entertaining games, tennis, Qatari folk games, and group games such as throwing and collecting balls.
While attending these sports activities, HE Minister of Education and Higher Education Buthaina bint Ali Al Jabr Al Nuaimi stressed that these activities reflect the extent of interest in sports, stressing the importance of practicing sports activities and spreading awareness of its importance in society.
HE Undersecretary of the Ministry of Education and Higher Education Dr. Ibrahim bin Saleh Al Nuaimi underscored that Sport Day is an important occasion to promote sports awareness, pointing out the importance of school and university students practicing sports activities.
He referred to the establishment of two sports federations, the Schools Sports Federation and the Universities Sports Federation, adding that the establishment of these two federations reflects the State of Qatar's interest in sports activities, especially in schools and universities.
HE Dr. Al Nuaimi underlined the necessity of continuing sports activities to build a healthy sports community, indicating the close link between health and sports, and their importance to building effective societies capable of giving and contributing to comprehensive development.
QNA