Dwayne Johnson and why wrestlers make ideal Hollywood stars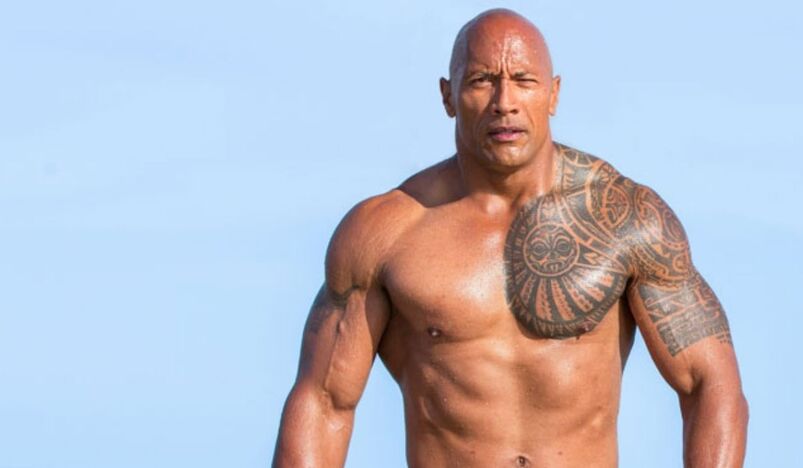 Dwayne Johnson and why wrestlers make ideal Hollywood stars
With Johnson releasing another blockbuster, Disney's Jungle Cruise, and John Cena and Dave Bautista both flying high, wrestlers have taken on the movies, and won, writes Sam Moore.
The movie star is dead. That's at least what box-office trends would have you believe. In a shift from the star-driven days of old, the past decade has seen the Hollywood movie studios instead defer to the power of brand-name recognition as their films' main selling point.
Of the 50 highest-grossing movies internationally in the 2010s, virtually everyone was either part of a pre-existing franchise or a remake. That is in stark contrast to the 1990s where many of the top 10 biggest grossers of the decade worldwide were films based on original ideas and in part vehicles for stars like Bruce Willis, Tom Hanks, and Will Smith. Long gone, now, are the days where putting a specific star on the poster could likely guarantee a profit.
But there is at least one man who subverts the trend: the larger than life Dwayne "The Rock" Johnson. Having started his career as a WWE (World Wrestling Entertainment) wrestler, he made the transition into films around the turn of the millennium. Since making his leading-man debut with 2002's The Scorpion King, for which he was paid $5.5 million – a record for an actor in his first headline role – Johnson has become a bonafide superstar whose films have grossed more than $10 billion worldwide. As box-office specialist and Screen International editor Charles Gant says, these days "very few stars are considered bankable [and] Dwayne Johnson is at the top of that short list". This is something Gant puts down to the fact that his "charisma, versatility, everyman appeal and credibility in action roles is a unique combination". The latest tent-pole blockbuster to bet on Johnson for box-office gold is Disney's comedy Jungle Cruise, which is released around the world this week, and is another rollicking family adventure to match previous Johnson hits such as the Jumanji films and Race to Witch Mountain. Inspired by the Disneyland ride, it is a period romp that sees Johnson play Frank Wolff, a hardnosed but noble captain of a steamboat in the early 20th Century transporting a British scientist (Emily Blunt) down the Amazon river on a quest for the mythical Tree of Life.
If Johnson has bucked trends, however, then he may also have started one – for now he is not the only former WWE superstar making waves in Tinseltown. Indeed, three of the most recognisable male actors in Hollywood at the moment used to dine out on powerbombs and bodyslams. Taking headline roles in two of the summer's biggest blockbusters is Johnson's one-time in-ring nemesis and successor as the face of WWE wrestling, John Cena: he played Vin Diesel's villainous younger brother Jakob in the recent Fast & Furious 9, and this week will also be seen as the bloodthirsty anti-hero Peacemaker in DC comic-book movie The Suicide Squad. And completing the wrestler-turned-movie-star trio is the wisecracking slab of hard-edged tattooed muscle that is Dave Bautista. He was most recently seen as the lead in Netflix's bombastic zombie heist extravaganza Army of the Dead, and is also one of the stars of the upcoming, long-awaited remake of Frank Herbert's Dune.
So what is it about wrestlers that has made their currency so high in 21st-Century blockbuster cinema? Bryan Alvarez, pre-eminent wrestling journalist and editor of the Figure Four Weekly newsletter says certainly in the case of Cena and Johnson, there was a quality they had that always made them suited to Hollywood: "absolutely from day one, [they] came across as guys who could become gigantic superstars."
The root of Johnson's success
In his past wrestling life, Johnson, then better known as The Rock, followed in the footsteps of his father, the pioneering Rocky Johnson, who along with partner Tony Atlas, was the first black champion in WWE history when the duo became tag team champs in 1983. His son then made his WWE debut in 1996 and stopped wrestling full-time in 2004 as his movie career was taking off, though he continued to return intermittently. His last noteworthy match came against Cena at WrestleMania 29 before he announced his official retirement from the sport in 2019.
It was here, in the squared circle – as a member of the menagerie that is pro wrestling, wearing nothing but a pair of black speedos emblazoned with a bull on the bum  – that he began his journey to being a global superstar. Apart from an early period as a rookie where he struggled to win WWE fans over, he was always a firm crowd favorite, eventually becoming the most popular star wrestling had ever seen, appearing in the most-watched segment of all time alongside Mick Foley, and twice headlining record-breaking Pay-Per-View events.
A combination of his playground-repeatable catchphrases that caught on where so many fall flat ("Just bring it", "if you smell what The Rock is cooking", "shut your mouth and know your role"), irrepressible charisma, an animated eyebrow and an astonishing athleticism for a man of his size made him 'the man' in wrestling. In 2001, aged 29, he reached his zenith when WrestleMania 17 became the most watched Pay-Per-View event of all time, mere weeks before he started filming his first lead role in The Scorpion King.
If Johnson quickly became the biggest star to swap the bright lights of the wrestling ring for the brighter lights of Hollywood, he wasn't the first. Hulk Hogan, who was the most popular wrestling star of the 1980s appeared in Rocky III (1982) as the wrestler Thunderlips before returning to the big screen at the end of the decade when his in-the-ring career started to stagnate amidst a steroid scandal and the crowds wanting a change in personnel at the top of the card. However, Hogan's cinematic run was not exactly memorable: unable to escape his already well-established public image as the all-American do-gooder, he was trapped in roles that replicated his ring persona as the man that told you to say your prayers and eat your vitamins and always stand up to bad guys.
His first film as a leading man, 1989 action thriller No Holds Barred, was also his only serious attempt to take his all-conquering hero image from wrestling to film, and it bombed so badly that WWE boss Vince McMahon, who also funded the movie, later joked that Hogan owed him money for the flick's failure. Then he tried his hand at family comedy with two duds: 1991's Suburban Commando, in which he starred as an intergalactic warrior who crash lands on Earth and gets tied up with a suburban American family, and 1993's Mr Nanny, which was also a pale imitation of Arnold Schwarznegger's 1990 vehicle Kindergarten Cop, with Hogan playing a wrestler turned bodyguard tasked with protecting the children of a tech magnate.
Other wrestlers who have flirted with Hollywood in the past include Jesse Ventura (Predator, Demolition Man) and Steve Austin (The Expendables, The Longest Yard) while fans of 1987 fairytale comedy classic The Princess Bride will also remember the wrestler Andre the Giant making a strong impression in the role of Fezzik, the timid rhyming behemoth who is in the employ of diminutive Sicilian criminal Vizzini. However, even though he shone in the role, stardom was not to be. When he appeared in the Rob Reiner classic, he was already in a great deal of pain, particularly in his knees and back, from years of taxing action in the ring and, in 1993, he had a premature death at 46 from heart failure.
What makes the current trio of wrestler Hollywood stars stand out is how much they have to offer on-screen beyond their physical prowess. While they may resemble old-school man mountains like Arnold Schwarzenegger and Sylvester Stallone, they are able to subvert looks and heroic wrestling schticks, taking not just typical tough-guy roles but comedic parts that have shown they are not afraid to laugh at themselves, while still harnessing their sex appeal. Johnson's whole public persona is basically Santa with muscles, Cena is the goofiest goof in Hollywood and Bautista's knack for a kind of pantomime physicality in his performances has endeared him far beyond the wrestling crowd. The three of them stand as outliers in modern mainstream Hollywood cinema, whose male stars, certainly, can tend towards the hyper-masculine, ultra-serious and sexless.
As Christina Newland, film critic and editor of the essay collection, She Found it at the Movies: Women Writers on Sex, Desire and Cinema, says, "I think there is some inherent recognition [in their career choices] of the fact that the WWE is pretty camp, that its brand of muscle-bound masculinity is cartoonish and sometimes silly, but often in a lovable earnest way. Taking some of that self-deprecation and ability to play macho but with a bit of a sense of humour about it is really a nice thing. It takes the image of the macho into the modern age."
The wrestling ring as performance space
Masculinity aside, you could say that the wrestling ring is a perfect rehearsal room for Hollywood stardom: space where you can create broad crowd-pleasing performances within a fantastical and absurd milieu. "At its core pro-wrestling is just people playing characters," as Alvarez says. "Particularly in WWE, wrestlers are given scripts to memorize and recite in front of the cameras, they play characters that sometimes are not close to who they really are, and they act out imaginary scenarios." Alvarez says that Johnson took particular advantage of wrestling as a testing ground for performance, managing to develop a unique way of connecting with an audience. "He was hugely charismatic and learned early how to play off live pro-wrestling crowds. He learned to use his smile, his mannerisms, the eyebrow, and every night had live feedback from a crowd as to what worked and what didn't."  Succeeding in professional wrestling relies on having an instinct for audience reaction – what makes a crowd pop and boo – and that canniness has informed these wrestlers' choices as actors: they all seem uniquely self-aware of their image and how to play to it and against it.
Bautista has turned his overly serious wrestling persona on its head and slid effortlessly into being the kind of funny personality that defies expectations. In the Guardians of the Galaxy movies, he has turned the green-skinned Marvel superhero Drax the Destroyer into something more than a generic CGI heavy with his sardonically witty line readings. In comedies Stuber (2019) and My Spy (2020), he also took the serious heroic archetype and played with it by being slightly incompetent  – all talk and no trousers, like a 20-stone, heavily tattooed Hong Kong Phooey.
What really made Dwayne Johnson a bankable superstar is the fact he can look in the mirror and smile, tongue barely in cheek
Meanwhile, Cena as a wrestler was always the infallible wholesome hero – think Captain America in jean shorts – but his ascendancy to Hollywood has seen him again enjoy success by flipping the script. Setting aside his early WWE Studios produced action movies, Cena's first significant Hollywood role came in 2015 comedy Trainwreck, in which he played Amy Schumer's impossibly chiseled but sexually incompetent boyfriend who, in one of the funniest and most awkward sex scenes in recent years, could only achieve orgasm by thinking about himself at the gym. In 2018's Blockers, he also winningly played the dorkiest, most overprotective dad imaginable on a quest to stop his daughter from losing her virginity on prom night.
These films proved he was both a good comedic actor and a great sport: not many actors would be comfortable exhibiting themselves so nakedly and humiliatingly, let alone one who has spent his entire adult life being built up as a superhuman specimen. Alvarez agrees that Cena is "very good at comedy": it's no secret among wrestling fans that Cena has a wicked sense of humor, and the movies have finally allowed him to play the fool. In The Suicide Squad this summer, Cena plays in his words a "douchey, bro-y Captain America", which is a clear riff on his WWE character, as is his evil turn in F9 where he attempts to unleash devastation across the globe.
As for Johnson, he has done his best when he has leaned into his idiosyncrasy: he tried being the standard action hero with the likes of The Rundown (2003) and Walking Tall (2004) and it never really caught on, probably because there's never been a shortage of guys who can do that. What really made him a bankable superstar is the fact he can look in the mirror and smile, tongue barely in cheek. Alongside the family comedies and the absurdly OTT blockbusters (Hobbs and Shaw, Rampage, Skyscraper), he also took patently self-parodic roles as a movie star in Richard Kelly's bizarre apocalyptic folly Southland Tales (2006), and as a bodybuilder turned kidnapper in Michael Bay's underrated satire of fitness and capitalism, Pain & Gain (2013). These are signs of someone interested in not merely cashing a cheque, but tearing up the rulebook, defying expectations and perceptions, and wilfully playing with ideas around masculinity on the biggest possible stage.
Based on this trio's success, could a talent pipeline from the wrestling area to Hollywood studios now be established? There's certainly signs that more could follow their lead. Johnson's cousin Leati Joseph Anoa'i, better known as WWE star Roman Reigns, has already been dipping his toe in the water with small roles in Hobbs and Shaw and Netflix's The Wrong Missy, and so has Seth Rollins who is more of a natural villain than the others. There is also no shortage of stars whose performances in the ring suggest they would be capable of the transition, from Randy Orton, with his movie-star sex appeal, to the impeccably named Dolph Ziggler who is also a stand-up comic. Alvarez agrees there is plenty of potential for future crossover stars: "Everyone in wrestling has that opportunity [and] if you can become a big enough superstar in pro-wrestling, you have a built-in audience for an acting career," he says.
Jungle Cruise is released in cinemas in the UK, US, and other territories, and will be available to stream on Disney Plus Premier Access internationally, on July 30. The Suicide Squad is released in cinemas on 30 July in the UK and 5 August in the US, and will be available to stream on HBO Max in the US from 6 August.