Dust Pollution and its Effects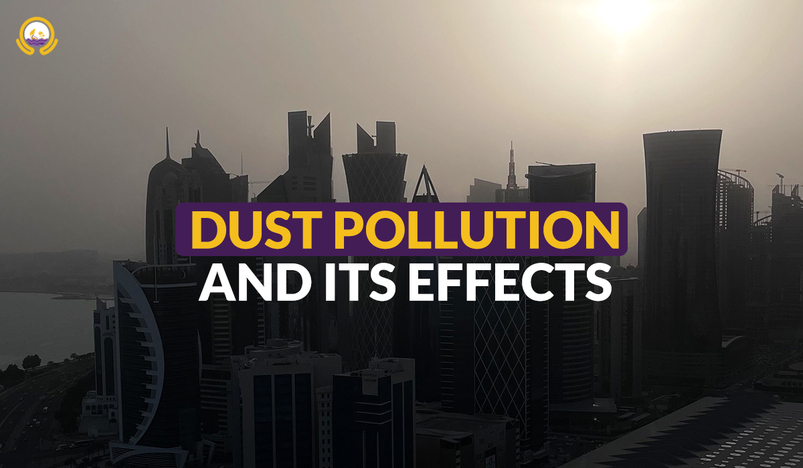 Dust Pollution
Dust is one of the biggest pollutants in Qatar. Being a dessert, the occasional dust storm, though it may seem harmless, can actually have a lasting affect on your health. Especially if you are constantly exposed to pollutants. Dust storms and emissions from vehicles and industrial plants are the main causes of polluted air in Doha. The energy sector is the most detrimental to environmental air quality as shown by its significant contribution to GHG (GreenHouse Gas) emissions. 
Dust particles, often referred to as particulate matter, may be generated mechanically, for example by the wind, may be emitted directly to the atmosphere or may be formed by reactions in the atmosphere from gases.
The three major sources are:
1. Chemical reactions of gases in the atmosphere
2. Combustion processes
3. Mechanical generation
Impacts of Dust Pollution
Due to the wide variety of the pollutants and compositions involved, dust particles play a role in many air pollution issues. 
Human health effects - respiratory and heart problems caused by inhalation of small particles 

Localised effects of dust covering vegetation

Deposition of heavy metals with toxic effects on plants, animals and humans

Light scattering leads to the potential to offset global warming

Light scattering leads to reductions in visibility
Health Effects
Children, the elderly and poor people are more susceptible. Extreme exposure or continuous exposure to air pollutants can cause diseases like 
Stroke 

Ischaemic heart disease 

Chronic obstructive pulmonary disease

Lung cancer

Pneumonia

Cataract (from household air pollution)
In order to reduce pollution and health risk to the population, interventions must be taken. It includes sustainable transport in cities, implementing solid waste management, providing access to clean household fuels and cookstoves, developing the market for renewable energies and energy efficiency, and implementing industrial emissions reductions.