Dubai to introduce charge for single-use plastic bags from July 1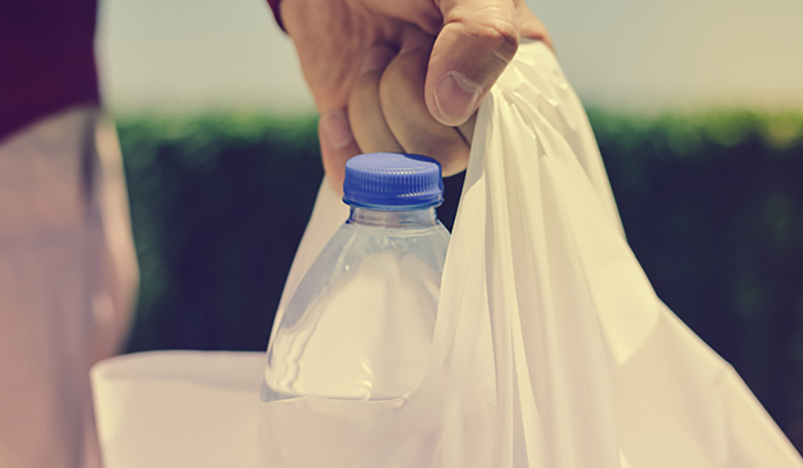 Plastic bags
Dubai will introduce a charge of 25 fils for single-use plastic bags from July 1.
The emirate's Executive Council said the charge would be applied in retail, clothing, restaurants and pharmacies, as well as on delivery orders and e-commerce orders.
The charge will be evaluated in stages before single-use plastic bags are banned completely in two years' time.
A tariff on such bags has been applied in more than 30 countries, and a partial or complete ban has been imposed in more than 90.
Awareness campaigns will be carried out in the coming weeks across all sectors, including in schools and universities. Shops will be encouraged to provide sustainable alternatives, such as reusable bags.
Natalie Hore, founder of Azraq, a marine conservation organisation in the UAE, was pleased to see Dubai taking steps to reduce plastic waste.
"Taxing single-use plastic is one option among many to reduce its circulation, and illustrates a commitment to the local environment," she said.
"Removing single-use plastic items like bags from circulation will hopefully result in other single-use plastic items, like straws and packaging, being reconsidered also.
"[This move] complements the efforts of what some green-focused businesses and not-for-profits like Azraq have been doing through campaigns like #totesbetterthanplastic."
V Nandakumar, communications director at Lulu Group, said the company was fully aligned with the vision of "moving away from single-use plastic bags" throughout its stores and online shopping.
"We have been very aggressively promoting reusable shopping bags for the last two years, with an aim of achieving our goal of zero single-use plastic bags by 2023," he said.
"We also intend to roll out a new marketing campaign to increase customer awareness in this regard."
Christian Jesty, who looks after environment and sustainability initiatives at Jumeirah's Saadiyat Island Resort in Abu Dhabi, welcomed the move.
"Everyone needs to play their part in reducing the scourge of plastic waste that blights our environment and oceans," he said.
"Evidence from implementing such tariffs indicates that charging for plastic bags, via tax or fee, is most effective at curbing usage and encourages people to switch to reusables, which ultimately keeps the environment and sea life from harm.
"We laud Dubai for their efforts and look forward to the ban being implemented in Abu Dhabi by the end of this year."
Retail giant Majid Al Futtaim Carrefour announced last year that it would stop providing single-use plastic bags at the checkout counters of two of its Dubai branches — Carrefour Hypermarket at Cityland Mall and Carrefour Market at Arabian Ranches 1.
A study last year found that hundreds of camels across the UAE have died because of plastic consumption over the past decade.
Of 30,000 camels analysed since 2008, in the field or in a laboratory by staff from Dubai's Central Veterinary Research Laboratory, about 300 died because of polybezoars — lumps of indigestible material made of plastic.
It means about one in 100 camel deaths in the UAE is due to the consumption of plastic waste left behind by people camping or littering.
Worldwide, almost 300 million tonnes of plastic pollution are produced each year, the equivalent weight of the human race, according to figures released by the UN Environment Programme.
Only nine per cent of all plastic ever produced has been recycled, with the rest ending up in landfills, dumps or the natural environment.
The UN says that if current trends continue, the ocean could contain more weight of plastic than fish by the year 2050.
Alternatives to plastic bags — from canvas totes to keychain bags
Reusable plastic bags are thicker and more durable than single-use ones.
They are non-biodegradable but are made to be reused many times, making them a better option than the disposable ones.
Jute bags are one of the most durable options and are also naturally biodegradable.
These sustainable bags are slightly more expensive than reusable plastic ones but are much more environmentally friendly.
Canvas tote bags are another durable option similar to jute.
They may not be as environmentally friendly because these bags require more resources to produce and distribute but they can be reused many times.
Key ring tote bags are known for their ability to fold down and be stored in an attached carrying pouch about the size of an egg, which can then be stuffed in a pocket or attached to a key ring or backpack.
They are portable and can be cleaned in a washing machine.
While paper bags generate waste, they can be recycled so are a preferable alternative if you forget your reusable bag at home.
Personal shopping trolley bags are foldable and come with wheels. They are perfect for those walking home from the supermarket — or even those with a long trek back to the car through a large car park.
While previously relegated to the domain of "granny chic", these carts are back in vogue.
Mesh bags/reusable plastic produce bags are used for produce, like fruits and veggies.