Dr. Al Kuwari Emphasizes Qatar's Strong Efforts To Enhance The Well-Being Of Workers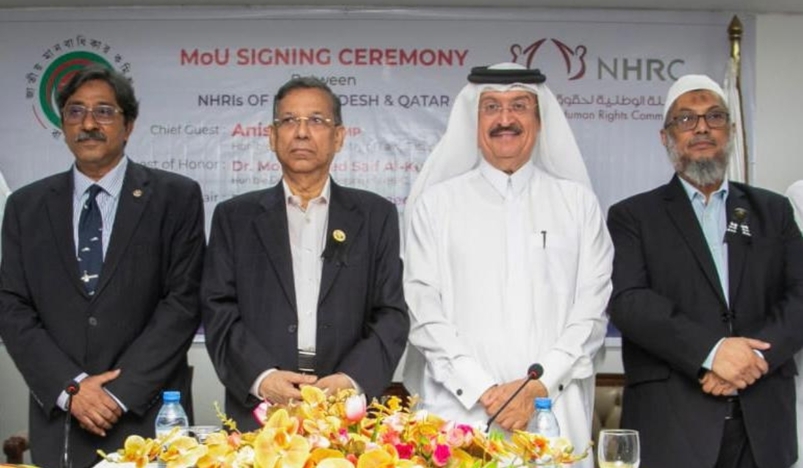 Qatar Exerted Tremendous Efforts to Improve Workers' Conditions
Dhaka
Qatar has dedicated substantial efforts towards enhancing labor laws and regulations with the intention of safeguarding and advancing the rights of expatriate workers, while simultaneously improving the circumstances of workers, employees, and their families. This affirmation was made by Dr. Mohammad bin Saif Al Kuwari, the Deputy Chairperson of the National Human Rights Committee (NHRC).
During a ceremony orchestrated by the National Human Rights Commission of Bangladesh, held to commemorate the signing of a memorandum of understanding (MoU) with the NHRC, Dr. Al Kuwari highlighted the evolution of human rights legislation in Qatar. He particularly underscored developments such as enabling workers to switch employers and emphasized the law compelling employers of domestic workers to adhere to established maximum work hours, accompanied by weekly breaks and paid annual leave. Additionally, he noted the abolition of exit permits for expatriate workers under the new law.
Dr. Al Kuwari stated that these changes serve to champion and protect the rights of workers' freedom of movement and travel.
He directed attention to the labor dispute settlement committee, which delivers rulings within a three-week timeframe. Furthermore, he highlighted the establishment of a support and insurance fund for workers, which assures the reception of entitled benefits even in cases where employers raise objections.
Dr. Al Kuwari affirmed that the MoU signed with the National Human Rights Commission of Bangladesh aims to strengthen the relationship between the two entities in advocating and safeguarding human rights, with a particular emphasis on the rights of Bangladeshi workers. He acknowledged the pivotal role undertaken by the Bangladeshi community in Qatar and its active involvement in the developmental processes of the country.
During his visit to the Qatar Visa Centre in Bangladesh, Dr. Al Kuwari engaged with various officials and familiarized himself with the center's services and procedures for assisting workers destined for Qatar. He called for proactive measures to ensure the protection of workers in Qatar and the adherence to official procedures in alignment with Qatari and Bangladeshi laws for the arrival of workers in the country. Additionally, he stressed the importance of raising awareness in this regard.
Source: QNA