DOMASCO UNVEILS HONDA'S 'ADVANCED & SPORTY' LINE UP FOR THE YEAR 2023-24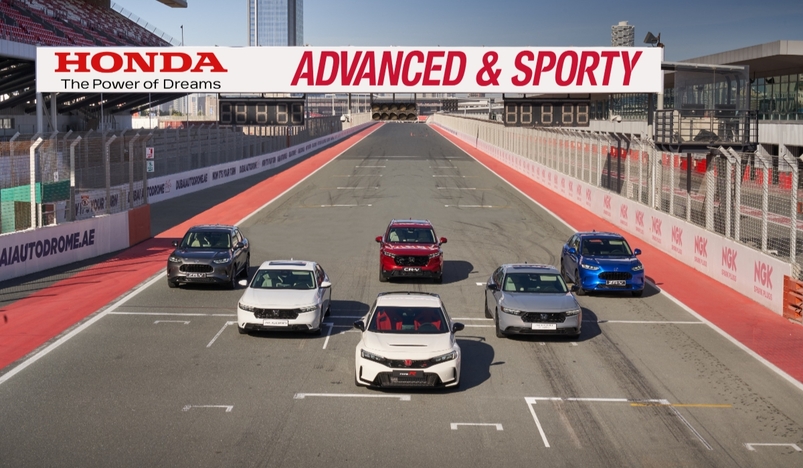 HONDA'S 'ADVANCED & SPORTY' LINE UP
DOMASCO UNVEILS HONDA'S 'ADVANCED & SPORTY' LINE UP FOR THE YEAR 2023-24
The showcased fleet included the fastest-ever Civic Type R and the All-New Honda Accord e: HEV, the brand's first hybrid in the region
The 'Advanced & Sporty' proposition factors in brand, safety, and environment into all new launches
The brand also shared ambitions towards 2025 sustainability and safety aims
Domasco Honda proudly announces the unveiling of its 'Advanced and Sporty' line up for years 2023 and 2024. Officially revealed at Dubai's Autodrome in February 2023, to key stakeholders including media and influencers, Honda brought to life its story of mobility and innovation, setting the cadence for coming years.
The 'Advanced and Sporty' strategy launched for the region by the global automotive leader, Honda, considered three main elements –Brand, Safety & Environment – with a focus on innovation as well as new technologies developed and harnessed to turn ideas into reality. The result is bringing joy to customers through human centered engineering. 
The lineup showcased included:
All-New fastest-ever Civic Type R

All-New SUV: the Honda ZR-V 

All-New 7-Seater CR-V 

All-New Honda Accord 1.5L Turbo 

All-New Honda Accord e: HEV, the first hybrid in the region
In addition to announcing the exciting upcoming fleet entering the region, Honda also outlined its core 2050 sustainability and safety ambitions. These included, a goal of achieving carbon neutrality across all products, increasing the production of battery-electric vehicles (EVs) and fuel cell electric vehicles (FCVs), as well as the brand's ambition for zero traffic collision fatalities involving its motorcycles and automobiles globally supporting a collision-free society.
Oscar Rivoli, Managing Director at Al-Futtaim Domasco Honda said, "We are proud to be custodians of the Honda brand in the region, especially during such a vital time of growth and innovation. At Domasco we strive to adapt to the changing needs of our customers whilst being committed to continuously diversifying our offering and the 'Advanced & Sporty' line up allows us to do exactly that. As we roll out the new fleet in 2023 and 2024, we look forward to bringing each and every one of our customers the joy Honda founder, Soichiro Honda, intended them to experience".
Customers can register their interest by visiting www.honda.qa