DOMASCO Supplies GAC with Linde VNAs and Electric Power Pallets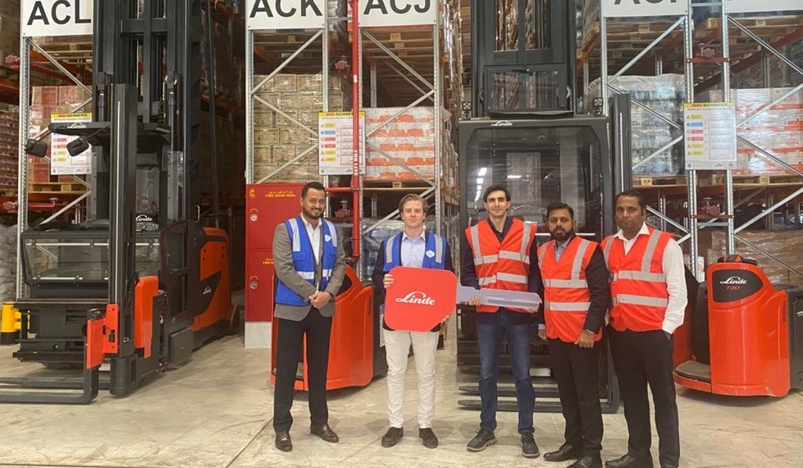 DOMASCO Supplies GAC with Linde VNAs and Electric Power Pallets
Doha Marketing Services Company w.l.l. (DOMASCO) recently delivered a large number of Linde Material Handling Equipment (MHE) to GAC Logistics that included Very Narrow Aisles (VNA) trucks and electric power pallets.
GAC is one of the largest integrated providers of shipping, logistics and marine services in the world, that have been operating in Qatar since 1979. It continues to invest in their infrastructure and assets and work with reliable service partners to ensure they are able to deliver the highest quality standards that GAC is known for.
"We have been working with Linde in the region for a long time and have experienced the exceptional performance of the Linde MHE. We hope that expanding our fleet in Qatar with new Linde MHE will allow us to deliver even better service standards to our customers and strengthen our relationship with Linde and its local distributor DOMASCO." commented by GAC Logistics management.
"Linde MHE is witnessing solid growth while retaining a leading position in the Qatari market. We are committed to build long lasting relationships with our customers. Safeguarding the investment of our clients with superior equipment and after sales support is our prime goal." said Mr. Ramez Hamdan, Managing Director, Industrial Equipment, Al Futtaim Automotive.
Linde is pushing the limits on what premium warehousing solutions can offer by setting a new benchmark. The Linde VNA (Combi Truck) lets you can handle more goods, in less time, in less space with full proof safety, resulting in higher performance. The ever-growing need for more efficient use of space has led many companies to switch to Linde Very Narrow Aisle (VNA) solutions.
The Linde K Truck mainly focuses on safety, reliability, ergonomics, performance and intelligence. Linde VNA can go until 18m high for a Dry store, Cold Store and Explosion Proof environment with several smart features such as Active Stability Control, Aisle Safety Assist, Synchronized lowering/ lifting, Energy recovery when braking or lowering while the cabin allows owners for a full proof safe operation.
Linde Material Handling Equipment is distributed in Qatar by Doha Marketing Services Company, a leading multi-brand company in Qatar and an Al-Futtaim Group company. It has a diversified portfolio of passenger cars, motor bikes, commercial vehicles, marine and power products, watches and electronics representing some of the world's most visible and award-winning brands.  Al-Futtaim Automotive is one of five divisions within the Al-Futtaim Group which provides quality products and services that enrich people's lives and aspirations each and every day.