Doha Festival City Partners with Doha Women Forum to Host an Art Exhibition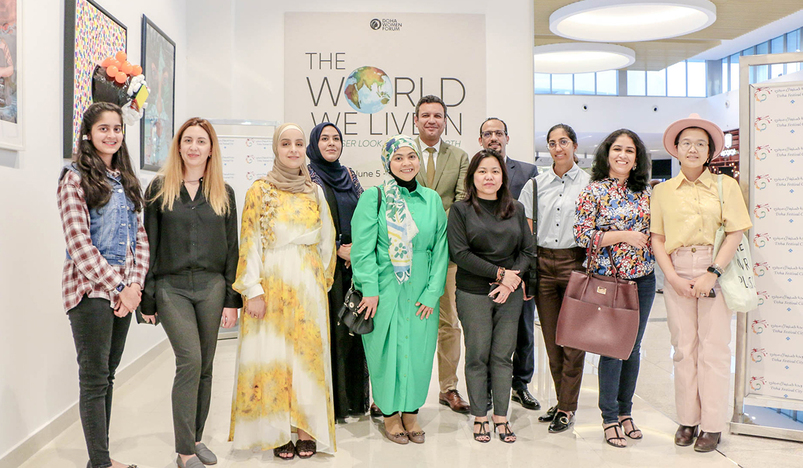 Doha Festival City Partners with Doha Women Forum to Host an Art Exhibition
Doha Festival City, Qatar's one and only choice for shopping, dining, and entertainment, is hosting an art exhibition on environmental awareness in partnership with Doha Women Forum following the success of their first Art Gallery. Taking place on the Mall's first floor, the exhibition will shed light on the significance of sustainability, featuring 10 emerging women artists and will remain open until 30th June for visitors. 
Under the umbrella of the mall's #FestivalCares corporate social responsibility programme, the exhibition will feature works created by artists to commemorate "World Environment Day". Titled "The World We Live in", the objective of this art exhibition is twofold: to raise awareness on environmental issues that affect us, and to highlight the damage brought forth by climate change.
The gallery presented the artworks created by 10 emerging women artists including international artists Valeria Kholod (Ukraine), Minahil Khurram (India), Swapna Namboodiri (India), Nis Halim (Malaysia), Wenrrics Trizha Kuan Valino (Philippines), Joud Al-Rushidat (Jordan), as well as the works of three local rising talents, Reem Zaghmout, Fatima Mohammed, and Noof AlMerekhi.
Commenting on the Art Gallery's reopening, Robert Hall, Festival City's General Manager, said: "As a sustainable mall, Doha Festival City, continues to improve its operations through following international sustainability standards and best practices. As a community hub, we are happy to host environmental awareness events and support community initiatives aimed at environmental protection. We are delighted to showcase the works of rising local and international artists – especially when the works have a profound message on environmental responsibility. With our #FestivalCares initiatives, we will continue to establish partnerships and programmes that support responsible global citizenship."
On her part, Conchita Ponce, Founder of the Doha Women Forum, said: "Doha Women Forum always takes pride in supporting women to help them become agents of change. This art exhibition by 10 emerging women artists is a demonstration of our need to call for action in taking care of our environment. Each of their works is an exhibit of their artistic responses to the ever-growing impacts of climate change on our planet Earth. And we thank Doha Festival City for giving us a venue to express this need."
Launched in 2015, the Doha Women Forum is a platform for women to learn from experts, get inspired by the experiences of fellow women, share ideas, and network. It brings together women from across all sectors to connect, inspire, and support one another, thereby expanding the impact and power of women in their workplace, homes, and communities.
Doha Festival City's #FestivalCares initiatives programme offers a robust calendar of internal and external initiatives and events catered toward providing support and assistance to the Mall's visitors and helping enrich their experience, as well as supporting the local community in Qatar as part of the Mall's efforts to give back to the people of Qatar.
In line with the preventative measures set out by the State of Qatar to limit the spread of the coronavirus (COVID-19), and to ensure a safe shopping environment for all, Doha Festival City commits itself to continuous necessary health and safety measures throughout the mall. This includes a thorough mall disinfection treatment on a weekly basis, robust cleaning, and sanitization operations during mall trading hours, 127 hand sanitizing stations installed in the areas that have commonly touched surfaces. 
For more information on the Mall's operating hours, please call on 4035 4444 or check https://www.dohafestivalcity.com/home/