Doha Festival City Announces Thrilling Summer Festival with Exciting Activities for the Family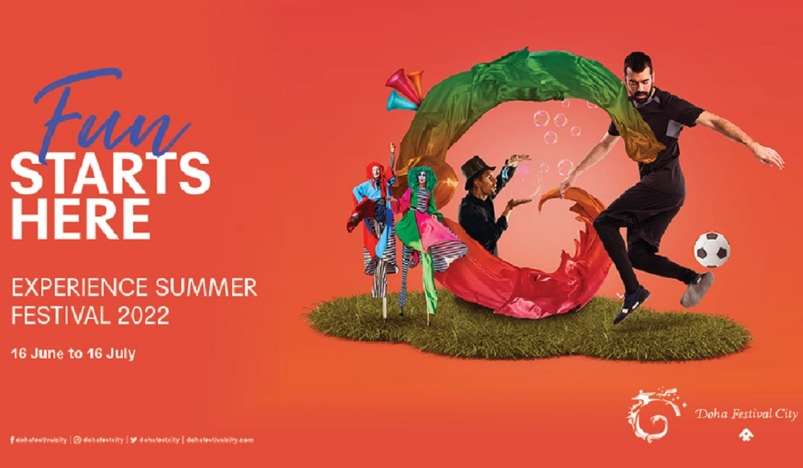 Ongoing celebrations throughout the summer season featuring the most engaging entertainment and sports-inspired fun activities will be held at the Mall between 16th June and 16th July
Doha Festival City, Qatar's one and only choice for shopping, dining, and entertainment announces preparations for its Summer Festival 2022 showcasing an exclusive line-up of international entertainment performances and engaging children's activities. Visitors and shoppers are invited to join in the festivities at the Mall between the 16th of June and 16th of July.
This year's Summer Festival will take a new twist with football-related activities as a build-up of excitement for the most anticipated international football tournament. The festival will also feature dazzling Eid Al-Adha celebrations for all members of the family to enjoy. 
Commenting on the festival's announcement, Robert Hall, Festival City's General Manager, said: "We are excited to announce the kick-off to our spectacular summer festival to celebrate the season with Qatar's community. We look forward to seeing families and friends enjoy our special line-up of fun activities designed for all members of the society." 
A wide array of international award-winning shows and football centric activities for adults and children will take place in two locations at the mall, the Centre Court featuring a broad array of activities and attractions catering toward all the family, while the Entertainment Node will host children's activities, with multiple entertainment options to bring smiles to their faces.
The Centre Court on the ground floor will feature entertaining shows all month long at three timings i.e., 5:00, 7:00, and 9:00 pm by several world-class performers, including bubble blowers, glass balancers, hoola hoop performers, storm troopers, and shadow artists. The stage shows will also feature a team of Kitchen Dancers, where entertainers wearing chef uniforms will perform juggling stunts using kitchen tools and utensils, in addition to a group of international football freestylers who will wow the crowds with their football juggling skills and tricks. Football fans will have plenty of fun options to engage in the game like foosball and virtual reality games from 10:00 am to 11:00 pm. There will also be a registration booth by Supreme Committee to onboard volunteers. 
The children's entertainment corner at the Entertainment Node will be offering arts and crafts activities, face painting, balloon twisting, and special kids' shows every weekend. Children will also have the chance to meet and greet their favourite cartoon characters. Additional activities such as henna painting and balloon shows will be available during the Eid period. The children's entertainment corner is open every day from 3:00 pm to 11:00 pm. 
Furthermore, Eid Al Adha will be celebrated throughout the mall with interactive parades by stilt walkers who will make rounds to the delight of children and adults for five days. 
In line with the preventative measures set out by the State of Qatar to limit the spread of the coronavirus (COVID-19), and to ensure a safe shopping environment for all, Doha Festival City commits itself to continuous necessary health and safety measures throughout the mall. This includes a thorough mall disinfection treatment on a weekly basis, robust cleaning, and sanitization operations during mall trading hours, 127 hand sanitizing stations installed in the areas that have commonly touched surfaces. 
For more information on the Mall's operating hours please call on 4035 4444 or check https://www.dohafestivalcity.com/home/
Source: PR