Doha chosen as one of 'The World's Greatest Places of 2022' by TIME Magazine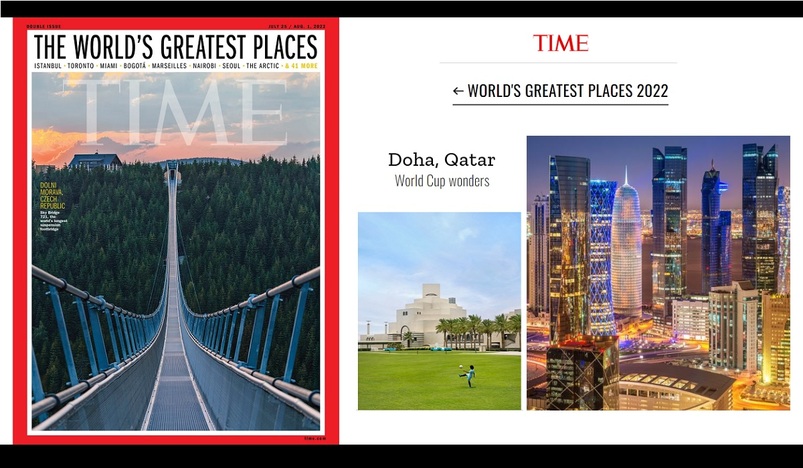 Doha is one of 'The World's Greatest Places of 2022' according to TIME Magazine
Doha is listed as one of 'The World's Greatest Places of 2022' by TIME Magazine among 50 places around the globe. 
Doha, Qatar was chosen for its World Cup wonders as the country gears up for the world's biggest football tournament to kick off in November.
To compile this list of the World's Greatest Places, the top spots to visit this year, TIME solicited nominations of places from its international network of correspondents and contributors, with an eye toward those offering new and exciting experiences.
The result: 50 far-flung and familiar spots, from the Great Barrier Reef, where visitors can see undersea wonders while participating in conservation efforts, to the ultra-high-tech city of Seoul.
Many of the destinations are charting a path to economic recovery; this year paradise reopens on The Philippines' Boracay Island, which had been closed for years due to overtourism and then the COVID-19 pandemic. Others are thriving, growing, and changing, like the luxe city of Doha, Qatar, which is opening 100 new hotels to accommodate 2022 World Cup spectators.
The magazine highlighted Qatar's hospitality preparations to welcome football fans around the world with numerous hotels and accommodations set to open later this year as well as shuttle flights in partnership with 4 GCC airlines expected to facilitate travels to Doha.
Two popular museums in the country are also mentioned, such as the 3-2-1 Qatar Olympic and Sports Museums, which is the first museum in the region solely dedicated to sports, and the popular landmark Museum of Islamic Art, scheduled to reopen its doors ahead of the FIFA World Cup.
Doha is only one of two picks from the Gulf region in the list of 'The World's Greatest Places of 2022'. Ras Al Khaimah in the UAE was also included  the list for its extreme amusement parks.
"An oasis of luxury and excess, Qatar is replete with remnants of ancient civilizations and desert landscapes juxtaposed with ultra­modern skyscrapers and designer boutiques," the award-winning American news magazine described the State in its official website.
The following details were also shared by the magazine on its online portal:
This year, Qatar will host the 2022 FIFA World Cup, and Doha has gone all out to meet visitor demand. One hundred hotels are scheduled to open this year including:
Le Royal Méridien Doha is designed to evoke the Place Vendôme in Paris, the posh Chedi Katara Hotel and Resort sits right on the beach, and the all-suite Fairmont and Raffles Doha coexists with the 80,000-seat flagship stadium in the iconic U-shaped Katara Tower in Lusail.
Still facing a shortage of hotel rooms, Qatar has dialed up some last-­minute accommodations, including 1,000 tented camps in the desert and two MSC cruise ships docked in Doha Port. Gulf airlines, including Flydubai and Oman Air, are instituting shuttle service from Dubai and Muscat, to move ticket holders in and out of Doha on 160 daily flights throughout the tournament.
Building on the architecturally stunning sports stadiums, the 3-2-1 Qatar Olympic and Sports Museum, one of the largest museums of its kind, opened in March. An updated Museum of Islamic Art is also on track to debut later this year.
Here is the full list of TIME's 50 extraordinary destinations to explore:
• Ras Al Khaimah, UAE
Extreme amusements
• Park City, Utah
Year-round playground
• Galápagos Islands
To see and protect
• Dolni Morava, Czech Republic
One-of-a-kind vistas
• Seoul
The smartest city
• Great Barrier Reef, Australia
Under the sea
• Doha, Qatar
World Cup wonders
• Detroit
Newfound glory
• Kerala, India
Ecotourism hot spot
• The Arctic
Breaking the ice
• Ahmedabad, India
Higher learning
• Nairobi
Cultural metropolis
• València, Spain
Design forward
• Queenstown, New Zealand
High-flying adventure
• Hwange National Park, Zimbabwe
Conservation safari
• Historic Silk Road Sites, Uzbekistan
Walking an ancient path
• São Paulo
Back to Brazil
• Trans Bhutan Trail, Bhutan
Breathtaking pilgrimage
• Devon, England
Drink in the scenery
• Bali, Indonesia
Resortapalooza!
• International Space Station
Out of this world
• Rapa Nui, Chile
Resilient culture
• Salta, Argentina
Authentic allure
• Portree, Scotland
Whiskey and wilderness
• Tofino, British Columbia
Wilder West
• Boracay, Philippines
Paradise reborn
• Madeira, Portugal
European tropics
• Franschhoek, South Africa
A wine lover's dream
• Miami
So hot right now
• El Chaltén, Argentina
Luxe park perks
• Bogotá
Cycle the city
• The Alentejo, Portugal
Idyllic escape
• Lower Zambezi National Park, Zambia
Teeming with wildlife
• Kaunas, Lithuania
Art for Ukraine
• Setouchi Islands, Japan
Immersed in art
• Calabria, Italy
Hike across the boot
• San Francisco
Great Golden Gate
• Skelleftea, Sweden
Nordic warmth
• Copenhagen
Riding into the future
• Marseilles
Mediterranean darling
• Thessaloniki, Greece
Culinary melting pot
• Istanbul
A classic reborn
• Ilulissat, Greenland
Icy education
• Jamaica
A yearlong party
• Fremantle, Australia
Eat, drink, and be Aussie
• Toronto
Fresh perspectives
• Kigali, Rwanda
Building a better future
• Riviera Nayarit, Mexico
Hidden gem
• Portland, Ore
All are welcome
Source: TIME Magazine