Doha Avenue International Basketball Tournament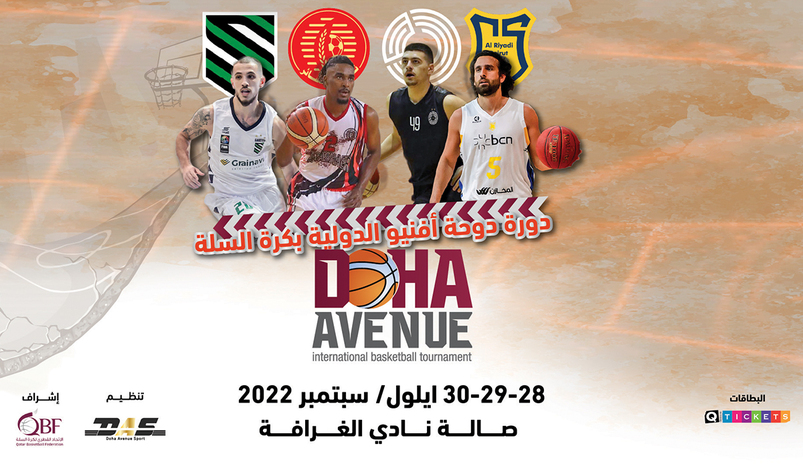 Doha Avenue International Basketball Tournament
The Doha Avenue International Basketball Tournament will kick off at Al Gharafa Sports club where top teams from Qatar, Lebanon & Oman are going to compete with each other from Wednesday, 28th September to Friday, 30th September.
The tournament is overseen by the Qatar Basketball Association and organized by the Qatar Basketball Association "Doha Avenue Sport", and will see the participation of Qatar Al-Sadd, Al-Riyadi Beirut and Al-Hikma Club Beirut from Lebanon and Al-Bashaer Oman.
At the opening match on Wednesday, September 28, Beirut Sports Club will play with Al-Bashaer at four o'clock in the afternoon, followed by the match between Al-Sadd and Al-Hikma Beirut at six and on the second day, Thursday, September 29, Al-Hikma Beirut will play Al-Bashaer at four, and Beirut Sports Club will play Al-Sad at six.
Al-Hikma and Al-Riyadi clubs, who feature high-level foreign players in their ranks, such as Americans Otter Majuk and Michael Calles and athletes Kerwin Roche and Alexander Clifton respectively, will play in a "Derby" match on Friday, September 30 at 20:30, which is expected to draw a sizable, high-tech crowd.
The tournament will be played in a single group format, with all group teams competing against one another to determine the winner based on total points earned, or on the difference in points earned if two teams finish tied on points.
Al-Sadd Club was founded in 1969, is the champion of the Qatar Basketball League this season (League and Prince Cup), and the tournament is very important for its preparations for the 34th Arab Clubs Basketball Championship that will be held in Kuwait from October 5 to October 15.
Date: 
Wednesday, September 28
Thursday, September 29
Friday, September 30
Venue: Al Gharafa Sports Club
Ticket prices: 
Al Riyadi Beirut Club / Al Bashaer Club
Sagesse Beirut Sports Club / Al Sadd
1) VIP: QAR 300
2) Category A: QAR 150
3) Category B: QAR 100
4) Category C: QAR 80
5) Category D: QAR 60