Doha's InflataRACES Set For March 18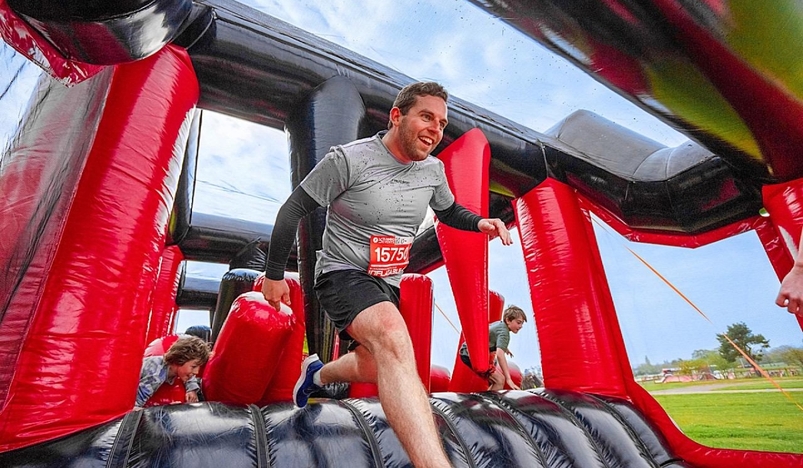 Doha's InflataRACES
Qatar Looks To Set Guinness World Record With Its First InflataRUN Doha
The InflataRUN, the first of its kind family event in Qatar, which is set to take place from March 9 to March 18, 2023 from 4:00 pm till 12:00 am in Education City Stadium will also feature InflataRACES, the world's longest competitive inflatable race.
InflataRACES is coming to Qatar for the first time ever where Qatar is looking to enter the prestigious ranks of the Guinness World Records with a bid for its first InflataMONSTER obstacle course  to be accredited as the 'World's Longest Inflatable Obstacle Course'.
The inflataRACES are held in partnership with InflataRUN's administrators WarriorFit Gym and are open to ages 6 and above. The races are scheduled for Saturday 18th of March, featuring 2 courses, the 100 metre InflataSPRINT, and the expansive InflataMONSTER, a 1,180 m stretch, where runners will enjoy a giant inflatable course with loads of obstacles.
Each race will have five appropriate age competitor categories. The Kids Mini is open to youngsters aged 6-9, Kids Junior is for youngsters of 10-13 years, and Kids Senior for teenagers between 14-17. There will be a Masters' category for serious runners aged 40 and above and an adult category for all competitors aged between 18-40. The top three male and female winners in each category will share in a total prize pool of QAR140,000 (cash and vouchers) and earn winners' medals.
"This is going to be a tremendous family event packed full of fun for all ages and gives the public the chance to be part the Guinness World Record bid whether they intend to run, or cheer on the runners," explained Abdullah Al Kubaisi, Chairman of Events & Entertainment Enterprises.
 "The finishing touches are being made for the InflataRACES which are expected to bring crowds of competitors and spectators to the Education City Stadium – Spectator Parking D. We encourage everyone to be part of the fun." said Adil Ahmed, CEO of Events & Entertainment Enterprises.
InflataRUN promises unparalleled family fun with a live DJ supplying lively beats, dancing, roaming, and stag performances, photo ops, carnival boots, and a massive 'Monster Truck Inflatables' display and catering provided by a food court with over 25 vendors.
Tickets are limited, and early booking is recommended. All race participants receive an enhanced race pack that includes collectible InflataRACE T-shirts, an InflataRUN medal, anti-slip socks, a headband, and a drawstring bag. Race tickets include an all-day access pass to experience all the InflataRUN attractions. Competitors and visitors can get to the event by car or by metro using the Green Line, to Education City Station.
Final date of Registration for InflataRACES is the 15th of March. For more information on InflataRUN DOHA 2023, visit: www.inflatarun.com  or @inflata.run