Different Taxi services in Qatar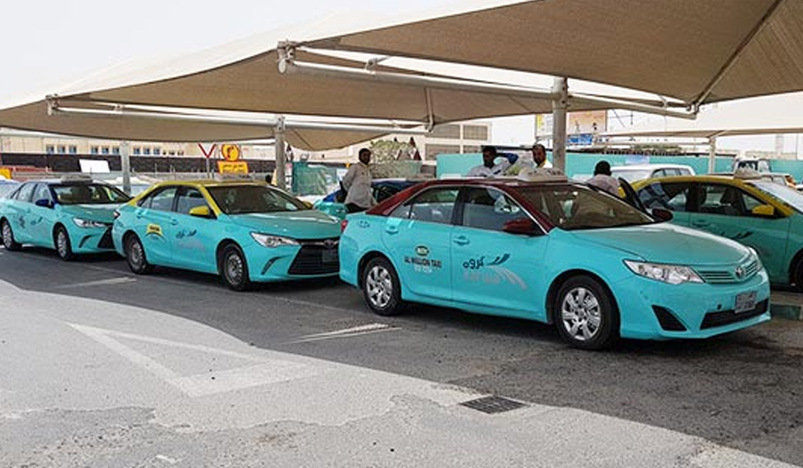 Different Taxi services in Qatar
In Qatar taxi services are taken care by Mowasalat, the national transport organization that operates the taxis, buses and limousine services.
As of now, Mowasalat, under the brand-name Karwa, works more than 3000 new and well maintained taxis, more than 120 public buses, school buses and private-hire coaches. 
Types of taxis offered by Mowasalat are;-
Normal Taxis 
These are fancy sedan cars, that can take up to four travelers. These taxi positions at various areas, for example, commercial centers, clubs, hotels, advance booking can be done by dialing 4588888 directly to their office.
Airport Taxi Service 

The Airport Service taxis can board up to six travelers and these are static wagon cars. Airport taxis are based at Doha Airport and are available on all 365 days a year round the clock.
Limosine
Mowasalat's limousine services are made to match the requirements of customers, with an array to chose from. The customers get the opportunity to pick between a VIP and Standard class vehicles. The VIP Limousine collection contains "A" class vehicles, for the most part for the business class or for individuals looking for luxury. 
VIP Limousine vehicles can be hired through the Taxi and Limo Department. The VIP Limousine services are accessible at Doha International Airport, and at five-star hotels. 
Uber cashless taxi 
Uber customers have to make an online account with the details of their credit cards so, they can book a cab instantly and the amount is directly deducted from the account making it a convenient choice for frequent travelers.
Utilizing the GPS co-ordinates of the customer's cellphone, driver reached the passengers location for pick up.
Qatar Taxi Fares 
All taxis in Qatar runs according to the meter. An initial charge of QR4, and after that an extra QR1.20 per kilometer is charged in the day. These fares are not consistent and keep changing from time to time. 
The special six-seater taxis have a flat rate of QR18. The nominal rate for standard limousine is QR20, with an extra QR2 per kilometer. 
Main Taxi organizations in Qatar 
As mentioned in 'onlineqatar.com', here are the contact details of a few taxi organizations in Doha, Qatar. 
Karwa, Doha Taxi Tel: 4588888 
Fox Transport Tel: 4622777 
Doha Limousine Tel: 4839999 
Qatar Taxi Tel: 77440531 
Al Watan Limousine Tel: 44477999 
Chauffeur Car Rental Tel: 44445456 
City Limousine Tel: 44442111 
Directions Company LLC Tel: 44607227 
Al Afdhal Transport Company Tel: 44880177 
Al Muftah Tel: 44634444 
Al Ibtisama Limozine Tel: 44888024/55359803/55819152