Detailed procedure for changing name in Qatar ID and RP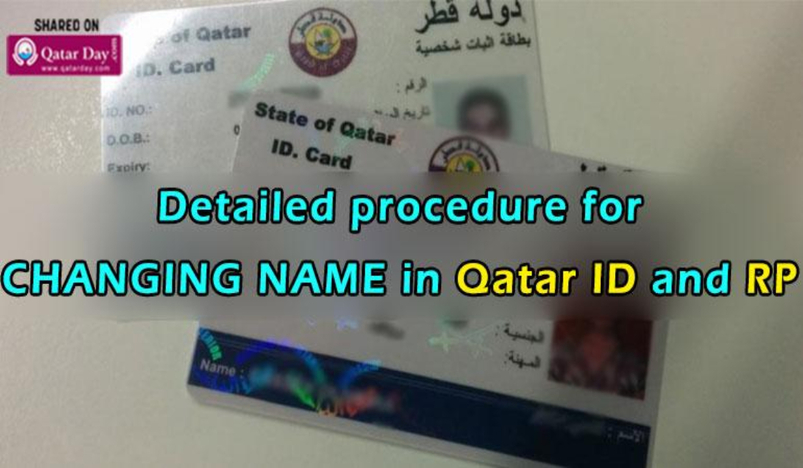 procedure for changing name in Qatar ID
Many times, expats in Qatar who recently got married or still using their maiden name want to change their names in Qatar's residence permit and ID, there are a number of steps to be followed for applying for name change with some cost involved.
Here are the documents required before preceding to the Ministry of Interior Qatar in Al Gharaffa:
1.) Applicant's New Passport Copy (including the married name)
2.) Applicant's Residence Permit Copy(current- including the maiden name)
3.) Marriage Certificate Copy attested by the relevant authority of your country
4.) Signed Letter written in Arabic language mentioning the reason for name change (Old and New names need to be written in English)
5.) 2x2 picture with blue background
6.) Completed form for modifying resident's details (form can be downloaded from MOI Website), this form needs to include your employer's stamp and signature
7.) Company registration copy
8.) Passport Copy
9.) Husband's Residence permit copy (In case of women if husband is also staying in Qatar)
Steps to follow
1.) Once the above documents are ready, submit these tothe officer sitting at the front desk at MOI at Al Gharaffa, "Committee into Looking for Change Name Requests" Office, 2nd floor of Bldg. 2, gate/ entrance 2 or 3. The officer will give you a yellow receipt and will ask you to come back after 3 weeks.
2. Reach out to MOI in the same office and show the yellow receipt, the officer at the front desk here will give you a form to fill.
3.) Complete the above form and get it signed and stamped by the same officer from MOI.
4.) Reach out to Gulf Times located at C-ring road, present this form and the paper received from MOI to the publication counter person, an amount of QR500 needs to be paid for posting the details in Gulf Times the very next day.
5.) Next day keep a copy of the newspaper with you with your details posted in it as a proof.
6.) After 15 days reach out to MOI and present the newspaper copy to the same officer where all the documents were submitted, the officer will confirm with the newspaper and will ask you to come after 1 week.
7.) After 1 week bring all copies of the yellow receipt, RP Card/QID, Old Passport, new passport and your debit or credit card for the fee payment. Present the yellow receipt to the officer at MOI, the officer will give you a printed copy of the application form which needs to be stamped at gate 1, first floor.
8.) Once done get the paper to Gate 2, ground floor, where you need to pay QR200 for the ID process and printing.
9.) Wait for the new Residence Permit Card to be printed, once done check it for any error in ID number or name spelling.
10.) Provide your original new ID card, new and old passport for passport number change in the Id to your Company HR or sponsor.