Death of whale found in Sealine caused by starvation says Ministry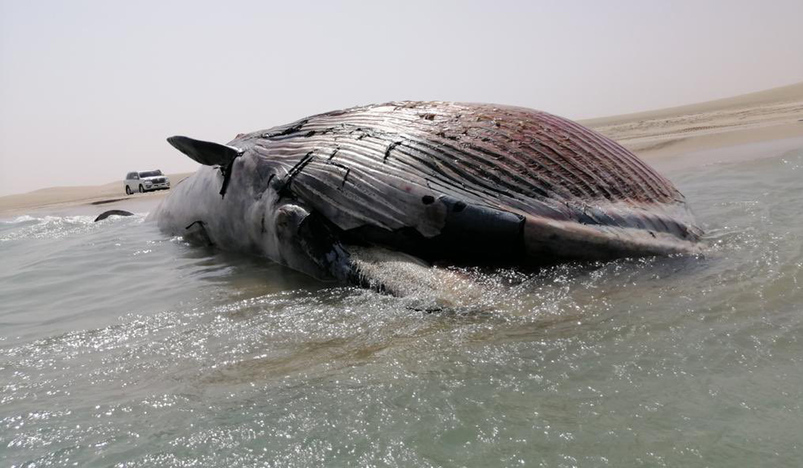 Dead whale
The Ministry of Environment and Climate Change announced on Sunday the preliminary results of the analysis conducted on the whale at Sealine, identifying that the probable cause of its death was starvation due to old age.
In a statement, the ministry said that a specialized team took measurements and samples from the whale that was monitored by the ministry's environmental monitoring teams in Sealine, in cooperation with environmental activists, to identify the cause of its death in the region. The preliminary results of the measurements conducted by the specialized experts on the 14-meter-long female whale showed that the likely cause of her death was starvation due to old age, due to a loss of baleen (a filtration feeding system inside the whale's mouth, its loss is similar to losing teeth in humans). This means that the cause of the whale's death may be a lack of food due to old age.
The ministry pointed out that some specialists saw this type of whale in the country's southeastern region. A similar whale was also observed in the same region in 2019.
On Friday, the Ministry announced that its environmental monitoring teams had monitored a dead whale in Sealine.
The ministry indicated that the specialized team dealt with the situation and took samples and measurements to conduct the necessary laboratory tests and analyses.
The Ministry of Environment and Climate Change had previously monitored and studied the "fish death" phenomenon. After examining samples of dead fish and seawater in the laboratory, the results of the analysis were found to be within the normal level and the limits and standards in the executive regulations of the Qatari Environmental Protection Law, meaning that there is no pollution or causes that lead to the death of fish in the samples that were examined.
The ministry confirmed that it will work to follow up and know the real causes of fish deaths, and to provide the public with the results of the analysis, indicating that the phenomenon of fish deaths occurs worldwide and in the State of Qatar during the summer season, as a result of high temperatures and a lack of oxygen in the water.
The whale spotted in Sealine is called Bryde, after the Norwegian Johann Bryde, who started whaling in South Africa.
Bryde whales are distinguished from other similar species by the unique three long ridges on top of their heads. At birth, the length of this type of whale is 4 meters and weighs between 800 and 900 kg. The whale may live up to 50 years, with a body length reaching 14 meters and weighing 20 tons.
(QNA)