Dates Festival in Souq Waqif ends today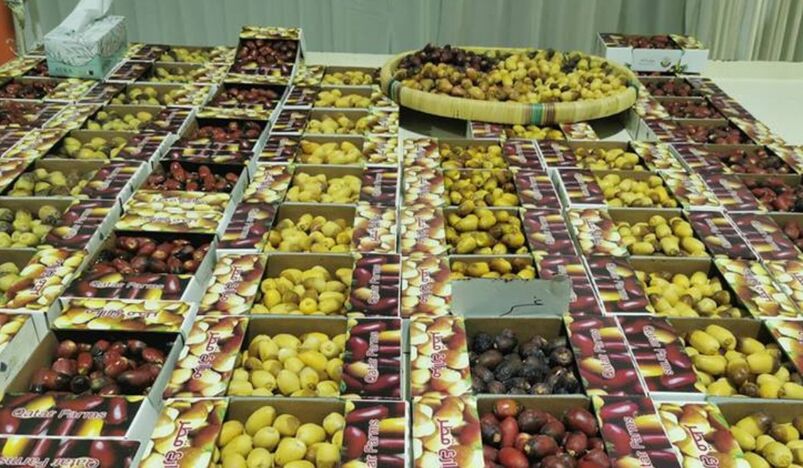 Dates Festival ending today in Souq Waqif.
The 7th Annual Local Dates Festival concludes today at Al Ahmad Square in Souq Waqif.
81 farms are taking part, and each of them grows a different kind of date. The Department of Agricultural Affairs put together the 15-day event in the Ministry of Municipality. From 3 to 9 p.m., people can look at the show.
The Ministry of Agriculture says there is enough date production for 82% of its needs. The percentage is now higher than it was two years ago when it was 76%. This was made possible with the agency's help, which offers pollination services and helps farmers prepare their fields.
The government puts on events several times a year where local farmers can sell their goods directly to the public. Since the festival's first day, many people have come to buy a wide range of date-related goods. Cakes, jams, and milkshakes are some examples. As part of an experiment to see if producers can keep up with expected demand, figs and lemons are sold for the first time.
If the test works, the people who make fruit will have a one-of-a-kind party. One participant said that dates are more than just a type of fruit in Qatari culture and food.
In the dry plains of Qatar, dates are the main dish at all of the celebrations in the area. Date palms are one of the oldest plants, and you can find them anywhere with the right temperature for them to grow. As a result, dates are Qatar's most famous export when it comes to agriculture.
Both locals and visitors enjoyed this year's celebration. Even Rekha, who lives and works in Los Angeles and is from India, didn't know there were so many different kinds of dates. This event gives the general public a great chance to learn about Qatari dates and try some." The location is excellent because it's close to public transportation (taxi or metro).
Mujahed, who works for Al Wakra, says there is a strong link between fasting and dates. This is the first food we eat when we break our fast. Because of the event, which brought in locals and tourists, dates are getting more attention and are being marketed more strongly. So even if you only eat it on holidays or during Ramadan, you might start to eat it every day.
Weill Cornell Medicine in Qatar says that about 16,500 metric tonnes of dates were shipped out of Qatar in 2003.
The people of Qatar eat them daily because they are an essential source of nutrition. Fructose and glucose, two simple sugars found in large amounts on fresh dates, make them sweet in a big way. After eating them, they immediately fill up the body's energy stores. Because of this, they are often used to break the fast in Qatar and the surrounding areas during the month of Ramadan "what the answer said.
Dates also have small amounts of iron, manganese, and copper. In the same way, dates also have macroelements like potassium, phosphorus, calcium, and chlorine. As a result, dates are low in fat and high in carbs and other nutrients, but they don't have much fat.