Cycling Paths In Qatar You Need To Check Out!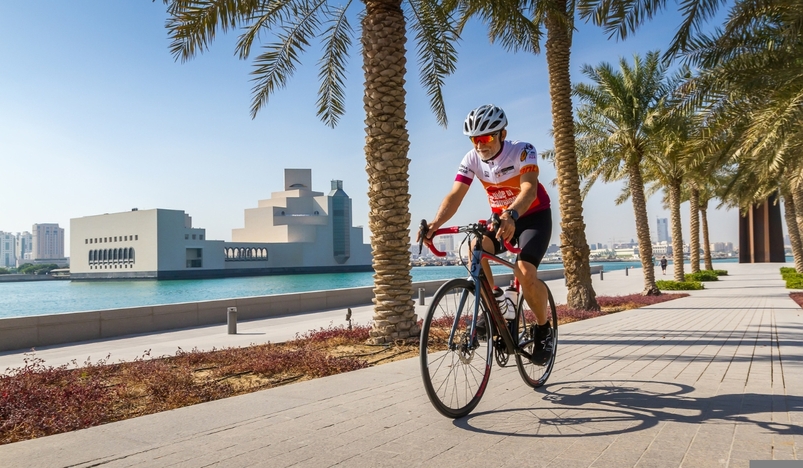 Cycling Paths In Qatar You Need To Check Out!
5/6 Park

One of the coolest new parks in Doha, strategically located near commercial and tourist hubs in the city is ? Park.
The park boasts a 1.1 km cycling route which is great for beginners, and bicyclists can also use a 1.4 km jogging path.

The Olympic Cycling Track

The Olympic Cycling Track is a 33 km long stretch of pure wonder. The track holds the Guinness World Record for being the longest cycling track in the world, and offers 29 underpasses and 5 bridges to encourage continuous cycling away from the road. 

Lusail International Circuit
The Lusail International Circuit is a renowned racing track and Sports Club that serves as a venue to host different types of events.
Every Wednesday between 8pm and 11pm, you have the chance to walk, run, skate or cycle under the floodlights at Losail International Circuit on its 5.3 kilometer course. To top it off, you can even rent a cycle at the location.

Hamad International Airport
The cycling path along Hamad International Airport is definitely worth checking out! The path starts at the Ras Abu Abboud Expressway bridge opposite the National Museum, and divides on a fork, with one branch of the path leading to the Airport and the other towards Wakrah.
Dukhan
From Cuban Hospital to Umm Bab in the south and all the way up the peninsula, discover hills and explore the surroundings on this spectacular cycling track.

Al Bidda Park

One of Qatar's most popular parks is also one of the best for newcomers wanting to take up cycling. The park offers 5 kilometers of calm, stress-free riding amidst breathtaking scenery.
Al Abraj Park

Al Abraj Park has a cycling track built of locally available materials and recycled rubber that is shaped like a dew drop.
Aspire Zone Park
Aspire Zone boasts a 5-kilometer track and provides the Cycle in Aspire rental program. The purpose is to inspire locals to strive for a higher standard of living. Bikers are provided with a unique helmet. The Learn to Ride program at the Park is focused toward young people.