Culinary Excellence: LPM Restaurant & Bar's Business Lunch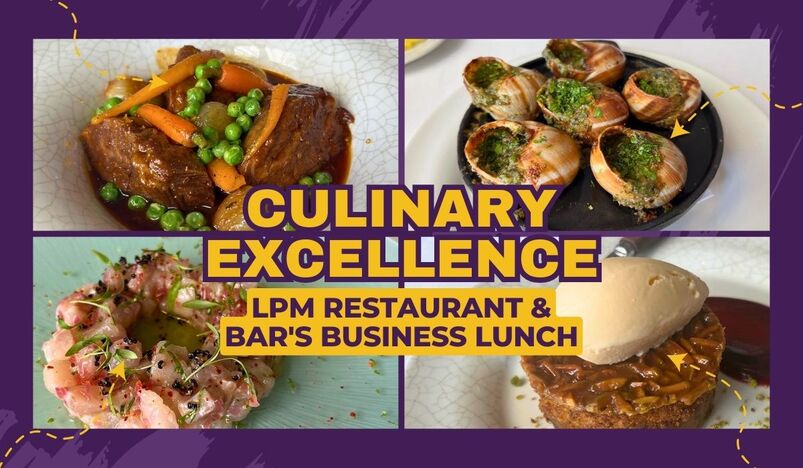 LPM Restaurant & Bar's Business Lunch
Situated on Al Maha Island in Lusail City, there's an oasis of culinary delight awaiting discerning food enthusiasts. LPM Restaurant & Bar Doha, a celebrated French Mediterranean restaurant, offers a Business Lunch experience that transcends mere midday sustenance. We recently had the pleasure of dining at LPM, and the experience was nothing short of extraordinary.    
Ambiance:
As we entered LPM, we were greeted by an ambiance that effortlessly combines chic modernity with timeless French charm. The restaurant's interior is adorned with the natural light which bathes the terrace, where yachts sway gently and bougainvillea flowers add vibrant splashes of color to the pergola. Comfortable, cushioned chairs invite relaxation.
Service:
One cannot help but be impressed by the impeccable service at LPM. The staff is not only attentive but also well-versed in the art of hospitality. They guided us through the menu with genuine enthusiasm, making recommendations that suited our preferences perfectly.
Business Lunch Menu:
The Business Lunch menu at LPM is a carefully curated selection that strikes a balance between variety and efficiency. It offers a choice of starters, mains, and desserts, ensuring a satisfying meal within a reasonable time frame, ideal for those who are on a tight schedule.
Starters:
For our starters, we opted for Snails with Garlic Butter and Parsley. Arrived in a specialized escargot dish with individual cavities to cradle these delicacies. The texture was a delightful surprise – tender, not chewy, with a slight resistance that gives way to a buttery, herbaceous burst of flavor was a testament to LPM's commitment to quality ingredients.
Mains:
Moving on to the main course, we savored the Veal Cheeks with Orange Zest, Peas and Carrots. The veal cheeks take center stage, and their tenderness is a testament to culinary expertise. What truly elevates this dish is the addition of orange zest. The zest provides a burst of citrusy brightness that plays in perfect harmony with the savory richness of the veal.
Desserts:
No meal is complete without dessert, and LPM did not disappoint. We indulged in Pistachio Cake with Cherry Sauce and Honey Ice Cream. A pistachio cake that embodies nutty perfection & cherry sauce was a revelation of fruity brightness. Accompanying this dessert was a scoop of honey ice cream that elevates the experience to new heights. Beyond its exceptional taste, this dessert was a visual masterpiece, & was a sweet conclusion to our culinary journey.
Final Thoughts:
LPM's Business Lunch is not just a meal; it's an experience that tantalizes the taste buds, pleases the senses, and provides a respite from the demands of the workday. The combination of delectable French cuisine, a welcoming ambiance, and top-notch service makes LPM Doha a standout choice for a business lunch or any special occasion.
So, whether you're sealing a deal, celebrating a success, or simply craving a taste of France, LPM Doha's Business Lunch is a culinary adventure waiting to be explored. Bon appétit!
AVAILABLE FROM SUNDAY TO THURSDAY
LE PETIT MENU:
QAR 150 per person for 1 starter and 1 main course
LE GRAND MENU:
QAR 190 per person for 2 starters and 1 main course or 1 starter, 1 main, 1 dessert
For reservations call +974 4420 9888