Crowne Plaza Doha West Bay Switches to Bulk Bathroom Amenities, Eliminating Miniature Plastic Bottle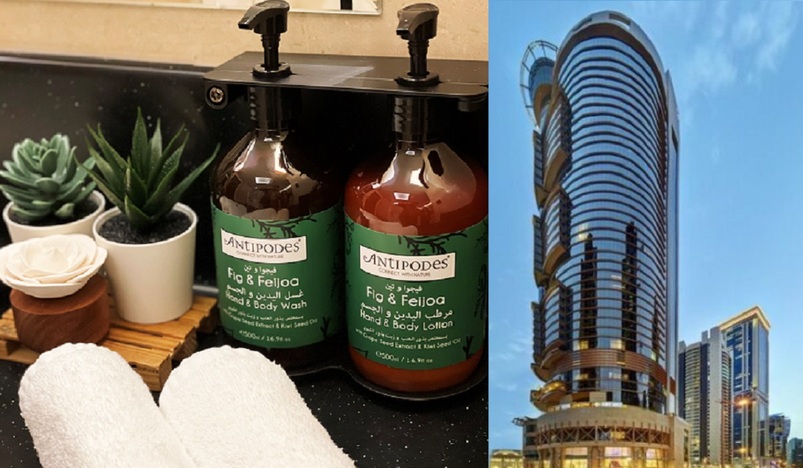 Crowne Plaza Doha West Bay
Crowne Plaza Doha West Bay has announced today the start of its transition from single-use plastic bathroom amenities to bulk-size. All single-use shampoo, conditioner, hand wash and lotion bottles will be completely replaced with refillable bulk-size counterparts across the entire hotel consisting of 317 guest rooms and public washrooms. This is in line with IHG's (InterContinental Hotels Group) pledge to reduce plastic waste by switching to bulk-size bathroom amenities and making this a brand standard for every single IHG hotel. 
Around 56,000 bottles of shampoo, 41,000 bottles of conditioner, 48,000 bottles of bath gel, 41,000 bottles of body lotion and 61,000 packs of soap are consumed annually at Crowne Plaza Doha West Bay. By engaging into IHG's green initiative of switching to bulk-size bathroom amenities, these figures will drop dramatically.
"It's more important than ever that companies challenge themselves to operate responsibly—we know it's what our guests, owners, colleagues, investors, and suppliers rightly expect," said Keith Barr, CEO of IHG. "Switching to larger-size amenities across more than 5,900 hotels around the world is a big step in the right direction and will allow us to significantly reduce our waste footprint and environmental impact as we make the change."
Najib Nasser, General Manager at the Crowne Plaza Doha West Bay, said, "We are proud to have started our shift to bulk-size bathroom amenities across the entire hotel and we are very happy to make this important step on our road to eliminating single-use plastic waste. Sustainability is very important to us and we will continue to take every action possible towards making a positive impact to the environment and to our community."
Sushma Dahal, Executive Housekeeper, commented, "We have seen how much plastic waste is accumulated every day and it's inspiring to be part of a company that is willing to take big actions towards plastic waste reduction. IHG has a great vision about sustainability and we will continue to make every effort and take every step to bring this vision to reality".
Reducing waste for a sustainable future
The IHG Green Engage™ system is a well-established online sustainability programme, which recommends ways for IHG branded hotels worldwide to manage their waste more effectively. This includes guidance on how hotels can handle, store, recycle and dispose of waste both on and off-site, to minimise environmental impact and costs.
Crowne Plaza Doha West Bay, a prestigious business hotel located in the West Bay area, is a part of the IHG Group under the Crowne Plaza Hotels and Resorts with a brand promise of "making business travel work." The hotel provides various business-ready services, Sleep Advantage™ Programme, fast and fresh food 24/7, personalized meeting requirement assistance and adheres to the IHG Clean Promise - the hotel's adjustment to new travel norms and expectations with enhanced guest experiences, and redefined cleanliness. 
This promise reassures guests that:
"Good isn't good enough – we're committed to high levels of cleanliness. That means clean, well-maintained, clutter-free rooms that meet our standards. If this is not what you find when you check-in then we promise to make it right."
To make a direct reservation via email: reservations.cpdohawb@ihg.com and for more inquiries, please call: +974 4019 9999 / +974 4019 8853.