Cristiano Ronaldo gets rousing welcome at Saudi Al Nassr club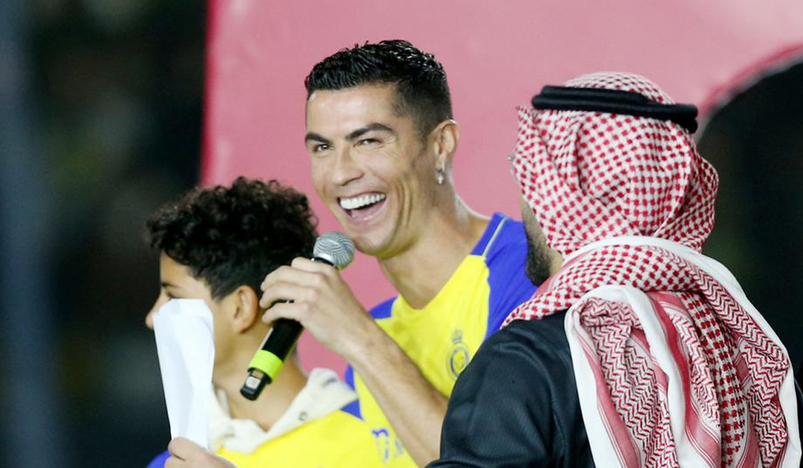 Cristiano Ronaldo
Portuguese star is greeted by a sea of yellow and blue at Al Nassr's home ground Mrsool Park, where thousands of fans turn up to witness his unveiling.
Portugal captain Cristiano Ronaldo has said his "work is done" in Europe, adding that he is relishing new challenges both on and off the pitch after being unveiled as a player of Saudi Arabian club Al Nassr.
Ronaldo, who was a free agent following his acrimonious split with Manchester United in November, joined Al Nassr last week on a 2-1/2 year deal estimated by media to be worth more than $210.94 million.
On Tuesday, he was greeted by a sea of yellow and blue at Al Nassr's home ground Mrsool Park, where thousands of fans turned up to witness his unveiling.
After addressing a news conference, Ronaldo was seen meeting with his new teammates in the dressing room. He then made his way onto the pitch, fully kitted out in the club's colours.
The gathered fans loudly chanted his name as he walked around the 25,000-seater stadium signing footballs and firing them into the stands, before he was joined by his family.
"Me and my family, we want to say thank you to all of you for this support and your welcome," an emotional Ronaldo said after being handed a microphone. "We're going to give our best. Thank you everybody."
'In Europe, my work is done'
Ronaldo arrives in Saudi Arabia with a vast collection of club honours after a glittering spell at Spanish giants Real Madrid from 2009-18 where he won two LaLiga titles, two Spanish Cups, four Champions League titles and three Club World Cups.
He also claimed two Serie A titles and a Copa Italia trophy in three years at Juventus before rejoining United with whom he had bagged three Premier League crowns, the FA Cup, two League Cups, the Champions League and Club World Cup.
"I'm so proud to make this big decision in my life. In Europe, my work is done," Ronaldo told a news conference.
"I won everything, I played in the most important clubs in Europe and now it's a new challenge in Asia."
Ronaldo added that he had several potential suitors from all around the world following his exit from United, but chose to sign with Al Nassr because the move provided him a chance to make an impact off the pitch.
"I'm grateful to Al Nassr, for giving me this opportunity to develop football for the younger generation, for the women as well. For me, it's a challenge, but I also feel very happy and proud," Ronaldo said.
"I can say now, I had many opportunities in Europe, Brazil, Australia and the United States. Even in Portugal, many clubs tried to sign me, but I gave my word to this club, to develop not only football but also the other parts of this country."
'We are here to win'
The 37-year-old batted away questions about criticism of his move to Saudi Arabia, saying, "I'm a unique player, for me it's normal."
Al Nassr coach Rudi Garcia said the signing of Ronaldo was a huge step for the Saudi Arabian league.
"In my life, I've seen that great players like Cristiano are the simplest to manage, because there's nothing I can teach him," Garcia told reporters.
"Like he said, we are here to win, nothing else. I want him to enjoy playing with Al Nassr and winning with Al Nassr, just that."
Ronaldo's move has been the subject of countless rumours, with some reports saying his contract includes a clause which will allow him to join Newcastle United on loan, while others have alleged that the previous holder of the 'Number 7' shirt was cut loose from the squad for refusing to swap shirt numbers.
Rough departure from Man United
The five-time Ballon d'Or winner became a free agent in November after cutting ties with Manchester United.
United parted ways with the Portuguese star after the veteran forward gave an explosive TV interview in which he said he felt "betrayed" by the club and had no respect for coach Erik ten Hag.
United terminated his contract while Ronaldo was with Portugal at the World Cup.
CR7, who played for Sporting Lisbon, Manchester United, Real Madrid, and Juventus, has won 5 UEFA Champions League trophies, 4 of which were with the Spanish giant, where he saw most of his success.
He led Portugal to the UEFA EURO 2016 title.