Covid sceptic who urged others to get vaccinated after hospitalisation dies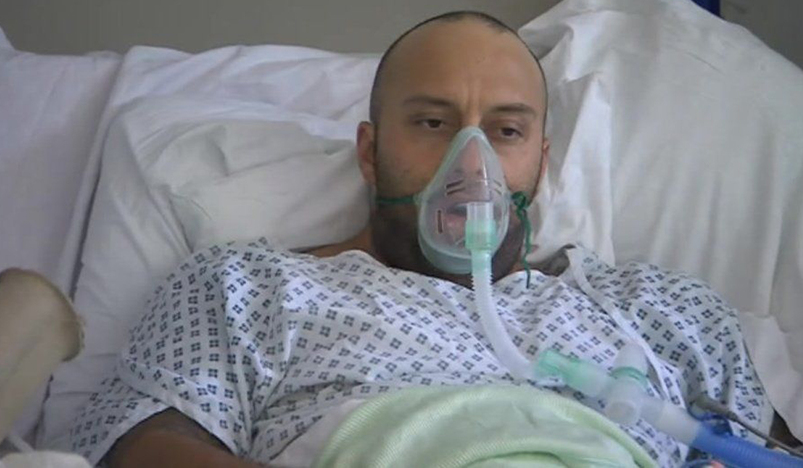 Marcus Birks said he was going to tell "anybody I see" to get the vaccine after he was hospitalised
BBC
A Covid sceptic who was hospitalised with the virus and went on to urge other people to get vaccinated has died.
Marcus Birks, 40, from Leek, Staffordshire, died on Friday leaving his family "shattered", his wife said.
He was admitted to the intensive care unit at Royal Stoke University Hospital earlier this month.
The musician had told the BBC he was "shocked" to have become so unwell with the virus because he "rarely got ill".
'Best dad'
Mrs Birks, who is pregnant, wrote on Facebook: "The pain I feel writing this is unbearable, my heart has been ripped out, my soul and world completely and utterly shattered."
She went on to describe her husband as her best friend and soulmate.
Speaking to the BBC earlier in August, Mr Birks said: "If you haven't been ill, you don't think you're going to get ill, so you listen to the [anti-vaccine] stuff.
"When you feel like you can't get enough breath, it's the scariest feeling in the world."
He said information had been skewed by social media and conspiracy theorists and he had not had the vaccine.
The 40-year-old said his symptoms started with a flu-like feeling, which got progressively worse, and he was eventually admitted to hospital, suffering from breathing difficulties.
"First thing I am going tell all my family to do is get the vaccine and anybody I see," he said.
Mrs Birks thanked people for their kind words, adding: "I made him a promise that I will tell our baby boy every day how much he loves him, how special he is and how he would have been/is the best dad a son could ever wish for."