Complete Guide on Qatar Volunteer Programs Where You Can Sign Up Today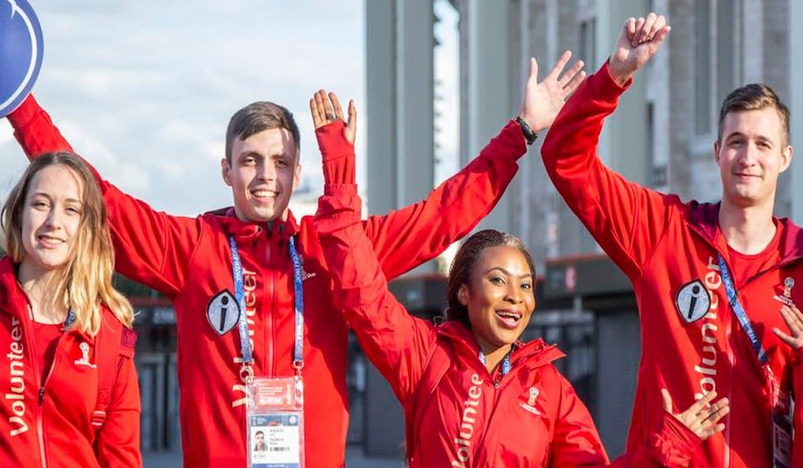 Complete Guide on Qatar Volunteer Programs Where You Can Sign Up Today
Do you volunteer for community services in Qatar? If not, you probably should. 
If you have a considerable chunk of free time, the best way to put that to use is to give back to society by volunteering.
Why should you lend a helping hand?
Not only does it get you off the couch to do something productive with your time, but it can also leave an indelible mark on your health and career. 
There's a lot of anecdotal evidence that volunteering has a positive impact on your overall wellness. By becoming a volunteer, you can also use your skills and passion to create lasting change.
So, keep these benefits in mind. Get out there and do something! You won't regret it.
In search of some volunteerism inspiration? 
Here are some volunteering opportunities available in Qatar to integrate community involvement into your calendar. 
Check out what you can do to get started with your new rewarding experience.
1. FIFA ARAB CUP QATAR 2021
Registration is now open for individuals interested to volunteer for the FIFA Arab Cup Qatar 2021™.
The greatest celebration of Arab football takes place later this year. It will witness 23 Arab national teams going head-to-head, hoping to be crowned champions at the final. 
The first-ever edition of this tournament promises to be a thrilling display of football. Fan favourites from across the region will unite in Qatar for a celebration of culture and sport. 
When: November/ December 2021
Where: Multiple stadiums across Qatar
How: To apply for this event, register on the FIFA Volunteer Platform by visiting this page.
Frequently Asked Questions and Answers (Source: Q22 Volunteer Programme FAQ page)
• Who can become a volunteer for the FIFA Arab Cup?Qatar 2021?
Anyone who can speak English and is 18 years of age or older by 1?October 2021.?There is no upper age limit.
• Will you be paid to volunteer?
All volunteering roles for the FIFA Arab Cup 2021™ are unpaid. Volunteers, however, will receive limited edition items as recognition for their support, as well as gaining valuable experience and the opportunity to meet new people from all over the world.
• Will your expenses be covered?
Volunteers will receive a Doha Metro card to be able to travel to and from the locations of their shifts via public transport. Additionally, volunteers will receive meals and drinks during their shifts. 
• Will you receive a certificate after you volunteer? 
Upon completing your tournament time shifts, you will be able to download your certificate from your volunteer portal dashboard.
• Do you need to speak Arabic to join as a volunteer?
No, English is the primary language of the volunteer programme. It is open to people from all nationalities, but the ability to speak English is required.?
• Do you need previous volunteering experience?
No,it is not necessary to have?previous?volunteering?experience. Applications from people who have never volunteered are considered.
• Will your disability prevent you from being in this role? 
The Q22 Volunteer Programme is open to everyone and all roles are fully accessible. If you have any specific access requirements, you will be able to specify?these?requirements in?your application form. If you have any concerns regarding this, email Q22volunteers@2022.qa.
• Do you need to commit to any particular dates? 
The FIFA Arab Cup 2021™ will take place between November 30 and December 18, 2021. Depending on your role, you will be required to commit to a minimum of approximately 8 shifts during these dates. If you stated in your application that you are available before Nov. 30, you may be contacted about shifts during the lead-up to the tournament. 
• How long and what times will shifts be?
Minimum shift requirement: 8 shifts of about 8 hours. It will take place throughout the day, and could start as early as 8:00 AM and end as late as 1:30 AM, depending on the match start time.
Shift timing: Weekdays and weekends (Note: Due to the match schedule, shifts may start as early as 9 AM so volunteering only after normal work hours may not be possible).
• Will your accommodation be covered?
No, volunteers are expected to arrange and cover the cost of their accommodation.
• Where can you see information that you have been sent? 
When you log in to your volunteer portal, you can see communications you have been sent in the notifications tab. 
• What will be your role for this event?
If selected, volunteers are assigned to a role based on their application form and interview. Your personality, availability, skills and previous experience will be taken into consideration. Role offers are sent to be sent by October 2021.
• Can you perform the same role that you did in previous events?
Volunteers will be assigned based on their application form, selection process, and previous experience. Your personality, availability, skills and previous experience will also be taken into consideration. They will do their best to find you a role in your preferred Functional Area, however, they cannot guarantee this will be possible.  
• What kind of roles are available for this event?
All of the roles are guest facing roles, the majority of which will be in the Spectator Support function. However, there are a small number of roles which require specific experience; such as roles in health and safety, language services and medical.
• Will you need to attend training? 
Yes, you will need to complete all training sessions in order to perform your tournament time role. Some of your training will take place online and some will be face-to-face and delivered at your tournament venue. Once you have accepted a role, you will receive more information about your training. 
• What kind of training will you receive?
You will receive general training regarding the FIFA Arab Cup Qatar 2021™ and more specific training regarding the role(s) and venue(s) assigned to you.
• Why do I need to do more training? If you have volunteered at other events in Qatar?
This training will cover specific details about the FIFA Arab Cup Qatar 2021™ and provide you with key information about your volunteering role.
COVID-19
• Will it be safe to volunteer?
The event committee continues to follow the guidelines from the Ministry of Public Health (MoPH) to ensure volunteering at?the FIFA?Arab Cup?Qatar?2021? is as safe as possible.
• Will you be required to undergo a COVID-19 PCR test to be able to volunteer?
At this stage, a COVID-19 PCR test is mandatory for you to be able to fulfil your shift during match days, along with a green EHTERAZ status. However, as the situation develops, organizers will continue to monitor guidance from MoPH and keep you updated with the requirements to volunteer.
• Are you required to have a? COVID-19 vaccine to be able to volunteer?
At this stage, you do not require a COVID-19 vaccine to volunteer. You will require a green EHTERAZ status, and organizers might request that you pass a COVID-19 test prior to your shifts. They will continue to monitor guidance from MoPH and keep you updated with the requirements to volunteer.
"Together, we can achieve more. Volunteering is how you can take action, give back to the community and shape the future. Our volunteers gain valuable experience and develop new skills – all while having fun."
2. QATAR 2022 FIFA WORLD CUP
Join hundreds of thousands of people from around the globe – and make history as Qatar prepares for the Middle East's first FIFA World Cup™
Supreme Committee for Delivery & Legacy (SC), the event organizing committee, will continue to run volunteering opportunities across numerous events, tournaments and activities, in the run up to the FIFA World Cup Qatar 2022™ – and is calling upon you for support. 
Volunteer candidates will submit an application, answer in-video questions, and take part in a group interview. If selected to participate, they will receive an event offer, training, and shift allocation.
When: November 21 - December 18, 2022, with the finals being held on Qatar's National Day
Where: Multiple stadiums across Qatar (Check out the Match Schedule for your guide).
How: Register your interest in volunteering on the road to 2022, by going to this site.
Frequently Asked Questions and Answers (Source: Q22 Volunteer Programme FAQ page)
• Who can apply to be a volunteer?
Registration is open to everyone aged 16 and above, regardless of nationality, education or profession, etc. You don't need to be a Qatari national or resident.
• What will you be doing?
You'll help prepare Qatar for the FIFA World Cup 2022™, supporting events and projects in spectator services, hospitality, marketing, catering, transportation, workforce management and other areas. There will be many major milestones between now and the tournament, giving you plenty of opportunities to make your mark.
• How are volunteers selected?
People with the skills needed – such as communication, leadership, language, teamwork and engagement skills – are selected to work in different functional areas. You'll have the chance to make the most of your unique skill set.
• Does registering guarantee you a volunteering position?
Applying to be a volunteer is not a guarantee of being selected. There are several assessment stages before being selected; for example, language and skill tests and interviews.
Services:
• Will you be paid?
You won't receive any money for volunteering, but it's a once-in-a-lifetime opportunity to be part of the largest sporting event in the world. You'll also gain new skills and priceless experience, which will benefit you for years to come.
• Will volunteers be guaranteed entry into Qatar?
Qatar offers visa-free entry for nationals of over 80 countries. It's working with local partners to guarantee entry for volunteers from other countries, but this might vary with each event.
• Will you get free transport to venues?
Free transportation within Qatar is usually provided during the event period. More detailed information about pick-up and drop-off locations will be provided closer to the event.
• How many meals will you receive during a shift?
You'll be provided with 1 meal for each eight-hour shift. You'll receive 2 meals if your shift is longer than 8 hours.
• Will non-resident/ foreign volunteers be provided with meals outside their shifts?
You'll only receive meals during your shifts at official venues.
Shifts and training:
• How long does a shift last?
The length of a shift depends upon your role, but the average shift is eight hours long.
• Will you have days off?
You'll have at least 1 day off every seven days. The schedule will depend upon your role and you can find it on the portal when your application for an event is accepted.
• Will you receive training opportunities?
You'll be trained by local partners with valuable training and professional development courses. Volunteers from outside Qatar will receive training before they arrive in the country.
• Do volunteers automatically become part of the FIFA World Cup Qatar 2022™ volunteer programme?
The tournament volunteer programme is a separate campaign that will begin closer to the kick-off date. In the meantime, you can take part in some truly unforgettable events – and make history with Qatar.
Volunteers' experience on the road to 2022 will give them a huge advantage over other applicants when applying for the tournament volunteer programme.
• I'm currently employed. Will I be given an exemption from work to volunteer?
If you're accepted into the Host Country Volunteer Programme for an event, you'll receive a confirmation email, which you can use to request an exemption from your employer. In some cases, the event committee might be able to provide you with a letter encouraging your employer to adjust your working hours to fit your volunteering activities in.
However, it's your employer's decision to accept or reject your request, and it's your responsibility to make sure you're available for training sessions and the event itself.
Technical queries:
• How can you change or update your details after applying?
You can change or update your details by sending an email – listing the information you want to alter – to loc.volunteer@sc.qa.
• Where can you see event and interview details?
After applying, you can find this information on the portal homepage when you log in.
As the country moves forward towards kick-off, your enthusiasm and dedication will help make Qatar 2022 an unforgettable tournament.
3. MOPH NATIONAL VOLUNTEERING CAMPAIGN
The Ministry of Public Health (MoPH) is seeking volunteers to support Qatar's response to the COVID-19 outbreak.
The National Volunteering Campaign: For Qatar has been organised to ease the strain on Qatar's resources during the pandemic. 
Since the launch of the "For the Sake of Qatar" in March campaign, more than 35,000 citizens and residents have stepped forward to volunteer in Qatar's fight against COVID-19.
When: To be advised by MoPH
Where: To be advised by MoPH
How: To register as a volunteer, click here? or visit this page.
• Who can qualify as a volunteer?
Volunteers must meet the below criteria:
- Be a Qatar resident 
- Have Qatar ID
- Aged 20-45
- Be medically fit enough to contribute
- No history of chronic illness/disease
Frequently Asked Questions and Answers (Source: MoPH page)
• What are the shift timings?
Volunteers will be needed for at least 14 times of 8-hour shifts over a 12-week period. 
• How is the screening process done?
Volunteers are screened by the Volunteer Center and successful applicants are then grouped according to whether or not they have medical qualifications/background. People already working in the healthcare sector are welcome to take part.
• Will volunteers undergo training?
Suitable volunteers will attend a 2-hour induction session plus a 2-hour job-specific training session before proceeding with their duties. 
Training has been given to thousands of volunteers via more than 125 workshops. The volunteers' duties include supporting clinical medical practice, allied health practice, public health awareness, and logistics, in health centers across the country.
• What will be your responsibilities as a volunteer?
Volunteers' responsibilities will include supporting medical practice, raising public health awareness, logistics and more. They will be based at medical facilities across the country.
• What are the inclusions?
All volunteers will be provided with suitable personal protective equipment. 
"We are looking for volunteers to help Qatar's healthcare sector as the number of COVID-19 cases increases and creates a strain on resources. We need to stand together as a community and work to support Qatar's public and private sectors during these trying times." — Lolwah Al Khater, Spokesperson for the Supreme Committee for Crisis Management.
4. REACH OUT TO ASIA (ROTA)
Reach Out to Asia (ROTA) was launched in December 2005 in Qatar by Her Excellency Sheikha Al Mayassa bint Hamad bin Khalifa Al Thani.
ROTA programme is committed to restoring education in crisis affected areas across Asia and around the world. 
When: To be advised by ROTA committee
Where: To be advised by ROTA committee
How: To become a member of the Volunteer Team, fill out the online application form, by following the below required steps:
1. Click on 'Apply to be a volunteer'
2. If you do not have a ROTA user account, you will need to create one.
3. Check your mailbox for your login details.
4. On the ROTA portal, login using the username and password you received by email. If you get lost, use the link in the email we sent to you.
5. Complete all four steps of the application (step 1 - Step 4)  
6. After you completed the application, you will receive a PDF copy of your record
7. To be approved a volunteer, you will need to complete an orientation session at ROTA, after which you will be confirmed as a volunteer
For more information, contact: +974 4454 1603.
Frequently Asked Questions and Answers (Source: ROTA Volunteer Programme FAQs page)
• Who can join the Volunteer Program? 
The Volunteer Program is open to all individuals residing in Qatar. There are no restrictions on who can become a volunteer. We recommend individuals under the age of 13 to be accompanied by a parent or a guardian during the activities. 
• What are the benefits of being a ROTA volunteer?
Being a ROTA volunteer gives you many opportunities, such as joining International volunteering and service learning trips to many countries in Asia and the Middle East; Cambodia, Nepal, Syria, Pakistan and more.
• How much time do you need to commit? 
The time commitment varies depending on the activity or ongoing program. It could be a one-time activity – like a beach cleanup for example – or a twice a month commitment for up to 6 months – like a patient support or mentoring program. Volunteers can work on their own or with others; do hands-on work or volunteer at an administrative and support level. 
• Are volunteers paid?
No. Volunteering by definition is to freely offer to do something. At the Volunteer Program, ROTA provides community service and service learning opportunities to encourage a culture of volunteerism in Qatar. 
• Are volunteers given certificates of participation? 
Yes. A certificate of participation is always given to the volunteers at the end of a program.
• Does the Volunteer Program provide transportation? 
No. Volunteers will have to arrange for their own transport to and from the activity site. 
• How can you learn about the Volunteer Program activities? 
All registered members will receive regular email updates with detailed information of programs, activities and events organized by the Volunteer Program. 
"Never doubt that a small group of thoughtful committed citizens can change the world; indeed, it's the only thing that ever has." — Margaret Mead
5. QATAR ANIMAL WELFARE SOCIETY (QAWS)
Run by volunteers, QAWS is a non-profit organisation dedicated to the rescue, rehabilitation and rehoming of animals in Qatar. 
When: Volunteers are always needed, you don't have to make a large commitment and even an hour here and there is fine.
Where: QAWS animal rescue shelter in Mukaynis, Doha. 
How: If you would like to apply to be a volunteer, contact QAWS at +974 5539 6074, register here or send an email to volunteer@qaws.org. Alternatively, visit them on their opening days/times and Google map which you can check on their website. You can also download its step-by-step direction map here. 
• What are the tasks you can do as a volunteer for QAWS?
- Dog Walking
- Dog Socialising
- Kennel Cleaning
- Cat Care & Socialising
- Animal Socialisation
- Administrative work
- Advertising
- PR
- Fundraising
- Newsletter Contributions
Volunteer now!
Whether you have a full-time job or other familial commitments, you can still choose a volunteer program where you have the most room to share your time and talents. 
If you're one of those who are churning through the 9–5 grind, it can often be difficult to find meaningful ways outside of work to give back.
However, if your full-time job (or personal calendar) requires a lot of flexibility, block out some "x" days each time you want to dedicate to volunteering. 
There are over 300,000 volunteers who have already registered for FIFA Qatar events alone. Why can't you? 
Volunteers live healthier and happier. They have more social connections. Plus, volunteering looks great on your CV. 
Be part of the success of each event and give back to Qatar by registering as a volunteer now!
Do you have any experiences as a volunteer for community services in Qatar? Or is it your first time to join? Share to us your thoughts in the comments!