Christian Dior's First Exhibition in the Middle East opens in Qatar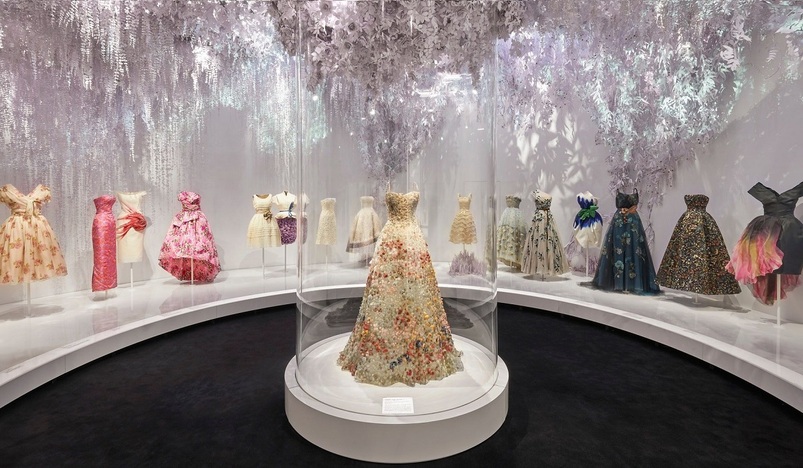 Christian Dior: Designer of Dreams Lands in Qatar for the First Time
Dior is celebrating its unique heritage with its first exhibition in the Middle East. Taking place in Qatar, in collaboration with Qatar Museums, the exhibition named Christian Dior: Designer of Dreams, is presented at M7, a design and innovation hub located in Msheireb Downtown Doha, from November 2021 to March 2022.
The inaugural exhibition at M7 opened yesterday, November 6, 2021, as part of the annual Qatar Creates cultural initiative.
House of Dior's first retrospective in the Middle East features a selection of pieces that have never been shown before, including ensembles from the private collection of Her Highness Sheikha Moza bint Nasser.
For the first time in the region, Dior is showcasing an exhibition, in partnership with Qatar Museums. It will also feature around 150 haute couture gowns the legendary fashion house created over the years.
The exhibition will be adapted specifically for Qatar, with some pieces making their public debut. This new edition follows its success at the Musée des Arts Décoratifs in Paris and several museums around the world, including London and New York.
Curated by Olivier Gabet and designed by Nathalie Crinière especially for Qatar, Christian Dior Designer of Dreams celebrates nearly 75 years of creative passion, punctuated by captivating haute couture dresses and works from the collection of the Musée des Arts Décoratifs in Paris.
This includes the famous Bar suit, which is a white satin jacket with soft shoulders, nipped-in waist, and flowering black skirt, that launched the New Look in 1947 and redefined femininity and Paris as a city of youth and newness.
Bar afternoon ensemble (detail), Haute Couture Spring-Summer 1947, Corolle line. Ecru shantung jacket and black wool pleated skirt. Musée des Arts décoratifs, UFAC collection, Paris. Gift of Christian Dior, 1958. Inv. UF 58-29-1. 
The exhibition also showcases the creations of the creative directors who succeeded him, such as French designers Yves Saint Laurent and Marc Bohan, Italian designer Gianfranco Ferré, British-Gibraltarian designer John Galliano, Belgian designer Raf Simons and Italian designer Maria Grazia Chiuri – as well as a selection of works and decorative objects from the collections of Musée des Arts Décoratifs.
Icons representing the house's history will also be on display, including versions of the Lady Dior bag reinterpreted for the Dior Lady Art project, a signature handbag in lambskin topstitched with the iconic Cannage motif, with rounded handles, named after Diana, Princess of Wales. The displays will also be punctuated by motifs from Dior's 30 Avenue Montaigne address in Paris, the city of Versailles, which is the founding couturier's muse, and his beloved gardens.
The exhibition was also reinvented for the Victoria & Albert Museum in London, the Long Museum West Bund in Shanghai, the Museum of Contemporary Art in Chendgu, and for the Brooklyn Museum, New York, where it opened on September 10, 2021.
Schedule
06 November 2021 - 31 March 2022
The retrospective exhibition is dedicated to the house of Dior's unique heritage and will be on view at M7 until March 31, 2022.
Timings
Saturday to Thursday: 9am–7pm
Friday: 1.30–7pm
Tickets
For tickets, visit Qatar Museums website.
About M7
M7 is Qatar's epicenter for innovation and entrepreneurship in design, fashion and tech.
M7 is a hub for creative startups dedicated to fashion, design, and tech, located in the heart of Msheireb.
Christian Dior Designer of Dreams is sponsored by Qatar Airways and Place Vendôme. The exhibition is part of the cultural legacy established as part of the Qatar-France 2020 Year of Culture, an initiative celebrating the longstanding ties between both nations.
Source: Qatar Museums & Vogue