Celebrity Entrepreneur Joelle Mardinian Visits Doha to launch Clinica Joelle Qatar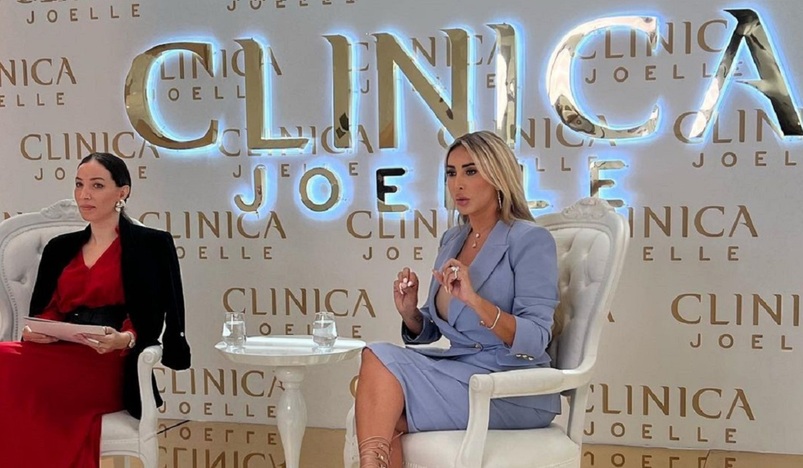 Joelle Mardinian, among MENA region's top social influencers
A successful entrepreneur, reality TV host, and beauty expert, Joelle Mardinian visited Doha to welcome the members of the media in what she described as, 'A warm and friendly Press Conference for Clinica Joelle in Qatar,' held last May 28, 2022 at Mondrian Doha.
Being a face to many global beauty brands such as Maxfactor and Pantene, with a successful coloured lenses line "Eye Candy" and skin and hair care line "Joelle Paris," the Lebansese Superstar needs no introduction.
"I want to thank the influencers, press, and media who celebrated with me the launch of Clinica Joelle in Qatar and filled me with words that warmed my heart and soul," Joelle posted on her Instagram account with 19.4 million followers.
"It's because of the support of my fans and the amazing Arab Media that I am able to continue to grow and flourish and with God's guidance and the everyone's continuous support," she added.
Going Global
During the recently concluded press conference, Joelle expressed her enthusiasm to expand the network of Joelle Group globally.
She founded Joelle Group, which includes 4 successful brands and businesses, all launched over the past decade.
Joelle Group holds a portfolio of 4 successful businesses: Maison De Joelle, Clinica Joelle, Joelle Paris, and Eye Candy, which are managed by Joelle herself.
"I hope to be able to branch out to all the cities in the world, making Clinica Joelle an international brand that every Arab will be proud of," she enthused.
Maison De Joelle
Joelle opened her first beauty salon, Maison De Joelle in 2008.
There are now 14 Maison De Joelle branches throughout the MENA region in Dubai, Abu Dhabi, Al Ain, Riyadh, Jeddah, Doha, Tunisia, Kurdistan, Erbil, Algeria, Amman, and Erbid.
Clinica Joelle
The first Clinica Joelle clinic was launched in 2013 and now has 7 branches in Dubai, Abu Dhabi, Kuwait, Algeria, Amman, Erbid, Egypt, and now, the very first in Qatar.
The now famed cosmetic clinic was awarded as the Best Cosmetic Program at the 9th World Health Tourism Congress in 2014.
Clinica Joelle Qatar
Clinica Joelle Medical Center in Qatar is located in Al Maamoura.
Clinica Joelle Qatar specializes in the latest aesthetic techniques, technology, and trends to transform its client's lives.
Clients can enjoy a serene and private venue where both surgical and non-surgical procedures are offered to meet the highest industry standards.
With a 6-strong team leading the Doha branch, Clinica Joelle Qatar is home to some of the world's best Plastic Surgeons, Dermatologists, General Practitioners, Laser Technicians, and Skin Experts with many years of experience in the world of aesthetics.
Joelle Paris
Joelle's skin and hair care brand Joelle Paris was also launched in 2013. The brand is all about her take on healthy looking hair and skin.
The brand is now available across leading retailers and pharmacies in the Middle East and on the Joelle Paris worldwide online store.
Eyecandy Joelle
"Every woman should be wild, eye candy, fierce, strong, independent, brave – all the characteristics of a what it takes to be a survivor no matter what life throws at you."
Joelle's latest brand to hit the beauty industry is "Eyecandy Joelle," a contact lens brand that has become every beauty blogger and celebrity must have. It is available in many beauty and optical stores across the MENA region.
In the Spotlight
Joelle Mardinian is a renowned TV star know for her successful makeover series, "Joelle" which aired on MBC1 for 14 consecutive years.
Joelle has been a regional ambassador for the most renowned international brands since 2005 like Evian, Braun, Scholl, Bose, Dyson, amongst many, and has been featured in global TV commercials for the likes of Max Factor and Pantene.
Joelle's social media following has grown alongside her beauty empire, and she has become an icon to fans all over the world with 19.4 million followers on Instagram alone.
She has a total social media following of 26, 113, 814 followers across all platforms, and her followers are geographically in KSA, UAE, Egypt, Jordan, Morocco, Tunisia, Algeria, and beyond.