Celebrate the New Year at Mondrian Doha, a Whimsical Wonderland in the Heart of the City!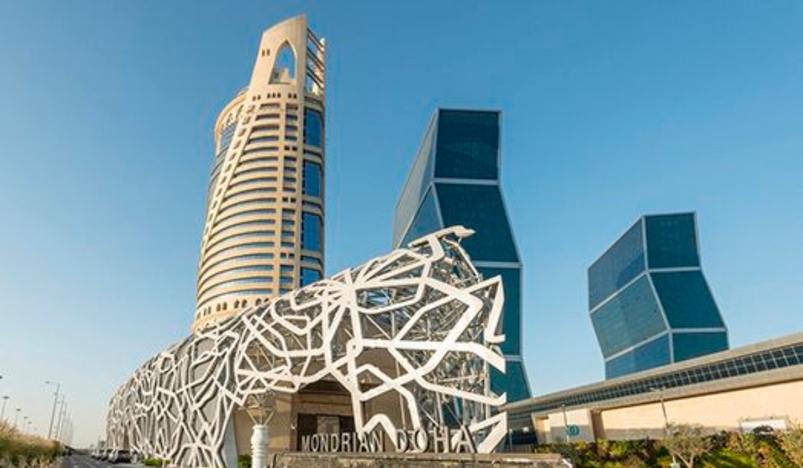 Mondrian Doha
Mondrian Doha is going all out to ensure the last night of 2022 is an unforgettable celebratory experience. Whether guests are looking for a luxurious and decadent night of glamour or a more relaxed environment with a laid-back affair, Mondrian Doha has got them covered. Each culinary venue will have its own bespoke theme for New Year's Eve so guests can start 2023 with a bang.
With the festive fever in full swing, Mondrian Doha is certain to provide its guests with unrivaled experiences across its culinary destinations!
CUT By Wolfgang Puck
Roll out the red carpet and dress to the nines as CUT is hosting an Oscars-themed night, "The Last Dance", which will bring the glitz and glamour of Hollywood to the heart of Doha. Alongside Oscar-worthy entertainment and flowing drink, the sophisticated American restaurant will be taking guests on a culinary journey with a selection of delicious dishes, ranging from Australian Wagyu Filet, and Australian Wagyu Ribeye to Pan Seared Loup de Mer and Pan Roasted Baby Chicken. It's sure to be a night to remember.
Date: 31st December
Prices:
·      5-course set menu: QAR 550
·      Enhanced package: QAR 750
·      Premium package: QAR 850
Time: Starting 6:00 PM
Hudson Tavern
Hudson Tavern is starting the new year strong with "A Night in New York" themed party, where the bar will transform into an urban escape, giving guests the contemporary feeling of the unique bars in New York. Not to forget, their one-of-a-kind New York Street food menu which will be a highlight of the guests' night.
Date: 31st December
Prices: QAR 395
Time: Starting 9:00 PM
Smoke and Mirrors
Doha's hottest cigar lounge will host an unmissable Black and Gold Night on New Year's Eve. Soak in the festive vibes and let the black interior transport you to a euphoric world as the clock strikes twelve to toast to 2023. Enjoy one of the world's finest cigars along with a menu curated by Chef Marcus that will leave guests wanting more as they delve into plates including lobster ravioli, Wagyu short ribs, and the famous chocolate panna cotta.
Date: 31st December
Prices:
Set menu and cigar: QAR 750
Beverage pairing: QAR 1000
Time: Starting 9:00 PM
Morimoto
Morimoto will be setting the bar high with its outstanding Yugen Night. In Japanese, Yugen means "hidden beauty", which will be the key theme of this unique New Year's Eve at Morimoto. Guests can expect surprises all night long as food and drinks will be paired with "hidden elements" that will keep patrons guessing what flavors they've indulged in and what will be landing next on their table.
Date: 31st December
Prices:
·      5 course set menu: QAR 550
·      5 course set menu + beverages: QAR 900
Time: Starting 6:00 PM
*Minimum of two people
12 Chairs
12 Chairs invites guests to "Breakfast at 12", an ultra-luxurious Breakfast at Tiffany's themed experience on December 31st and January 1st. The indulgent four-course meal will include delicacies such as caviar fruit pearls, salmon en croute, and truffle grilled cheese. Ending the breakfast on a sweet note, will be the sumptuous Yuzu pie.
Date: 31st December and 1st January
Prices:
4 course set menu: QAR 450
4 course set menu + beverages: QAR 700
Time: 12:00 PM until 4:00 PM
Black Orchid
This New Year's Eve, Black Orchid will be the place to be. With nonstop entertainment and flowing drinks, guests will party their way into 2023. The exhilarating tunes and eclectic beats will keep partygoers on their feet all night long and is sure to be a night to remember!
Date: 31st December
Prices:
Ladies | Free entrance 
Gentleman | QAR 350
Time: 10:00 PM until 3:00 AM
Patio By Walima
A "Twilight" event will take place on Walima's stunning terrace. Guests will dance under the stars and enjoy amazing live entertainment played by the famous Jordanian Band, Harget Kart. The fully renovated terrace of Doha's favorite Mediterranean Fusion hotspot is the ideal place to end 2022 while enjoying delicious bites, live entertainment, and unrivaled city views.
Date: 31st December
Prices: Set menu + soft beverages: QAR 350
Time: Starting 9:00 PM
Mondrian Doha will make every guest's New Year's Eve a night to remember! Book your table now by calling +974 4045 5999