Carnegie Mellon Open Inaugural Women in Leadership Conference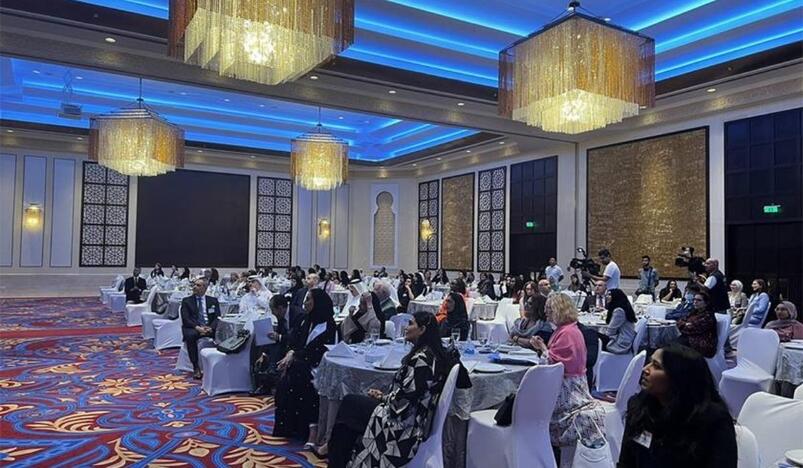 Carnegie Mellon Open Inaugural Women in Leadership Conference
Carnegie Mellon University in Qatar (CMU-Q), a Qatar Foundation partner university, opened this evening the "Women in Leadership" conference. The three-day conference will focus on equipping women for leadership in higher education. It is the first conference of its kind in Qatar.
The conference explores opportunities and challenges faced by women in higher education, and provides a platform for female thought leaders to network, showcase their work, and seek collaboration opportunities.
The inaugural session included speakers: Dr. Amal Al Malki, founding dean for College of Humanities and Social Sciences at Hamad Bin Khalifa University; Nicola Ehlermann, senior EU policy advisor and lecturer at Sciences Po; and Fatima Al Dirbasti, an alumna of CMU-Q.
The second and third days of the conference will be held at Georgetown and Carnegie Mellon universities in Qatar, respectively. The program will include panel discussions on five key topics including social gender, diversity in higher education leadership, policies, strategies and social media.
The conference, which will continue its activities in the Education City on Sunday and Monday, was organized by a multi-institutional organizing team led by Annette Vincent, associate dean of diversity and climate at CMU-Q, along with Cecile Le Roux, assistant teaching professor of organization and behavior.
"Our vision is to build a network in Qatar of people who support and empower women in higher education to take on leadership roles," Vincent said, noting a remarkable reception from women in higher education to take part in this collaborative event.
The CMU-Q faculty members join organizers at Georgetown University in Qatar, Hamad Bin Khalifa University, HEC Paris in Qatar, Qatar Financial Center, and Texas A&M University at Qatar. 
Source: QNA