Cannes Film Festival: Titane wins top Palme d'Or prize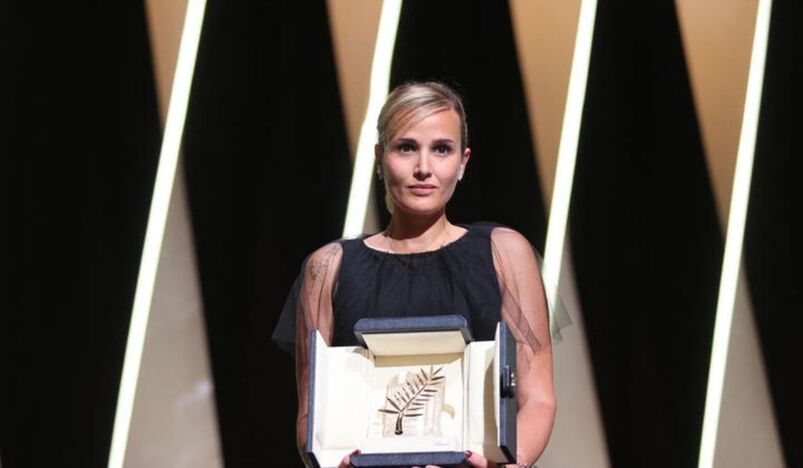 Director Julia Ducournau
Titane - an outlandish film packed full of sex and violence - has won the top award at the 2021 Cannes Film Festival.
Director Julie Ducournau is only the second woman to receive the Palme d'Or and the first female to win it alone.
The film, which is Ducournau's second feature, tells the story of a young female killer who has sex with cars after surviving a childhood crash.
The award was prematurely revealed by US director Spike Lee at the beginning of Saturday's ceremony.
The jury president let the big secret slip, before telling the audience: "I apologise for messing up."
Ms Ducournau was still emotional when her film was officially announced as the winner, adding: "This evening has been perfect because it's been imperfect."
Titane had split critical opinion and has been described as one of the most shocking ever shown at the festival.
Cannes was the first full-scale film festival to take place since the start of the pandemic.
Last year's event was canceled. The last film to take the Palme d'Or was Bong Joon Ho's Parasite in 2019, which later swept the award circuit and won Best Picture at the 2020 Academy Awards.
A host of safety procedures were in place at the festival, including mask-wearing during screenings and frequent Covid saliva tests for attendees.
While the glitz and glamour were toned down this year, a raft of Hollywood stars - including Sharon Stone and Tilda Swinton - made appearances.
The second-most prestigious award of the festival, the Grand Prix, was a tie between Oscar-winning Iranian director Asghar Farhadi's film A Hero and Compartment No 6 directed by Juho Kuosmanen.
Leos Carax won Best Director for musical Annette, which stars Adam Driver and Marion Cotillard.
Norwegian actress Renate Reinsve was named Best Actress for her part in The Worst Person In The World.
Actor Caleb Landry Jones took home the top male acting prize for his role in Nitram - which centres around a 1996 mass shooting in Australia.