Canadian Artist Honors World Cup Significant Moments with Artistic Murals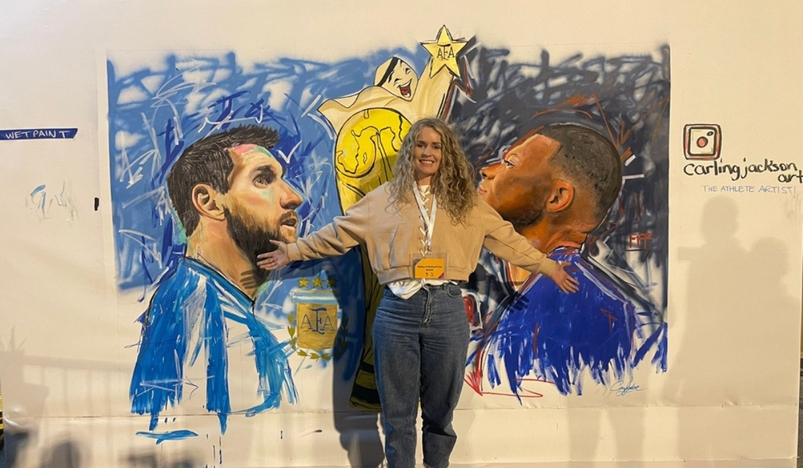 Canadian Artist, Carling Jackson
With impressive artworks and unique murals, Canadian artist Carling Jackson managed to employ her artistic talent to commemorate the most prominent sporting moment and significant stages of the FIFA World Cup Qatar 2022.
Growing up, Carling Jackson dreamed of becoming a footballer and representing Canada at the FIFA Women's World Cup. Carling has spent the last week in Qatar as part of the Supreme Committee for Delivery and Legacy's (SC) Cultural Activation Program during the FIFA World Cup Qatar 2022.
The Vancouver native played at a high level in North America and was invited to take part in Canada Soccer training camps. But a series of injuries curtailed her football career at the age of just 22 - forcing her to rethink her career objectives. An art lover all her life, Carling studied human rights artwork after hanging up her boots, later becoming a full-time artist in 2017. Since then, she's branded herself as The Athlete Artist', developed a strong online following and created a series of custom pieces for sporting stars across the globe.
In her statements to SC's website, Jackson said: "I call my work 'portraits of immortality'. We can't play our sport forever - so I ask athletes to choose a moment when they felt invincible, when they felt like a gladiator on the pitch, and then I paint it." The Canadian artist has produced murals at the Corniche and outside Al Bayt and Lusail stadiums, including during the final between Argentina and France.
"From 1912 to 1948, art was an Olympic sport, including poetry, sculpture and painting. It shows there's a close link between sport and art. When you're on the field, you're creating and I try to bring that experience of playing to my artwork," she indicated.
Regarding her experience of the FIFA World Cup Qatar 2022, she said: "Being the first sports artist to paint at the World Cup is life-changing. I haven't been able to fully process it yet. I've met some of my football idols and some incredible people who will be lifelong friends. It's been unbelievable." On the work that she created in Qatar, she said: "I was asked to create pieces of footballers. I wanted to highlight iconic goals and moments. The first piece I did featured Richarlison's scissor-kick for Brazil against Serbia, which was one of the best goals of the tournament.
The next piece I did featured Messi and Maradona at Lusail Stadium; then I painted Mbappe and Achraf Hakimi at Al Bayt. I wanted to paint Mbappe and Hakimi as they are friends - I wanted to show the respect and sportsmanship between them. I actually know Richarlison and Achraf, so I messaged them a photo of the murals I created. It was really cool. For the final, I painted Messi and Mbappe. I added the third star to the Argentina crest after they lifted the trophy.
The response from fans after the match was amazing." When asked about the fans' engagement with her artworks, she said: "Showcasing my work here is indescribable. My goal when I was younger was to make the World Cup as a player but that couldn't happen. Being the first sports artist to paint at a World Cup is amazing though. It's historic. Being among the fans and getting the feedback and interaction is awesome. Having everyone appreciate my art on a global scale is life-changing and so rewarding. I'm really grateful for this opportunity." Commenting on her future plans, the Canadian artist said: "I live in Vancouver, one of the host cities for the 2026 World Cup.
I'm working with Varley Media on creating artwork based on an incredible series of photographs taken by John Varley, who attended five World Cups." Concluding her remarks to SC's website, she said that the plan is to create a gallery that tours Canada, Mexico and the US in the lead-up to the next tournament. It's going to be exciting as she has also had players from this World Cup get in touch and ask her to capture their favorite moments.