Cafu: Qatar 2022 will be a dream for fans and players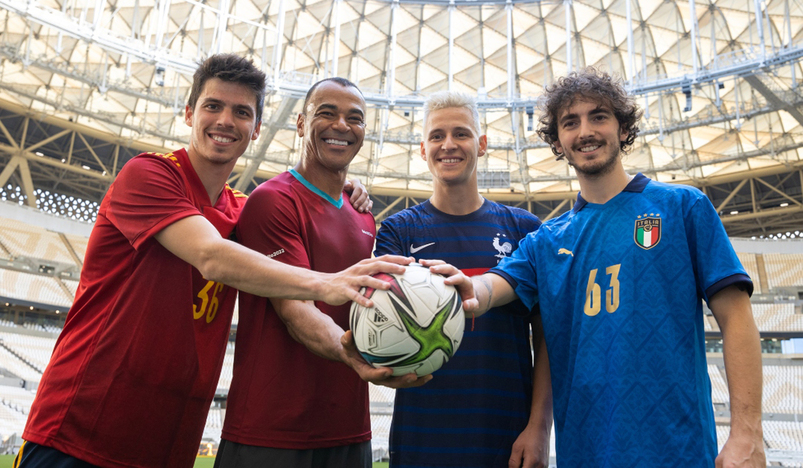 Brazil legend Cafu
Brazil legend Cafu shared his fond memories of the FIFA World Cup™ while taking a tour of Lusail Stadium, which will host this year's final on 18 December.
Cafu, who is a Qatar Legacy Ambassador, recently visited the 80,000-capacity venue, which will host ten matches during the FIFA World Cup Qatar 2022™, starting with Argentina versus Saudi Arabia on 22 November.
The only man to play in three consecutive FIFA World Cup™ finals, Cafu spoke to www.qatar2022.qa about the standout moments from his glittering career.
"Playing in four World Cups is extraordinary for someone who simply dreamed of being a footballer," said Cafu, 52. "Getting to three consecutive World Cup finals is unusual – and I'm very proud to be the only player who has managed to do that."
He continued: "The World Cup is every player's dream. You get to play against the best players in football."
Cafu's favourite FIFA World Cup™ memory is when he lifted the trophy at the International Stadium in Yokohama, Japan, as the captain of Brazil in 2002.
"When the referee blew the final whistle, I was ecstatic. There was a feeling of accomplishment and a dream come true. All you can do is hit your chest and say 'I am the world champion!'."
Cafu's advice for the players taking part in this year's final is clear: "It's very simple: be yourself. This is the moment you have been waiting for. You are representing your country. Go out there and win."
Preparations for this year's tournament, which will kick-off on 20 November with the opening match between hosts Qatar and Ecuador at Al Bayt Stadium, are in their final stages. Cafu is eagerly anticipating the matches at what he believes will be a unique version of the FIFA World Cup™.
"It's going to be a new experience for everyone and if I were still playing football, I would love to be playing in a World Cup here," said Cafu. "It will be the first World Cup in the Middle East and Arab world, so it is an opportunity to be part of a first in the history of the game. I know from my own experience that everyone will be welcomed with open arms in Qatar."
Cafu went on to discuss the compact nature of Qatar's tournament. Fans, players and officials will always be in the thick of the action – never far from a match or tourist attraction, as the longest distance between stadiums is just 75km.
"Qatar 2022 will be a dream for fans and players," said Cafu. "Four matches a day – all at stadiums which are nearby – means people will be able to attend two matches a day."
He continued: "Having a compact tournament is a great opportunity for the players also as they won't have to worry about travelling long distances between matches. They will have more time to train and rest."
Lusail Stadium will host the Lusail Super Cup between the champions of Saudi Arabia and Egypt on Friday 9 September. Click here for tickets information.