Brazilian artist Kelvin Kubic's 'Without Borders' mural inaugurated at Katara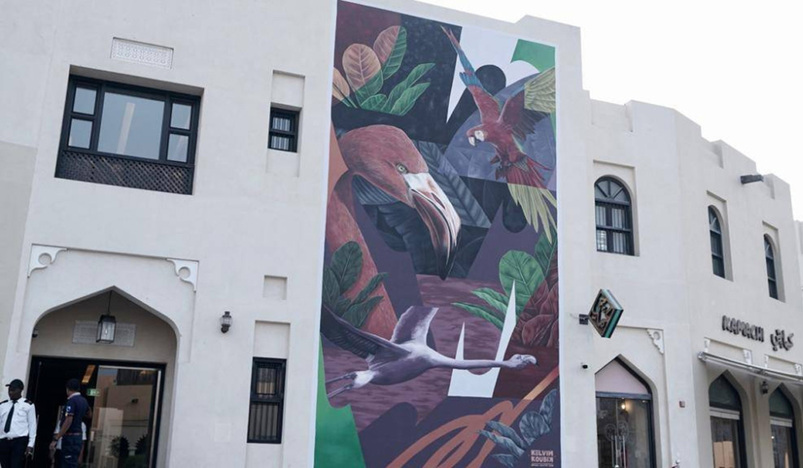 Without Borders mural
Katara General Manager Khalid bin Ibrahim Al Sulaiti inaugurated Brazilian artist Kelvin Kubic's mural "Without Borders" in Building 48 at the Cultural Village Foundation (Katara) on Thursday. The event was attended by several ambassadors, including the Brazilian envoy HE Luiz Alberto Figueiredo Machado.
"This mural is among those that are inaugurated on the occasion of the World Cup in Qatar, and it is a continuation of a project that decorates Katara buildings with artworks by Qatari and foreign artists, conveying their artistic experiences and shedding light on the cultures and civilizations of countries from different continents," Sulaiti said.
"Being open to another civilization and its arts and cultural heritage enrich the cultural scene in Qatar, in addition to enabling the public to diverse artistic experiences, and this is how Katara was able to accomplish the mission to build bridges of communication between nations."
The artist Kubik studied painting at the Institute of the Southern Federal University of Brazil.
The artist seeks to understand the site to be worked on and then creates unique aspects for the place, always paying attention to social, cultural and environmental themes. He works on public and private murals and looks forward to a dialogue with traditional painting and contemporary art. This identity makes the artist's artworks move between urban or outdoor art and indoor exhibition halls since 2014. His studio is located in the cultural area in Villa Flores, the creative district of Porto Alegre in Brazil.