Billie Eilish protests US abortion ruling at Glastonbury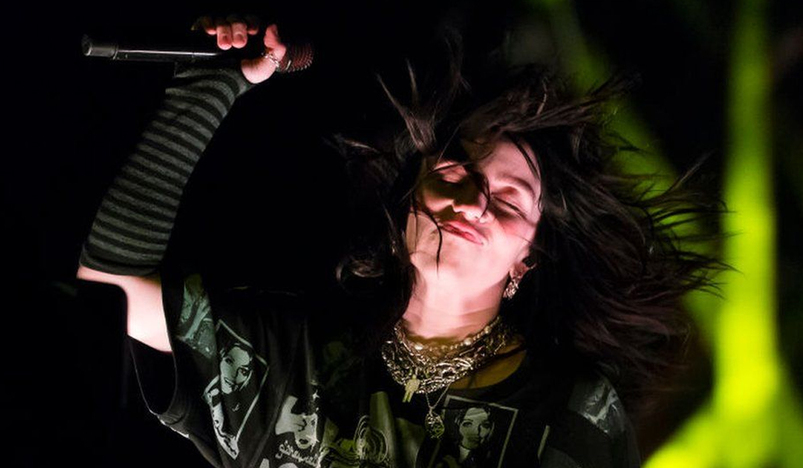 The star delivered a passionate and compelling performance on Glastonbury's Pyramid Stage
Billie Eilish has used her Glastonbury headline set to protest the US Supreme Court's decision to end the constitutional right to abortion.
"Today is a really, really dark day for women in the US," the 20-year-old said from the Pyramid Stage
"I'm just going to say that because I can't bear to think about it any longer."
She went on to dedicate Your Power, a song about older men who abuse their position, to everyone affected.
On Friday, the US Supreme Court overturned a 50-year-old ruling known as Roe v Wade that guaranteed nationwide abortion rights for women.
The decision means millions of women across the US will lose their legal right to abortion as individual states will be able to make their own laws on it.
Eilish was not the only performer at Glastonbury to protest the decision.
Earlier in the night, indie-folk star Phoebe Bridgers made a similar statement during her festival debut on the John Peel stage.
"This is my first time here. It's surreal and amazing but I'm having a real [expletive] day," she said.
Bridgers continued by cursing the "old" Supreme Court justices "who try to tell us what to do with our bodies".
Eilish's performance made her Glastonbury's youngest-ever solo headliner, at the age of 20.
She emerged on stage shortly after 22:00, amid blasts of white noise and sub-bass before launching into her opening song, Bury A Friend.
Prowling around the stage's catwalks and twisting her body like a character from The Exorcist, she was met by cacophonous screams and word-perfect renditions of her songs from the very first note.
"Oh boy, I love you so much," she told the audience, which stretched right to the back of the field in front of the Pyramid Stage.
Adopting a faux English accent, she added: "How are you doin?"
The star's set was heavily rumoured to feature a surprise appearance from Harry Styles - but, like so many Glastonbury rumours, the gossip was one step removed from reality.
Instead, the show zeroed in on Eilish, who appeared with just her brother, Finneas, and a drummer on a minimal stage with a strict red and white colour palette.
Between songs, her colourful dialogue made it seem like she was talking directly to each individual member of the crowd. She led them in breathing exercises, started a reverse Mexican wave and shared her three commandments of concert-going: "Don't be an asshole, no judgment and have fun, bitch".
The setlist adhered closely to her ongoing Happier Than Ever world tour, which meant it was front-loaded with fan favourites like I Didn't Change My Number, NDA and Billie Bossa Nova, instead of big crowd-pleasers.
It was a brave move, but potentially alienating for casual observers - many of whom drifted off before the explosive closing numbers, Bad Guy and Happier Than Ever.
For diehards at the front, though, Eilish could do no wrong. Even a deep album cut like Goldwing was sung at full volume, threatening to drown her out,
"This is such an honour to be here, right now," Eilish declared them before playing When The Party's Over. "Thank you for letting me do this. This is such a trip and a dream."
After tonight, the chances of her being invited back are looking pretty solid.
Eilish's headline set marked the culmination of Glastonbury's first day of music, which included appearances from Primal Scream, Arlo Parks, Little Simz and Supergrass.
On the Pyramid Stage, Wolf Alice delivered a blistering performance after a last-minute, transatlantic dash to the festival.
The band had been left stranded in Los Angeles on Wednesday night after their flight home was cancelled. After a light-hearted (and failed) appeal for the loan of a private jet, they finally made it back via a connecting flight in Seattle.
"So we were in Seattle about 10 hours ago, and we were worried about all the train strikes," Theo Ellis told BBC News shortly before their performance.
They were eventually escorted onto the site by a squadron of quadbikes.
"It felt like we were in Mission Impossible for 13 seconds," said Ellis. "But we made it and it kind of feels even more special to be here now."
"I still keep thinking something will happen and we won't get to play," added frontwoman Ellie Rowsell. "I'm getting scared about jinxing it."
But they did make it onto the stage, backed by a string quartet and tearing through the down-and-dirty riffs of their opening number, Smile.
As they reached the end of their set, the chaos finally caught up with Rowsell, who lay down on the stage to summon up the energy to sing their powerful ballad Last Man On Earth, When the song ended, she looked temporarily lost and flustered, until bandmate Joff Oddie clasped her in a hug.
"We didn't know if we were going to make it today," she told the audience, "so this is very surreal and we're very emotional".
Sam Fender, second on the bill after Billie Eilish, was also overcome by the moment, struggling to regroup between songs, until the crowd buoyed him up with full-throated singalongs to 17 Going Under and Hypersonic Missiles.
"Me and the lads have never been to Glastonbury before. Not as a punter. Not as a performer," he said during the set. "Now we are doing the whole lot in one day. It's a trip."
Other opening day highlights included Spice Girl Melanie C joining Blossoms onstage for a rabble-rousing version of Spice Up Your Life; and a blissed-out set from Crowded House, who welcomed the mid-afternoon sun with a mash-up of The Kinks' Sunny Afternoon and their own Pineapple Head.
"I had no idea how good this would be," said frontman Neil Finn, after leading the crowd in a mass participation version of Weather With You.
"I think we're all reinventing the way the world works here at Glastonbury. Rediscovering community, kindness, common sense," he continued. "The people are rewilding."
The band also created a memorable Glastonbury moment when they invited out Buddy - Finn's grandson, and the son of guitarist Liam Finn.
Thousands of people started chanting the youngster's name as he moonwalked across the stage and pinched a microphone to join in the band's final song, I Got You.
Away from the main stage, the festival was brought to a standstill by sets from Wet Leg (Park Stage) and 90s R&B legends TLC (West Holts). Both acts attracted so many fans that access roads had to be briefly closed.
The day was bookended by appeals for help from Ukraine.
President Volodymyr Zelensky gave a pre-recorded speech on The Other Stage before festival openers The Libertines, calling on the world to "spread the truth" over the invasion of Ukraine.
Zelensky said Ukraine "will not let Russia's war break us" and that he wants the war to stop before it "ruins people's lives in other countries of Europe, Africa, Asia, Latin America".
"Spread the truth about Russia's war, help Ukrainians who are forced to flee their homes because of the war," he added.
Ukraine's Eurovision winners Kalush Orchestra will also play a late-night set in the Shangri-La area, starting shortly after 01:00.
Source: BBC