Best Theme Parks to Visit in Dubai You'll Get Fantastic Experiences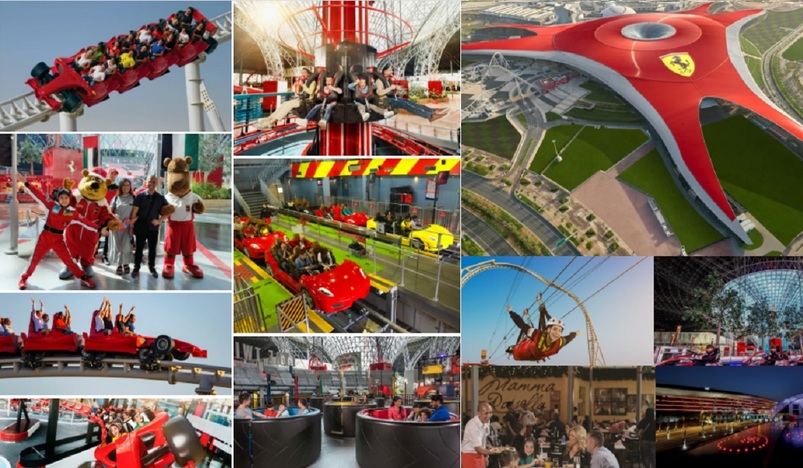 Where to go in Dubai
Dubai is full of unique and extravagant theme parks. You can find the ideal place to take your family on a family trip or a thrill-seeking ride (or both). This comprehensive list of the most popular theme parks within Dubai will satisfy you.
1- Atlantis Aquaventure Waterpark
Spend a day surrounded by exotic marine animals and some of the most exciting thrill slides and rides in this waterpark that has won awards for its. With 17 acres (42 acres) of thrilling slides and rides, the Aquaventure Waterpark offers something for everyone to be a part of Atlantis Aquaventure Waterpark children can participate in the adrenaline-fueled excitement on the smaller water slides and pools within the Splasher's children's Play Area. There's also the option to relax between rides and make peace on the park's private beach.
2- Ferrari World
From world-class rides that move at speeds only known to Formula-1 drivers to family-friendly rides as well as genuine Italian food, there's plenty to offer all ages at Ferrari World. The park is Yas Island in Abu Dhabi; Ferrari World is an hour's drive away from Dubai.
There's something about the idea of amusement parks that appeals to everyone of all ages. The pleasure one can get from spending an afternoon at a theme park can be similar for kids and parents alike. Amid a myriad of famous theme parks globally, Ferrari World stands in its category of excellence. The most renowned outdoor amusement park in the world Ferrari World has won several prizes of a high level which confirm its standing as being among the top around the globe. 
The park was designated "Middle East's Leading Tourist Attraction" in 2015 and 2016 in 2015 and 2016, and "Middle East's Leading Theme Park" in 2017 in the World Travel Awards. This is a complete guide to all you should learn about an unforgettable evening with friends at Ferrari World, So, buckle your seatbelts and be prepared for anything quick!
Visit the museum in the park to look at the stunning collection of both old and the newest Ferrari race automobiles.
3- Bollywood Parks
Have a great time in the very first theme park in Bollywood -an ode to Mumbai's legendary film industry, with five zones that are inspired by Bollywood blockbusters. Stage shows and thrilling cinematic rides are the highlights that are Bollywood Parks.
Begin your day with a lively display of live shows and cafes on Bollywood Boulevard. Enjoy the region's only style in the Broadway tradition of Bollywood Musical Rajmahal Theatre.
4- Motiongate
Motiongate Dubai hosts 27 themed rides by Lionsgate, Sony Pictures, and Dreamworks. Take a peek at the process of making films on Sony Pictures Studios, see the four wonderful areas which comprise the Dreamworks Zone and enjoy the thrilling activities in the village of Smurfs.
Create memories with the roller coasters and thrilling family rides theatre shows that are multimedia, as well as interactive play areas. Fantasy, adventure, magic, and thrills await you at one of the biggest themed parks of Dubai!
5- LEGOLAND
LEGOLAND offers more than forty rides, entertainment, and other attractions. The park also plays host to Miniland, in which you can see a miniature model of Dubai's famous skyline and iconic landmarks from all over the Middle East.
You'll be able to use your hands in an interactive workshop and then observe your children driving boats or cars. Fun for the whole family!
Also Read: Putrajaya: The capital city you've never heard of!
6- Ski Dubai
Ski Dubai is a winter adventure in the desert. Apart from snowboarding and skiing pistes suitable for people of any age and level, The Snow Park provides a broad selection of winter sports such as bobsledding, tubing, tobogganing, and wall climbing, zorbing, and snow bumpers.
Don't forget to check out the penguin colony consisting of King and Gentoo Snow Penguins or through watching the daily Penguin parade or by participating in an unforgettable experience of encounter.
Don't fret about bringing winter gear, as winter clothing is provided in the park so that you can take on the cold temperatures in the park.
7- Hub Zero Park
Hub Zero can be described as a gaming-themed theme park that has 18 attractions that are suitable for experienced and casual gamers.
The park has a variety of thrilling attractions such as spider-shooting, zombie fighting, and race car racing, along with a ropes course, laser tag, and a 4D cinema along with softball cannons.
Visit your way through the Hero Zone, with its high-swinging rope courses, climbing walls, and the terrifying Leap of Faith. Brace yourselves, fun ahead!
8- Mattel Play! Town
The most effective way to ignite the child's imagination is through play. It's always more fun when the younger ones aren't aware that they're learning!
At Mattel Play! Town, your children can participate in a safe, fun play area designed specifically for children aged 2 to 10 years old. Fun activities and experiences that span five different themed zones like Fireman Sam and Barney the Dinosaur This Dubai theme park will help kids learn crucial social skills, such as teamwork, discipline, and more!
Mattel Play! Town also provides a large selection of healthy options to encourage healthy eating habits.