Best Steakhouses in Qatar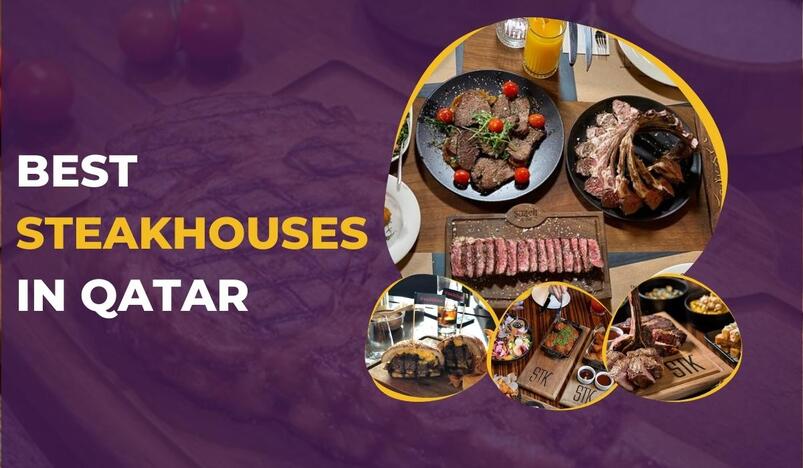 Best Steakhouses in Qatar
Steakhouses are popular all across the world, making it a delightful feast full of savory ingredients. And, in the Middle East, particularly in Qatar, steak desires are well-known, with several steakhouses located around the country.
Here's a list of the best Steakhouses worth trying in Qatar.
Sazeli
Sazeli Qatar offers a premium authentic Turkish culinary experience to satisfy guests with a passion for luxury dining. Sazeli enchants guests with a variety of offerings under the same roof, their Steakhouse fine dining restaurant is a must-visit.
Contact: 5000 1833
Location: Google Maps
STK Doha
STK Doha is a chic, unique and more vibrant iteration of a steakhouse experience. Breaking away from convention, by providing a glamorous culinary destination that boasts mouthwatering dishes, with high quality ingredients and a creative twist.
Contact: 4484 8588
Location: Google Maps
Nusr-Et Steakhouse Doha
To indulge in a melt-in your mouth steak, Nusr-et Steakhouse is the place for you to visit. It is definitely a unique experience when you visit this Instagram worthy steakhouse with Saltbae's seasoning technique. Enjoy al fresco dining to get the utmost fine- dining experience.
Contact: 4442 9339
Location: Google Maps
Astor Grill
In a warm, inviting and relaxed dining environment, Astor Grill offers simple food that's packed full of flavor. The open-kitchen restaurant serves prime cuts of meat and fish paired with hearty rustic sides that tantalize taste buds yet comforts any palette.
Contact: 4446 0127
Location: Google Maps
The Kitchen
The Kitchen presents a relaxed contemporary all-day eatery with indoor & outdoor seating, serving classic European cuisine in a warm, leisurely setting. The contemporary culinary experience offers fresh, uncomplicated dishes, with refined flavours. 
Contact: 4492 4610
Location: Google Maps
Torino Steakhouse
Torino Steakhouse opened its doors for Meat Lovers in Qatar in the year 2018 and comes to you with The Hand-Butchered Steak Cuts perfected to your preference with prime beef sourced from the country's top meat manufacturers labeling their Steaks as 'The Best Steaks On Earth'.
Contact: 3362 6373
Location: Google Maps
Ipanema
With an endless parade of grilled meats, Ipanema offers Brazil's popular churrascaria concept where large chunks of slow-cooked meat are presented on sword-style skewers, and carved by the table side.
Contact: 4419 5510
Location: Google Maps
Texas De Brazil
Texas de Brazil is an authentic Brazilian-American steakhouse that combines the cuisine of Southern Brazil with the generous spirit of Texas. Upscale eatery featuring all-you-can-eat grilled meat carved tableside & a salad bar. 
Contact: 5513 3365
Location: Google Maps