Best Restaurants With A View in Qatar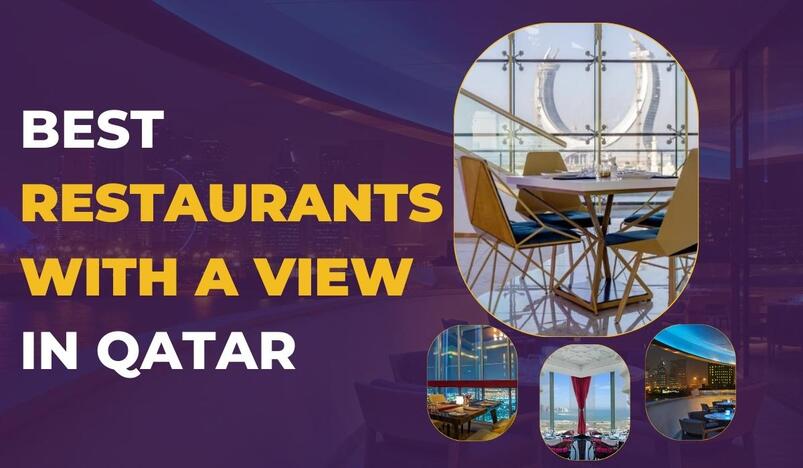 Here are the best restaurants with a view in Qatar!
There is no second thought that Qatar is a surrealistically beautiful country, from the splendid Doha skyline to the gorgeous view of the Lusail Marina, which entices people from boundaries across. Apart from the scenic beauty, the food of Qatar is yet another factor that must be explored. Here are some of the restaurants in Qatar with a view that you have to dine at!
CITY VIEW
Timeless Restaurant
The Timeless restaurant is a Japanese restaurant in Qatar that serves pan-Asian cuisine. It is the ideal location to go if you want to eat Japanese food while admiring the spectacular grandeur and magnificent surroundings of Lusail Marina with a view of the Crescent Tower.
Location: Google Maps
Contact: +974 4002 3231
Three Sixty Restaurant 
Three Sixty is a one-of-a-kind restaurant located on the 47th floor of Torch and Doha's only rotating restaurant. Three Sixty is a must-see for any visitor, offering Mediterranean food and a spectacular panoramic perspective of Doha's skyline.
Location: Google Maps
Contact: +974 4446 5600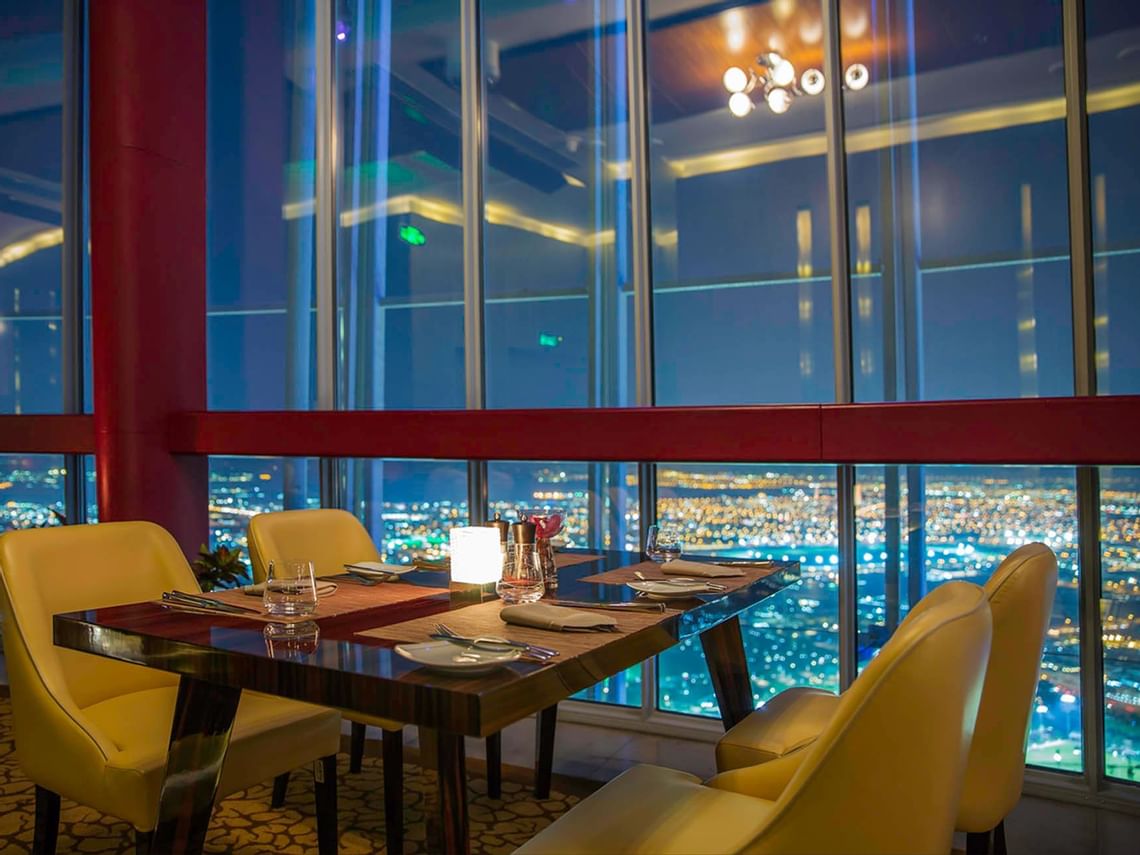 Qalamkarri 
Indulge in India's multifaceted cuisine, which offers a familiar yet new take on one of the world's great gastronomic experiences. The view is spectacular as Qalamkarri overlooks Doha, and the entire city glistens as you devour the warm, decadent cuisine.
Location: Google Maps
Contact: +974 4410 3310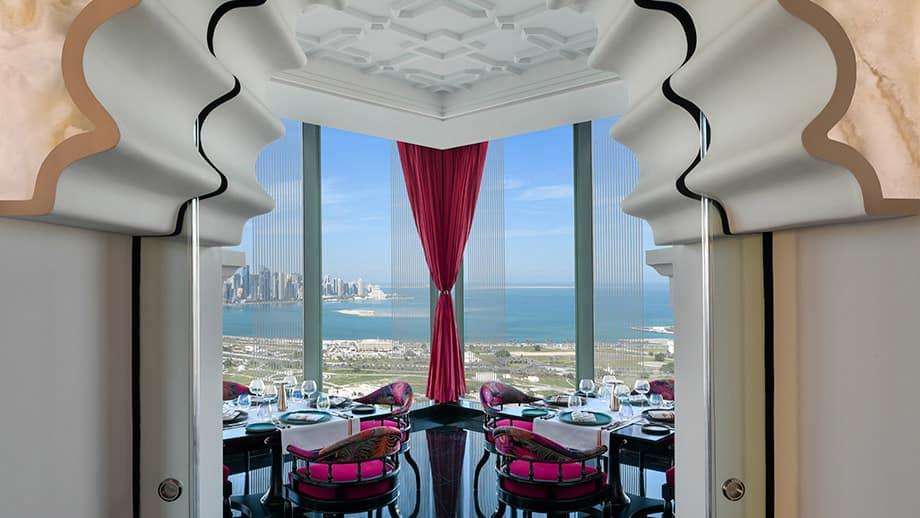 Zengo
Situated on the 61st floor of the Kempinski Residences & Suites, Zengo features vibrant décor. Zengo's menu offers a unique spin on authentic Pan-Asian cuisine. The menu ranges from sushi and sashimi to curry dishes, grilled entrees, and wok dishes. A sushi counter extends along the windows, where the impressive Doha skyline becomes the backdrop, offering an expressive and picturesque dining experience. 
Location: Google Maps
Contact: +974 4405 3560
Sky Lounge
Immerse your senses in a unique dining experience like never before! Sky Lounge, located on the top floor of The Torch Doha, serves an array of speciality drinks, snacks and sweets, overlooking Doha from over 250m above ground.
Location: Google Maps
Contact: +974 4446 5600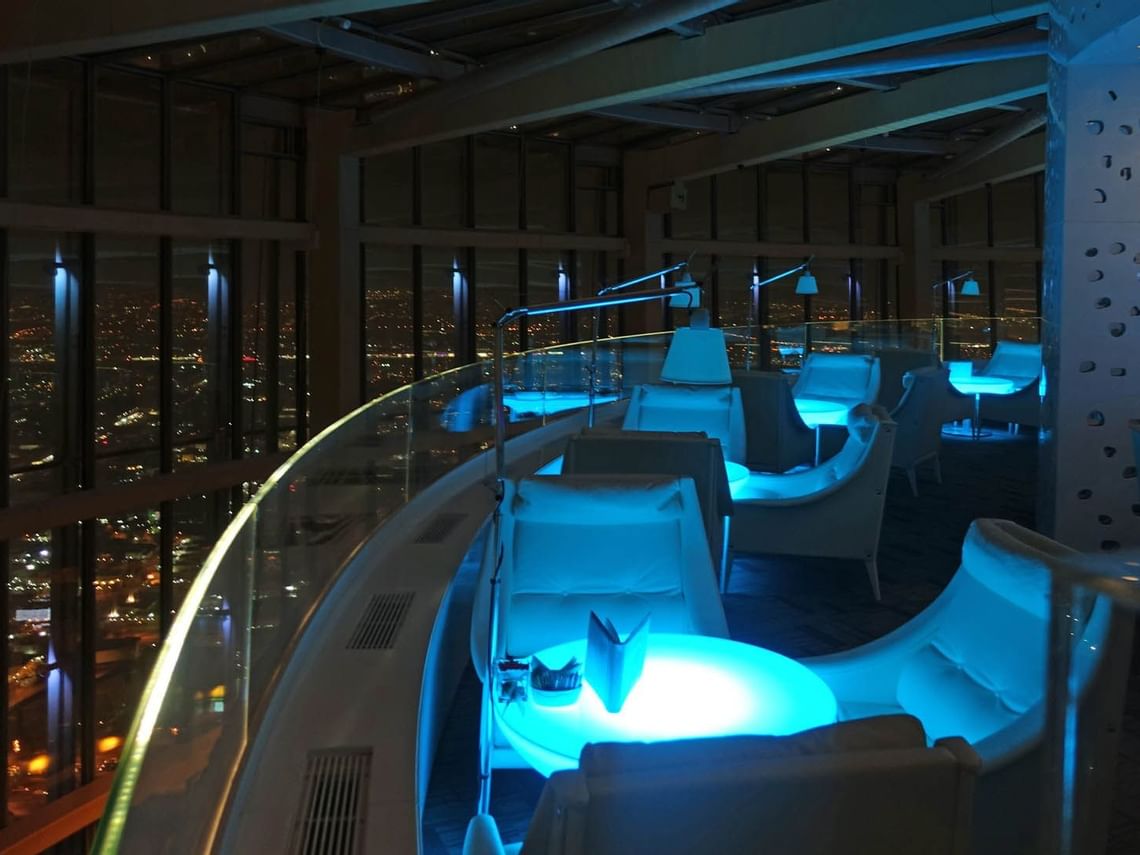 Vertigo
Located on level 28, Vertigo Doha is one of the highest clubs in the Mushaireb area with incredible 360-degree views of Doha's Skyline, Corniche, and old city. Vertigo offers an experience like no other with a creative beverage menu, mixology inventions, and International cuisine with a Mediterranean twist in a lively setup with music.
Location: Google Maps
Contact: +974 3990 5558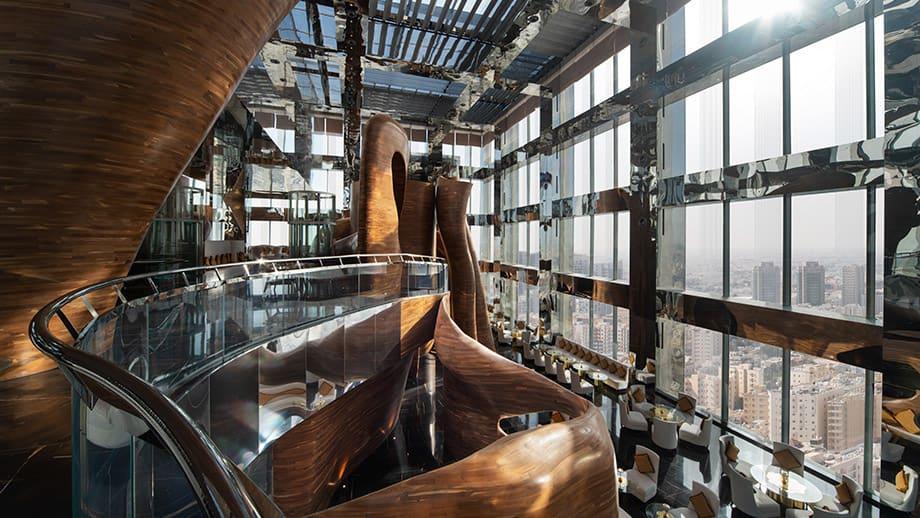 SEA VIEW
Nobu
Experience Chef Nobuyuki Matsuhisa's signature, new-style Japanese cuisine at the world's largest Nobu restaurant, dramatically perched above the Arabian Gulf. Indulge in a delicious meal as you overlook the Persian Gulf sea. 
Location: Google Maps
Contact: +974 4494 8500
Al Mourjan Restaurant
Enjoy local food by the sea as you look at Doha's beautiful skyline at Al Mourjan Restaurant, the only restaurant on the Corniche. Al Mourjan offers a wide selection of gourmet Arabic food, with an impressive spread of hot and cold mezze appetizers. 
Location: Google Maps
Contact: +974 4483 4423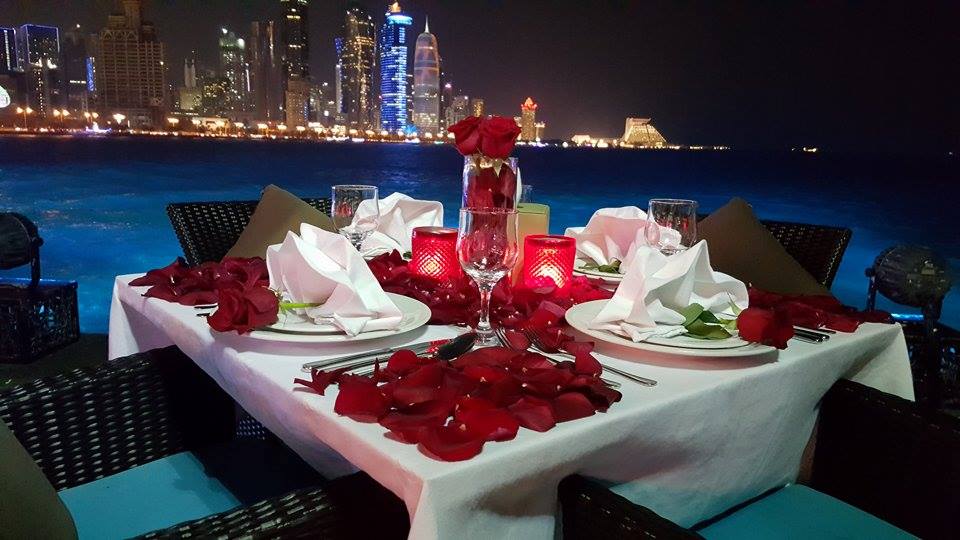 La Mar
La Mar Doha by Gastón Acurio is the go-to place for contemporary Peruvian cuisine, known for its rich flavours and diverse influences. Look forward to Chef Gastón's authentic cebiches, fresh seafood, and charcoal-grilled meats paired with signature-handcrafted cocktails such as the classic Pisco Sour. This elegant beachfront setting offers stunning and panoramic views of the Doha skyline.
Location: Google Maps
Contact: +974 4484 4919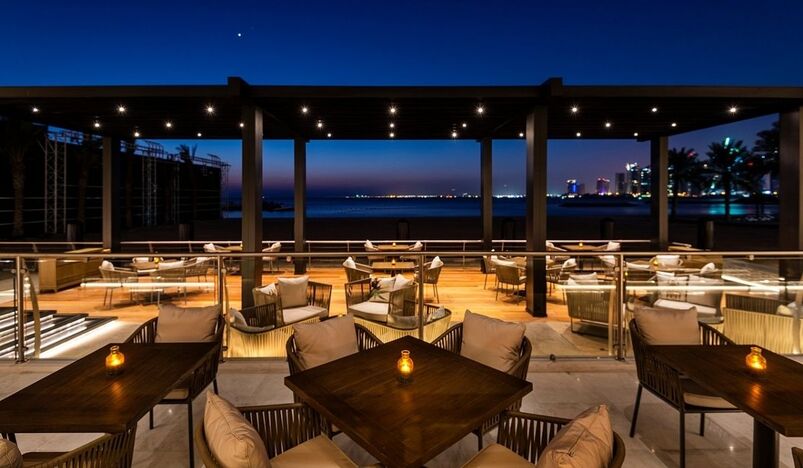 B- Lounge
With its chic design, award-winning mixologists, unique Asian fusion cuisine, legendary track of relaxing music, and magnificent views of the marina, B-lounge provides entertainment beyond expectation, in sophisticated surroundings.
Location: Google Maps
Contact: + 974 5080 4421
La Veranda
With sparkling sea views and a menu of fine Italian fare, La Veranda is the kind of place where leisurely lunches can stretch until sunset. La Veranda is the perfect place to experience an authentic taste of Italian cuisine.
Location: Google Maps
Contact: +974 4485 3000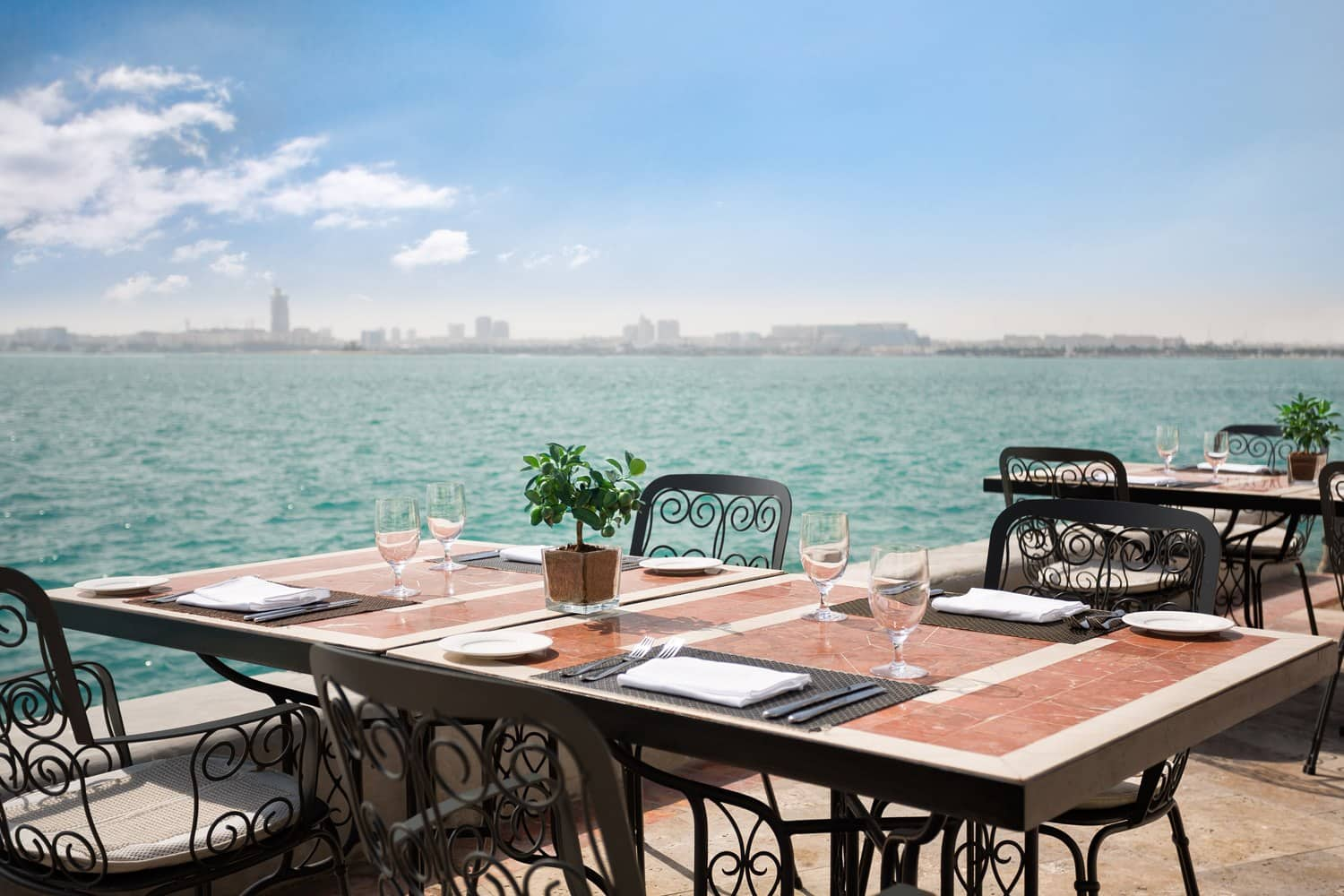 BOHO Social
A new social hub and a culinary attraction called BOHO Social are built in a spherical building atop Katara Beach club. The atmosphere is quite laid-back with bohemian interiors, the food, the espresso bar, and the non-alcoholic drink menu offer a truly fine dining experience.
Location: Google Maps
Contact: +974 4408 0543