Best Public Beaches in Qatar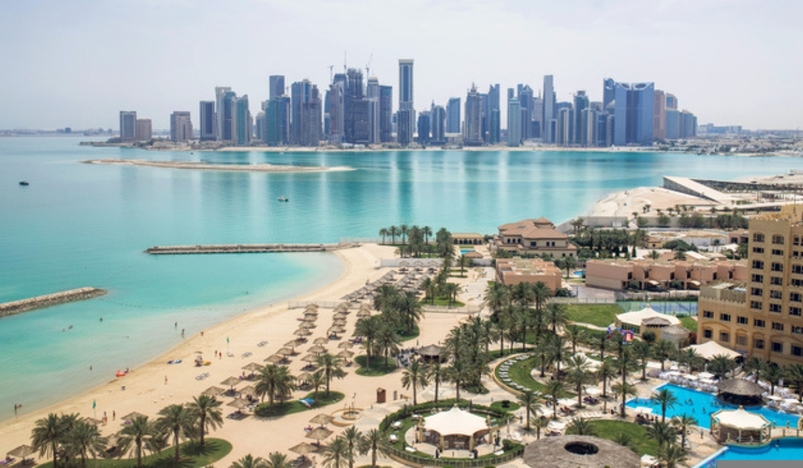 Beach in Doha with a view of the Doha Skyline
Be it summer or winter, one of the best outdoor activities to enjoy in Qatar is spending time at a beach. With over 600 kms of coastline, Qatar has over 15 beaches. Most of these can be accessed by road using a sedan, while some of them require a little bit of offroading and it is advised to use or rent an SUV to ensure you don't get stuck in the sand, while trying to reach or get back from these amazing spots. Being one of the most family friendly countries in the world and in the Middle East, most of the public beaches are visited by families throughout the year. Some beaches are better equipped with toilets and changing rooms while others are not. When it gets cold during Winter, beaches are frequented by families who wish to camp and have a barbeque as opposed to swimming. And if you're planning to visit these beaches during the summer, we recommend you do not forget to pack sunscreen, a hat and if possible a beach umbrella for some shade. We've curated a list of some of the best beaches in Qatar worth visiting below:
Fuwairit Beach

- This has to be one of the best and most popular beaches in Qatar, known for its white sand, crystal clear blue water, the occasional spotting of beautiful fish as you swim and enjoy the warm sun, making it an ideal spot to visit with friends and family alike. It offers exciting options to undertake beach activities such as beach volleyball and kitesurfing. The Fuwairit Kite Beach Resort by Hilton is located here and is worth checking out if you're in this region. This beach is a hatching site for Hawksbill sea turtles and entry to the beach is unfortunately restricted from April to July. It's always best to check if the beach is open before making plans to visit it. 
How to get there: Fuwairit Beach is located an hour and a half to two hours drive from Doha. 
Location: Map to Fuwairit Beach  
Maroona Beach

- It is located on the way to Fuwairit Beach and is best known for its pristine golden sand and nearly transparent turquoise waters making it an ideal choice for a beach day. It's fine soft sand and shallow waters make it an ideal choice for families, especially those with infants and young children. There are no luxury hotels or restaurants nearby, nor is there any shade whatsoever, so it is advised that you bring chairs, tables, barbeque sets, umbrellas and an ample supply of drinking water, food and snacks while visiting this beach.
How to get there: It takes approximately 1 hour and 10 mins from Doha to Al Maroona via Al Shamal Road.
Location: Map to Maroona Beach
Sealine Beach

- Sealine beach is located on the eastern coast of Qatar and happens to be one of the most popularly frequented beaches by residents and visitors alike. There are a wide range of activities you can engage in such as riding a dune buggy, a camel, going dune bashing in a 4x4 SUV and more. This beach cannot be accessed by a sedan and the path to the beach requires a 4x4 vehicle. The sand here is super soft and there's also a great resort nearby, the Sealine Beach Resort with some great sea facing villas, if you wish to spend the night here and enjoy the beach and its surrounding areas. There's an Al Meera supermarket nearby with everything you would possibly need at the beach ranging from supplies for your barbeque set, snorkeling gear, swimming gear, beach balls, inflatables and more. 
How to get there: It takes approximately 20 to 30 mins from Doha to reach the Sealine Camp and another 5 to 10 mins to reach the beach 
Location: Map to Sealine Beach
West Bay Beach & Doha Sands - This is one of the newest and best beaches located right in the heart of West Bay. DECC Metro station is just a 20 min walk from this beach. Being in such an ideal location, this beach has plenty of malls, shops, bars and restaurants in its vicinity. There's a running track and plenty of kids' play areas nearby. The nearest malls would be City Center and Gate Mall, in case you want to buy something that you need at the beach. There's also a beach club on this beach, the B12 Beach Club, which has a great ambience, menu and overall an amazing vibe.The view of Katara and the St. Regis with the skyscrapers of West bay in the background makes this one of the best beaches in Qatar, if you're aiming for that picture perfect moment. One of the biggest advantages of this beach, besides its ideal location, is the fact that you can wear any kind of beach / swimwear on this beach ranging from a burkini to a bikini ! Unfortunately they do have a dress code for men on this beach i.e. you cannot be wearing track pants or pants in general, it has to be beachwear. Though the West Bay beach & Doha Sands are free at the time of writing this article, it is expected that they might introduce an entry fee. It is best to contact the beach and enquire before making plans to avoid any unexpected costs.
How to get there: Located at the heart of Westbay, it only takes about 10 to 15 mins to reach here by road or a 20 min walk from the DECC Metro Station. 
Location: Map to Westbay North Beach
Simaisma Beach - This beach is quite popular with families who like to spend the night by the beach having a picnic or a barbeque especially during the winters. The advantage of this beach being its distance from the city. It is located at a distance of 30 Kms from the city on Al Shamaal road. This beach has playgrounds, toilets and a few other facilities. If you're in the mood to spend the night / weekend here, the Simaisma Resort located here provides the perfect options to do just that.
How to get there: It takes approximately 35 to 45 mins from Doha to reach the Simaisma Beach 
Location: Map to Simaisma Beach
Inland Sea (Khor Al Adaid) - If you own a 4x4 SUV, then you've probably already visited Khor Al Adaid, popularly known as Inland Sea quite a few times. It takes about 2 hours of driving to reach this stunning beach, which is best known as an instagrammable location with its pristine blue water on one side, and majestic sand dunes on the other. This beach happens to be a great spot for fishing and is frequented by families and young single people alike, especially during the winter season. Inorder to reach this beach, which is located on the Qatar-Saudi border, you have to drive over some dunes. If that doesn't sound like your cup of tea, we'd advise you to rent a 4x4 along with an experienced driver to make sure you get the most out of the journey to this beach, without getting stuck in the sand. This beach is probably one of the most scenic locations in Qatar.
How to get there: It takes approximately an hour of driving to reach the off-road path and from there it takes another hour of off-road driving to reach the Inland Sea Beach 
Location: Map to Inland Sea
Katara Beach - Katara beach is located at the Katara Village and happens to be one of the first public beaches in Doha. It being located so close to the city and being accessible by metro (via the Katara Metro Station) makes it a great choice for those who don't drive or have their own vehicles or simply want to avoid the long drive out of the city. Galeries Lafayette is a short walk away from this beach, in case you want to do a bit of shopping, there are also small convenient stores, a couple of restaurants and pop-up outlets for food, Karak and desserts in the vicinity. Katara cinema, one of Qatar's most premium and luxurious cinemas is located close to this beach, as is the Planetarium. There are a couple of lanes nearby with a wide variety of restaurants and food concepts, called Tasty Street, that are worth checking out if you're feeling hungry. Besides this, the beach offers an area dedicated for families as well as plenty of activities to keep you entertained such as jet-skiing, sailing, dragon boats, pedal boats, kayaking and more. You have to pay an entry fee to use Katara Beach, but luckily it is priced at a mere 10 QR which is usually affordable for almost everyone. You can also rent out a beach chair or a beach umbrella at a nominal cost ranging from QR 10 to QR 20. Please be advised that this beach does have a dress code for women i.e. bikinis are not allowed on this beach and you might be asked to wear shorts if you're wearing a one piece swimsuit. There is also a large play area for children built on this beach. The lifeguards usually do not allow people to swim after sunset, but the beach and play areas can be accessed til about 11 PM. 
How to get there: Ideally located within the city limits, this is probably the easiest beach to get to. You can reach Katara Beach via road after a 10-15 min drive from almost anywhere in the city. There is plenty of overground and underground parking available here. You can also access this beach via the metro via the Katara Metro Station which is a short 10 minute walk from the beach. 
Location: Map to Katara Beach
Wakra Beach - Located close to the Wakra Souq, this beach is quite unique compared to the other beaches in Qatar. The beachfront is lined with a variety of restaurants and cafes, making it an ideal location to visit with your family and friends. There is a large play area for children, and a spot where children can ride on ponies / camels. This beach is quite shallow, so it wouldn't be the best spot to go if you're planning to swim, but it does prove to be quite safe for children. The overall feel of this beach, owing to its location with the Wakra Souq nearby, is that of tradition and heritage. There is a big pearl monument here, which features in photographs of this beach and the souq, that reflects and serves as a reminder of Qatar's pearl diving tradition. Owing to its location in the souq, there are some restrictions with regard to the dress code on this beach. Women are not allowed to wear bikinis or one piece swimsuits. They would be required to wear shorts. After a swim in the ocean and spending time at the beach, most families opt to eat at one of the many restaurants on this beach, with the favorites being the grilled fish restaurants in the Souq.
How to get there: Located within the Wakra Souq, this beach is a 20-30 minute drive from the city center. This beach cannot be accessed via the metro.
Location: Map to Wakra Beach
If you're a beach lover, this list of beaches has probably got you inspired and packing already. In Qatar there's a unique opportunity to make the most of these beaches, be it for a barbeque / bonfire on a cool winter night or for getting a beautiful tan during the warmer months while the sun is out. Except for the end of December and early January, the water is almost always suitable for a swim making it one of the best investments of time, money and effort while visiting Qatar. Carrying food and beverages is advised except in cases where the beaches are managed and do not allow food and drinks from outside.