Best Pool Bars In Doha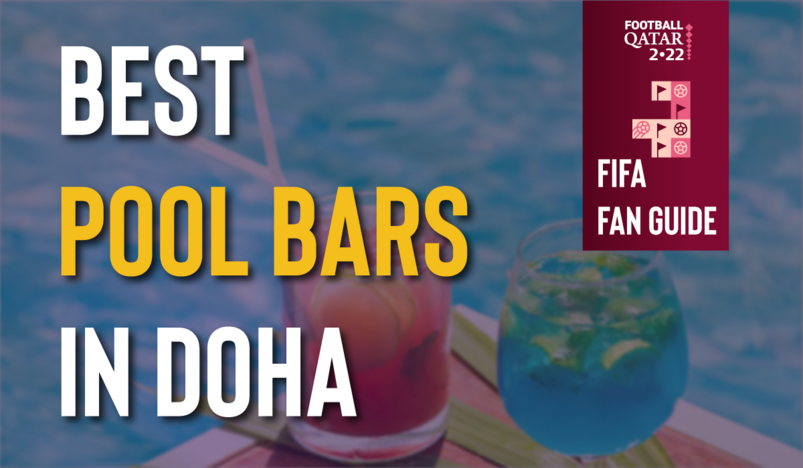 Pool Bars In Doha
If your next visit to Qatar includes a day to bask under the glory of the desert skies, look no further! Here are our top picks of some of the best pool bars in Doha.
WAHM LOUNGE 
Located in the heart of downtown Doha, WAHM is an exquisitely designed bar with an exciting drink selection that surely does not disappoint. The refined atmosphere, coupled with great service, makes this poolside bar lounge a crowd favorite.
Location: Wahm Lounge, W Doha
LA PERGOLA
Looking for a place to soak up some sun while sipping on refreshing cocktails? La Pergola is just the spot for you. This rejuvenating bar is located at The Hilton Pearl Hotel and offers a wide range of drink and food selections, catering to all tastes and preferences.
Location: La Pergola Lounge, Hilton Doha The Pearl Hotel & Residences 
THE POOL DECK
Nestled among the breathtaking skyscrapers of the Doha skyline, The Pool Deck, JW Marriott has remained an unvarying crowd favourite. Well known for its delightful grills and daily happy hours, this is an excellent option for anyone looking to enjoy a casual night out with friends. Located in the widely known Marriot Marquis, the moody lighting and comfortable sofas sets the tone for its relaxed ambience.
Location: The Pool Deck, JW Marriott Marquis City Centre Doha 
FLAMINGOS
Featuring a striking lagoon style pool, coupled with stylishly designed interiors, Ritz-Carlton Doha's poolside snack bar is a place abuzz with good music and great conversations. Enjoy some light finger food by the sea while keeping cool under the huge umbrellas and palm trees.
Location: Flamingos, The Ritz-Carlton, Doha 
 LA MAR BEACH
The InterContinental Doha is known for its high quality food and beverage offerings. The newly opened La Mar beach is no different with its luxurious beach lounge and pool overlooking the splendid views of the West bay Skyline. Their signature cocktails and unique food is sure to entice your senses.
 Location: La Mar Beach, InterContinental Doha Beach & Spa
SUSHISAMBA
The newest beachfront pool in Qatar, Sushisamba is located at the Waldorf Astoria hotel in Lusail. The renowned brand has opened its signature restaurant and its very first Beach Club that has quickly gained traction and rightfully so. Designed to capture the essence of a tree canopy, we are sure you will have an unforgettable time indulging in their scrumptious delicacies and mixed drinks.
 Location: Sushisamba, Waldorf Astoria, Lusail
O GLACEE
Head straight to O'Glacee on your next visit to the Alwadi Hotel to enjoy some delicious Mediterranean food while soaking up the incredible view of Msheireb. Pamper yourself to a refreshing day under the changing hues of the desert sky, while swimming a few laps in the outdoor pool. Don't forget to try some of their fusion bites and drinks during your stay.
Location: O Glacee, Restaurant, Alwadi Hotel, Msheireb Downtown
 KAIA BEACH CLUB
One of the most attractive destinations to grace the growing list of Doha's stylish Hotels in 2022 is Kaia Beach Club at Hilton Salwa Beach Resort. It has quickly gained fame among daycationers for the mellow vibes and amazing music, thanks to their regularly hosted DJ Nights and unique food options.
Location: Kaia Beach Club, Hilton Salwa Beach Resort & Villas
 AL SEEF POOL BAR, SHARKH VILLAGE
Featuring a delectable selection of Arabic and Continental bites coupled with refreshing coolers and warm brews, a day at the Al Seef Pool Bar is sure to leave you satisfied and rejuvenated. Lose yourself in the eminence of the majestic interiors, carefully designed to encapsulate the royalty and grandeur of a Sheikh's palace.
Location: Al Seef Pool Lounge, The Ritz-Carlton Sharq Village, Doha