Best Places To Try Kunafa in Qatar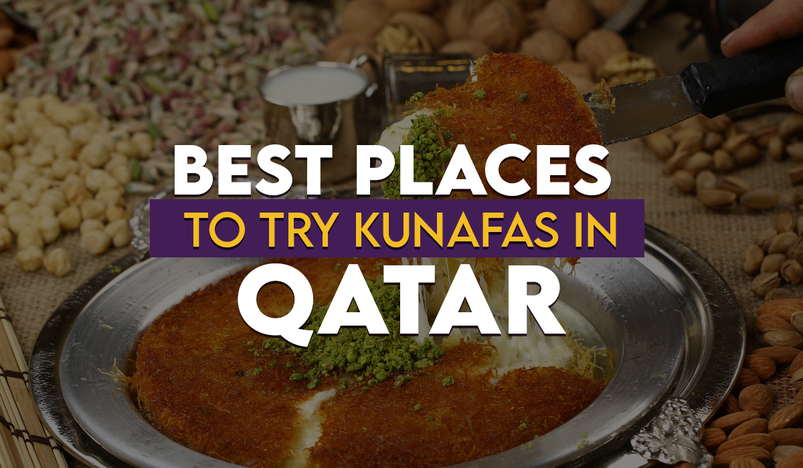 Best Places To Try Kunafa in Qatar

Kunafa or Kunafeh is a mutually agreed dessert to be one of best served in Qatar for its delectable sweetness. 
 
The dish is baked from pastry and cheese which is soaked and then filled with pistachios or nuts. 
 
The dessert originates from the Ottoman Empire, and is really popular in Lebanon and also in Qatar where it comes in three different forms which are na'ama, khishnah and muhayra.
 
Each of the desserts has its own uniqueness and taste heavenly when it comes to tasting them.
The traditional desserts that originate from the Middle Eastern region is a sugar-based syrup and is topped by cheese to enrich the taste buds of Kunafa lovers. 
Being popular in the Arab world, Kunafa is one of the common varieties in Egypt and Palestine in addition to the gulf countries such as Qatar.
Let us now explore some of the outlets that serves the best Kanafa in Qatar.
1.    Al Aker Sweets & Bakeries
Hearing the word 'Kunafa' or any other Arabic desserts, the first-place ringing in Qatar resident's mind is Al Aker Sweets & Bakeries.
The cheesy tasty Kunafa is prepared in front of you and serves its varieties guaranteeing you the best quality time.
Located at Al Salwa road, give a call to this bakery on 4411 3111 to know more about their services, offers and operational timings. 
2.    Al Bisana Restaurant
Al Bisana Restaurant is situated at Doha city's Shakespeare st. and offers a whole lot of great palatable desserts in the region.
The Kunafa served at this restaurant is a must-try and highly recommended by its clients for the best experience.
For more information regarding the services and timings, feel free to contact them on 4408 1200.
3.    Konafa Factory
The outlet is one of the most visited Kunafa spots to try amazing and delicious kinds of the dessert.
Konafa Factory is housed at Tawar Mall and serves some of the finest and best desserts in the country.
To enquire about their operational timings and available services, call them on 4432 5409.
4.    Yasmin Palace Restaurant
This Lebanese restaurant delivers a soothing experience for all Kunafa lovers with its authentic taste.
Yasmin Palace Restaurant is widely popular for its traditional middle eastern cuisines especially Arabic desserts including Kunafa.
They are available to be contacted on 44111503 or 44111502 as they provide the best ambience at Porto Arabia, Pearl Qatar. 
5.    Dr. Kunafa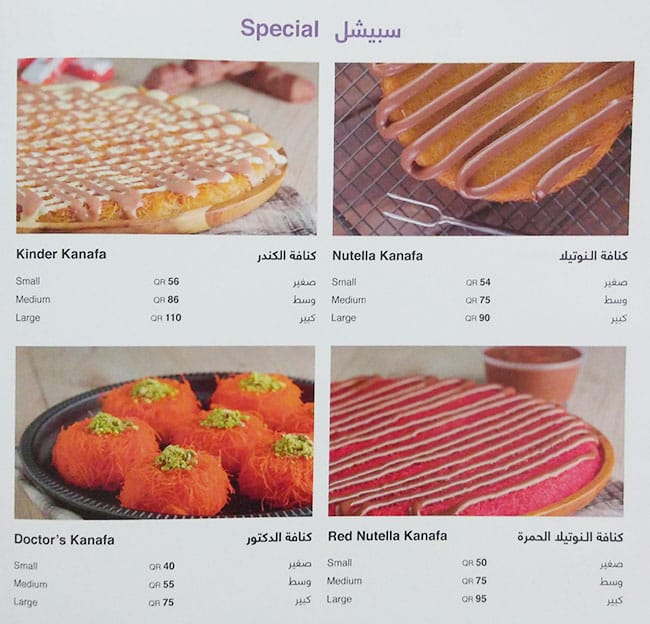 Among the few stores that serves the best Kunafa, this outlet is stated to be a stand-out place for the varieties of fresh traditional Kunafas given out.
Many residents have repeatedly claimed that Kunafa is the best Arab dessert in the region and Dr. Kunafa serves the best among all.
Dr. Kunafa is located at Wholesale market street in Doha and the residents can call them on 5071 7444 to have a chat regarding their services.  
6. Kunefe House
Assuring the luscious traditional taste of the Middle Eastern region, Kunefe House is a popular choice for many residents in the country.
Baked with the finest semolina dough, the Kunafas are prepared palatable to attract more customers to this outlet.
In addition to Kunafas, many other Arabian sweets are offered and for more information, Kunefe house can be contacted on 3100 1453 as they operate swiftly. 
Which of these outlets captured your mind to taste the best Kunafa in town? Let us know in the comments below!