Best Kayaking Spots in Qatar to Add to Your Adventure Bucket List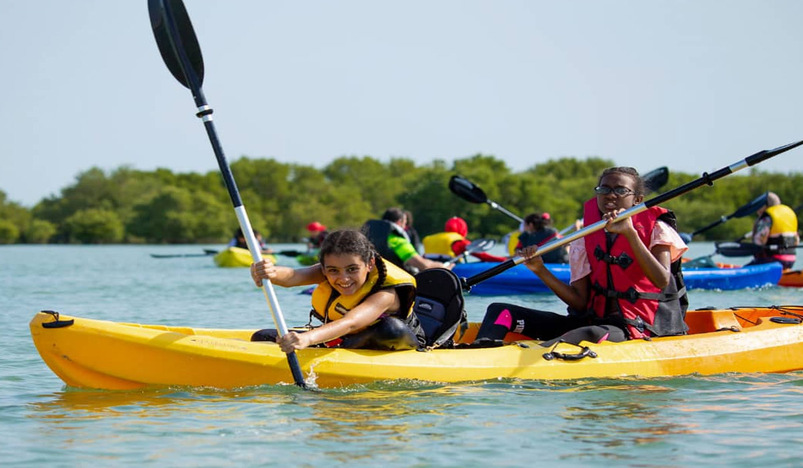 Best Kayaking Spots in Qatar to Add to Your Adventure Bucket List
Fancy dipping your paddle into a fun-packed kayaking? Paddle in paradise at Qatar's best kayaking spots!
With its azure waters, spectacular views, and wildlife sanctuaries, Qatar is a Mecca for kayakers. 
In a country where temperature creeps up to 50 °C, rain rarely comes, and desert dominates the landscape, who would have thought that this Gulf state is a bedrock of unspoiled seas and home to majestic flora and fauna?
So, whether you are a novice or an experienced kayaker, paddling your boat through Qatar's best kayaking spots is a perfect way to explore the country's natural beauty.
Tempted? Check out our top choices below where you can paddle through, sunrise or sunset. 
Bonus: We've listed some of the kayaking tour operators in Qatar and how to get in touch with them to plan out your next kayak adventure.
1. AL THAKIRA NATURAL RESERVE
Touted as one of  the largest mangrove areas in Qatar, Al Thakira is also a famous kayaking oasis in the country.
Did you know? Every year, migratory birds flock to this place that even flamingos make it their favorite pit stop on their annual migration from Europe to Africa. 
The kayaking tour at Al Thakira will not just give you a glimpse of those majestic pink birds during winter season, but it also promises close encounters with marine life year-round. 
While moonlight paddling through Al Thakira mangrove forest is a great choice, having it in daylight (when the climate is best) is also a worthwhile experience. 
Note: There is a chance that you may get wet.
What to expect?
• There are tour operators offering packages for kayaking in the area and providing visitors an introductory session prior to the tour. 
• The tour takes you through a small village surrounded by mangroves and is located just a few kilometers North of Al Khor.
• The village rests on the edge of an estuary and houses mangrove swamps with extremely high saline seawater content, which adds to the size of these mangroves, making them the most established in Qatar – this is where the real adventure awaits you.
• Depending on your booked tour, you get to experience approximately 30 minutes to 2 hours of kayaking through the Natural Reserve.
• Tours may include:
- Exploring hidden mangrove channels and waterways, during daytime, sunset or moonlight.
- Swimming in remote beaches 
- Learning about birds, marine life and much more with qualified ecoguides/
- Other facilities for BBQ, seating, changing rooms, etc.
- Kayak & paddle, Guide, Briefing & Training, Life Jackets, etc.
• Toilet facilities are usually available at the site.
• Visitors can get complimentary hotel pick up and drop off.
• For an extra charge (subject to change), you can choose to stay and enjoy barbecue for the moonrise in the evening.
Note: All precautionary measures will be applied according to the latest requirements for COVID-19 
Who to contact?
• Discover Arabia - has been taking over 5,000 people since 2011 exploring by Kayaks the mangrove ecosystems of Al Thakhira and other natural locations. 
For Bookings: Contact +974 6696 3494 or email info@aquasportsq.com 
Admission Fee: 200 QAR including all equipment
Meeting point: Al Meera, Al Thakira
Duration: 90 minutes kayak and tour may extend 2-3 hrs 
• Aqua Sports - Explore the incredible nature of the Al Thakira mangroves by group or private tour.  Paddle with the local wildlife in the ancient mangrove forest and enjoy traditional Qatari hospitality in its luxurious beachside camp.
For Bookings: Contact +974 3023 3207 or email Info@discoverarabia.today (Advance booking required to join)
Admission Fee: 220 QAR for adults,  120 QAR for kids (7-12)
Meeting point: Al Meera, Al Thakira
Duration: 90 minutes kayak and tour may extend 2-3 hrs 
• 365 Adventures - 365 Adventures' curated selection of adventures including kayaking through Mangrove forests in Al Thakira are thrilling and exhilarating.
For Bookings: Contact +974 3339 3323 or info@365adventures.me
Admission Fee: Depending on the package. Click here for the rates.
2. PURPLE ISLAND
With jaw-dropping scenery and abundant wildlife, navigating through the mangrove forests at the Purple Island is an all-time favorite for kayakers in Qatar.
You'll find calm, warm-weather options that won't make you shudder at the prospect of getting wet, unless you give it a dive or swim under its enticing waters.
What to expect?
• On your ride through the island, you will have the opportunity to witness Qatar's mesmerizing north eastern coast. 
• At your request, you will be provided with a guided walkthrough of the mangrove forest' ecology.
• At times, you have to 'walk' your kayaks when the tide is low, but the captivating sunset at the end compensates for all the walking in the salty water.
• Some kayak tour packages allow you to enjoy the evening with appetizing dinner facing a bonfire with the sound of live drum music.
Who to contact?
• Tour Operators offering Kayak packages in Al Thakira Natural Reserve also provide services for the Purple Island (Please see contacts mentioned above).
3. THE PEARL
The jewel in Qatar's kayaking crown has to be The Pearl-Qatar.
If you've ever been thrilled at the sight of marine life from a tour boat just imagine what it's like from the perspective of a kayak surrounded by cityscape views! 
Every sunset is a different painting on the sky, a different reflection on the ripples or glassy water. 
What to expect?
• You'll be taken to the parts of the island you didn't know existed, unaccessible on foot.
• Expect to see your favourite spots from a different perspective in the water. 
• Some of the routes and programs include
- Beaches and hidden sandbanks around the island
- SUP into the sunset scene in-front of the stunning Doha West Bay skyline
- Explore the breathtaking luxurious life of the Porto Arabia Yacht Marina
Who to contact?
• Blue Pearl Experience - The "Let's Paddle Series" of Blue Pearl Experience, one of the tour operators in Doha, brings together paddlers of (Stand-Up Paddleboarding) SUP and kayaks to explore The Pearl-Qatar under the orange sunset!
Admission Fee: QAR180.00 each
Duration: 90 Minutes
Prerequisite: Swimming ability of 50 meters with Personal Floatation Device
For bookings: Email hello@bluepearlexperience.com 
Note: As per the latest restrictions, bookings are open to fully vaccinated individuals into group sessions or private sessions for family groups living in the same household.
COVID-19 Guidelines:
• Entry only with Green status Ehteraz app on arrival. If sick please stay at home.
•  Wear a mask on arrival, during safety briefing and once off the water, back on the dock.
• Arrive 15 minutes early to enable preparation for the session. Late arrivals will not be able to join the session.
• Physical distancing of 2 meters at all times. Please follow the instructions at all times and follow the markings inside the base.
• Bring your own hydration as tour operators cannot provide water refill at this time. 1,5 liters per person is recommended for one session.
• No special rates, discounts applicable until further notice. 
• 365 Adventures - also offers kayaking tours in the Purple Island. For bookings, click here. 
4. KATARA BEACH
Qatar's prime kayaking locations include Katara Beach, where you can experience an unrivalled opportunity to paddle while catching the sunset.
If your idea of kayaking is to be able to occasionally flop overboard into warm, azure waters before drying off, head to this top kayak destination in Qatar. 
Katara beach, which spans over 1.5km, is the only public beach in Doha and one of the finest spots to enjoy a family fun day in Qatar. 
There are plenty of activities to experience here and you're never far from local shops and restaurants.
What to expect?
• Katara's wide, sandy beaches and startlingly blue seas makes it the perfect place for more adventurous paddles, where you can also enjoy swimming or just having a laid-back staycation.
• This place is well-equipped with various facilities making it an ideal place to enjoy adventurous activities like Jet Skiing, Water Skiing, Parasailing, Kneeboarding, Boat Riding, and Gondola Ride, Scuba Diving, Kitesurfing, Windsurfing, and a lot more.
Note: Due to the current COVID-19 restrictions in place, some amenities are temporarily suspended and will reopen on May 28 at a limited capacity.
Who to contact?
For Bookings: Contact +974 5544 9862 or mohamed.saad@katara.net 
Admission Fees: Depending on schedule of visit and age of visitors. For the rates, click here.
Timings: 
- Beach no.3: from 9:00 AM until 10:00PM.
- Beaches no. 4 & 5: from 2:00PM until 10:00PM.
- Swimming ends at sunset. Last time for purchasing watersports tickets minimum 30 minutes before sunset.
5. AL MAJFAR
Boasting a diverse range of coastal scenery, Al Mafjar is a kayaker's playground. Kayak through Qatar's magnificent mangrove forests in the Northern Part of Qatar.
Al Mafjar Mangrove reserves are amongst the country's most beautiful, untouched sights. 
One can not only enjoy the best of Kayaking experience here, but can also spend a tranquil time on the warm sand of the beach. 
Navigate through the hidden mangrove forests in a kayak and experience the untouched and wild beauty of Qatar up close.
What to expect?
• A thrilling time, kayaking through the mangrove forest, surrounded on all sides by greenery and a wide variety of unique fauna and marine species.
• On the ride over to the North, you will also have the opportunity to enjoy Qatar's beautiful North Eastern Coast. 
Who to contact?
• 365 Adventures - also offers kayaking tours in the Purple Island. For bookings, click here. 
Admission Fee: Depending on the package. Click here for the rates.
TOP TIPS
What to prepare?
• Wear appropriate gear for cultural considerations. 
• Recommended to bring:
- Swimming gear
-Rashguard or other comfortable clothes
- Flip flops/sneakers
• Be prepared with a cap, sunblock and water for hydration, change of dry clothes. 
Photography: 
Qatar's wilderness areas are easily accessible and make rewarding locations for kayaking. No doubt you'll want to photograph all the breathtaking sceneries, but remember that cameras and kayaking are not good partners.
Keep all gear in drybags or watertight camera cases that can be lashed to your kayak's deck for easy access.
Some tour operators do not commit to taking photographs in the sessions as their main concern and focus are your safety and enjoyment of the outdoors. 
Take a pair of waterproof binoculars with you – Qatar has an extraordinary range of marine species.
Kayaking at Its Finest
Do you want to tone your body? Get close to nature? And, experience adventure like never before? 
Get in touch with any of the Qatar tour services mentioned above to help you plan the perfect place to kayak, canoe, or paddle near you! 
If you want more outdoor activities to add to your adventure bucket list, read also: Top 5 Outdoor Activities in Qatar You Can Do While Social Distancing
Have you been to any of the kayaking spots mentioned above? Share to us your experiences in the comments below!