Best Cafes With A View in Qatar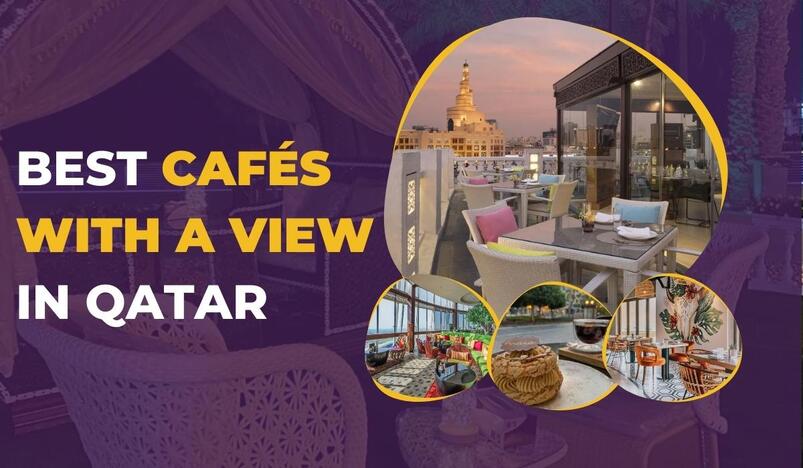 Best Cafes with a View in Qatar!
Qatar has many splendid views for you to enjoy. When these views are paired with a cup of freshly brewed coffee, it'll definitely be a feast for your eyes. From the beautiful views of the Lusail Marina to the Doha skyline at Corniche, enjoy your cup of coffee surrounded by the charm of Qatar. Here are some cafes with breathtaking views.
CITY VIEW
Al Shurfa Arabic Lounge 
Al Shurfa is the ideal Arabic restaurant in Doha to have a leisurely celebration with friends and family whilst dining outdoors while taking in the sights and sounds of the bustling Souq below and looking out across the city's coastline. Visitors may savour a large selection of food, varied teas, coffee, and freshly squeezed fruit juices.
Location: Google Maps
Contact: +974 7047 3687
Maia Coffee and Chocolates
After a long day of shopping, relax at Maia Coffee and Chocolates in the Pearl, Medina Centrale. Take in the beautiful sunset at the boulevard as you indulge in a dessert platter paired with a cup of coffee. 
Location: Google Maps
Contact: +974 4480 0982
Torch Tea Garden
Enjoy an Afternoon Tea with an exclusive greatest range of tea, coffee, mocktails, handmade snacks and desserts, while you overlook the view of Aspire Park and the Doha skyline from the 21st floor of the Torch Tower. 
Location: Google Maps
Contact: +974 4446 5600
Plan B Cafe
Plan B Cafe is a Qatar restaurant serving a selection of Cafe, Desserts that delivers across Lusail. It's definitely a great plan to have breakfast, and enjoy coffee or light snacks for evenings in Plan B cafe. The interior is casual and comfortable with contemporary wooden, swinging furniture and the outdoor has breathtaking views of Lusail.
Location: Google Maps
Contact: +974 3018 7770
Sidamo Cafe
Sidamo cafe is a famous cafe located in Twin Tower, Lusail marina sixth street, Lusail. The cafe has calming cream hues, with green plants and semi-traditional elements. The Cafe can be defined as a cute, small, cosy & peaceful cafe with absolute welcoming staff. The outdoors is magical with a fairy-lighting roof to sit under unwinding and enjoy breathtaking views of the city. 
Location: Google Maps
Contact: +974 3093 4264
Volume Cafe
A beautiful cafe at the heart of Pearl Qatar with a fantastic view and pretty interiors. Offering a variety of cakes and coffee, Volume Cafe becomes a must-visit after a long day of shopping at Porto Arabia, Pearl.
Location: Google Maps
Contact: +974 4476 0914
SEA VIEW
Voute Cafe
Voute Cafe is a great place to sit, drink coffee or tea, eat chips or cake, and watch the sunset as The Doha skyline lights up in brilliant colours. From here you can walk up to the monument or along beautiful pathways to take in all the beauty of Doha.
Location: Google Maps
Contact: +974 3336 4499
BOHO Social
A new social hub and a culinary attraction called BOHO Social are built in a spherical building atop Katara Beach club. The atmosphere is quite laid-back with bohemian interiors, the food, the espresso bar, and the non-alcoholic drink menu offer a truly fine dining experience.
Location: Google Maps
Contact: +974 4408 0543
June Cafe, Lusail
Sip on a cappuccino or a latte while admiring the Crescent Tower in Lusail. You could also indulge in a selection of food including chapatis, samosas, and potato squares at this Lusail Marina outlet. 
Location: Google Maps
Contact: +974 4447 7746
MIA Cafe
MIA Café is the best spot to cool out and enjoy the night breeze while you admire the skyline of Doha. One by one the lights of the skyscrapers would go on, fascinating visitors to the cafe. The cafe has nice outdoor seating with comfortable hanging chairs and sofas to make its guests feel relaxed, as they sip on coffee.
Location: Google Maps
Contact: +974 4422 4444