Best beauty salons in Qatar for Eid Al Adha 2022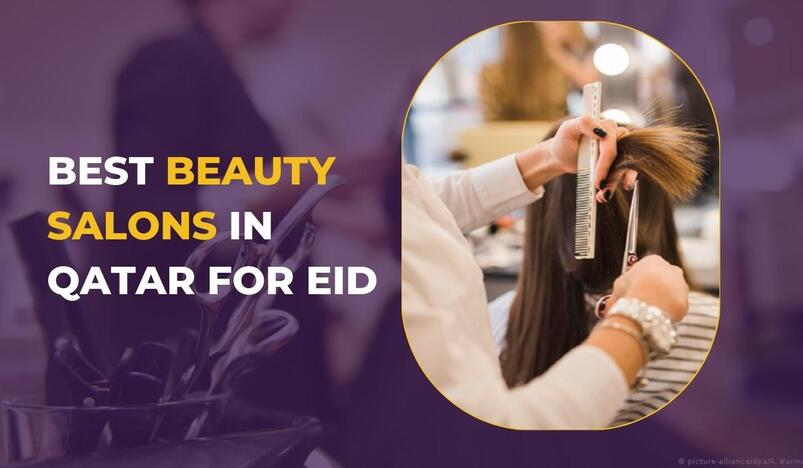 Best beauty salons in Qatar
During your busy life schedule, you often don't get time to take care of yourself, your skin, hair, or even your nails. You need to take some time off this Eid to take care of the most essential thing in your life which is yourself. Grooming yourself not only keeps you clean and presentable but also boosts your confidence and gives you time to sit back and relax. Personal time is the best time which you need to make time for this Eid. You might want to select the best beauty salon near you for better results.
Beauty Salons for women only
1. The Beats
"THE BEATS" founded by Ina and Hassan, was inspired by the traditional beauty style, and rock & roll American culture of the 1950s. The combined idea of modern art and traditional style has led them to establish "The Beats". They offer various beauty and personal services such as nail services, specializing in lash lifts, lash lifts along with other services. They are the industry leader and a preferred brand in the GCC with over 3 million clients. Visit now to get a fresh and new look.
Contact: 33403322 
Google Maps
 
2. Maison De Joelle
There is nothing that can compete with the leisure and luxury Maison De Joelle can grant. It is a leading beauty salon in the Middle East, launched in 2008 by Joelle Mardinian. The mystical transformation of the customers leaves them stunned.  Their service comprises premier hairdressing, manicure and pedicures, nail arts & extensions, and other various beauty treatments by renowned specialists known for their quality services.
Contact: 44422082 (Al Waab), 44433321 (Wakra), 40372445 (Doha Festival City)
Timing: Sun-Wed 10 am to 10 pm, Fri-Sat 9 am to 11 pm 
Google Maps
3. Kozma and Kozma
The Kozma and Kozma, established in 2007 was earlier known as the 'Glow American Salon. The quality services have not been altered with the name but they have changed their approach slightly for betterment. This incredible salon in Qatar has been offering the top services using the best quality products and a dedicated staff of a qualified team.
Contact: 66864220, 66864221, 66867220, 66867221 
Timing: Sat-Thu 10 am to 7 pm, Fri 11 am to 8 pm
Google Maps

4. Fadia El Mendelek
Fadia El Mendelek, launched in 2010 was an initiative by Fadia El Mendelek, who is a certified and licensed hairdresser. What makes the salon stand out apart from the knowledge and internationally acknowledged owner, is the highly proficient team that keeps itself updated. They continually train their staff to update their knowledge to learn about the new and modern techniques of new modern styles. Get a creative, unique, and fun look for this Eid!
Contact: 44177744, 44111878. 33776467 (Al Duhail), 44177788, 44177799, 66884455 (Izghawa)
Timing: Sat-Thu 10 am to 8 pm, Fri 2 pm to 8 pm
Google Maps
5. Chic & Posh Beauty Lounge

Chic & Posh Beauty Lounge was inaugurated in 2013, and since then it has been serving clients with highly standardized services in its exclusive beauty lounge. It is the perfect beauty parlor in Qatar for women to keep up their elegant style. The chic and posh salon has an ambiance that is fun, chic, and posh.
Contact: 44114480, 33600034 (Duhail), 33600086 (Place Vendome Mall), 44440036, 33800036 (New Slata)
Timing: Sat-Thu 9 am to 9 pm, Fri 10 am to 9 pm
Google Maps 

6. Maulay Yaqoup 
Maulay Yaqoup offers a warm and friendly environment for its clients to have the most pleasurable experience. Their trained staff ensure that their clients get the best treatment and provide personal care to each individual. The policy that they give most importance to is customer satisfaction, making them one of the best beauty salons with the best services in Qatar.
Contact: 44553484, 44553465
Timing:  Sat-Thu 10 am to 9 pm, Fri 2 pm to 9 am
Google Maps

Beauty salons for men only
1. Le Coiffeur 

Le Coiffeur redefines men's hair cutting experience in Qatar, a new-age barber shop where you can sit back and relax in a one-of-a-kind "Man Cave" and experience the art of  traditional grooming services.
Contact: 33157162
Timing: Sun-Sat 10 am to 10 pm, Fri 1 pm to 10:30 pm
Google Maps
2. Clearcut
Clearcut stands out as the sharpest barber shop in Qatar. Clearcut is a barber shop with personality, a place where you can socialize while getting groomed. A place that has a real sense of community in a new neighborhood. To enhance the community spirit and add personality, they suggested in-store art and photography exhibitions, live music, and retro vinyl for the customer to choose from while getting groomed.
Contact: 44429986
Timing: 11 am - 8 pm
Google Maps
Beauty salons for both men and women 


1. Jean Louis David
Jean Louis David opened his first salon in Paris dating back to the 1960s. His innovative approaches and enthusiasm for women's grooming methods were the key success factors. Now, over a thousand Jean Louis David salons can be found all over the world. They have recently achieved the Spa and Wellness Winner for Ohlala Qatar Magazine as the 'Favorite Beauty Salon'. Each customer is attended to personally by a stylist and is given special one-on-one consultation regarding all the services that they might need. They provide all sorts of hair services starting with volume treatment, keratin, styling, dying, and more, along with nails, lashes & massage for both men and women.
Contact: 50477430
Timing: Sun-Sat 9 am to 9 pm
Google Maps
   
2. Diplomatic Club
Diplomatic Club's beachfront hairstylists are the best in town. They provide basic hair care and aesthetic services to both men and women in separate locations. They treat men's faces by softly lathering them, neatly shaving them, and gently moisturizing and massaging them. Book your appointment today or spontaneously walk in and pick a style for your look!
Contact: 44847444, 44847407
Timing: Sun-Sat 9 am to 8 pm
Google Maps
Schedule an appointment with the stylist and get yourself a celebrity look!