beIN SPORTS Joins Hands With Qatar Charity To Support Emergency Relief Efforts in Morocco and Libya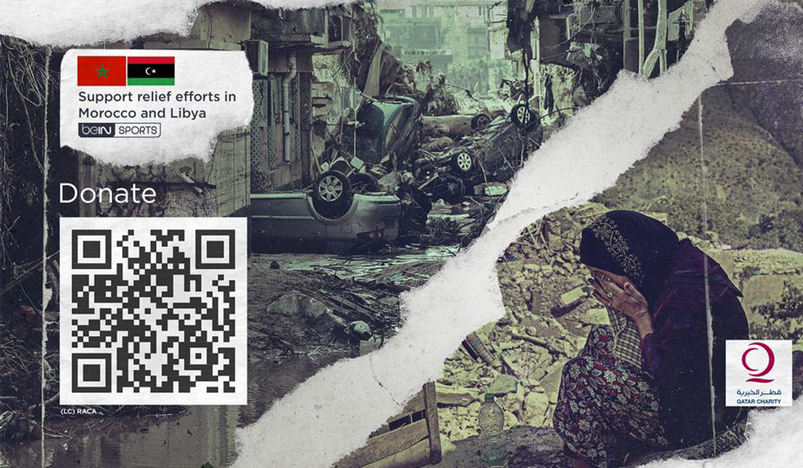 beIN SPORTS Joins Hands With QC
beIN SPORTS, the leading sports broadcaster in the Middle East and North Africa (MENA), will use the power and reach of all its platforms – TV and digital channels – to appeal to its millions of viewers and followers to support emergency relief efforts in Morocco and Libya, both countries tragically affected by destructive natural disasters. 
In partnership with Qatar Charity, beIN SPORTS will launch a week-long donation drive, from its MENA headquarters in Doha, starting on Tuesday 19 September. A QR code will be displayed across beIN SPORTS' Arabic and English channels that will automatically direct donors to beIN's campaign page on Qatar Charity's website. The campaign will also be supported by more than thirty of beIN SPORTS' star presenters, commentators, and analysts, plus football players from Europe's top leagues. 
In Morocco, where a powerful 6.8 magnitude earthquake hit the country that took the lives of over 2,900 people and injured more than 5,000, the Moroccan government has accepted aid from countries that have operations on the ground, including Qatar. Qatar Charity opened its office in Morocco in March 2022 and was amongst the first field teams to provide urgent relief aid to earthquake victims. 
Floods have wreaked havoc in Libya's Derna as the death toll crosses 11,000 and a further 10,000 people are reported missing. All funds raised through beIN SPORTS and Qatar Charity's initiative will go towards humanitarian and medical aid. 
"Our thoughts and prayers are with the beloved people of Morocco and Libya. Both tragedies hit close to home as many of our staff, their families and viewers were affected. In times like these, it is our moral duty to stand together and extend our support to those suffering. Our partnership with Qatar Charity aligns with beIN's core values and underscores our belief in making a positive impact on the world beyond our daily operations," said Mohammad Abdulaziz Al-Subaie, CEO of beIN – MENA.
"Qatar Charity stands in solidarity with our Moroccan and Libyan brothers and sisters in line with our humanitarian and fraternal duty, and in accordance with Islamic teachings," said Ahmad Yousef Fakhroo, CEO's assistant for the Resources Development and Media Sector at Qatar Charity. He added: "We have launched two humanitarian campaigns, in collaboration with numerous private and governmental organizations and media outlets, to support the citizens in both countries who have been tragically affected by these natural disasters. We are proud to be collaborating with beIN SPORTS, who have significant reach in the MENA region."
To support beIN SPORTS and Qatar Charity's relief efforts, please click here to donate.