Beautification and development works at A-Ring road completed: Ashghal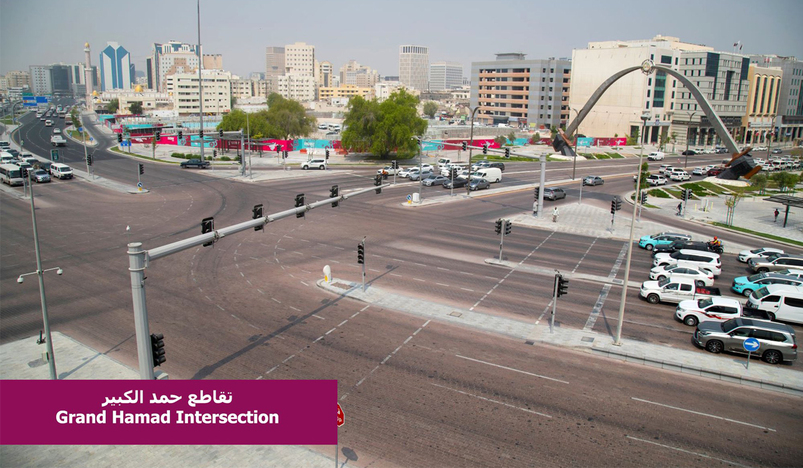 A-Ring Road
The Supervisory Committee of Beautification of Roads and Public Places in Qatar announced the completion of works of the beautification and development works of A-Ring Road, aiming to facilitate traffic flow and reduce traffic congestion in Central Doha.
The works of the project includes the development of 9 intersections from the road's extension, in addition to planting trees, increasing parking bays, developing some perpendicular streets to A-Ring Road and the service roads on both sides of the road.
Furthermore, the works also enhance traffic safety on the road through implementing pedestrian and cycling paths and installing new lighting systems.
Moreover, the project includes upgrading the rainwater drainage, potable water, and irrigation networks. The development facilitates the transition between A-Ring Road and B-Ring Road, increase the number of lanes in the road from 2 lanes to 4 lanes in each direction.
Eng. Mohamed Arqoub Al-Khaldi, Chairman of the Supervisory Committee of Beautification of Roads & Public Places in Qatar stated "the development of A-Ring Road is in line with the urbanization and developments occurring in all fields in Qatar, as the committee seeks to constantly implement and develop projects that aim to achieve the goals of Qatar National Vision 2030, and contribute in providing a better life for the population, to become a true legacy for future generations." 
He added "the development and beautification works implemented by the committee in A-Ring Road reflects positively on the cultural and aesthetic image of Doha. It is considered one of the committee's visions to create a sustainable, healthy, and safe environment throughout the country, and to enhance its overall appearance. After the completion of the development and beautification works, A-Ring Road will provide many facilities that serve people and transform their journey into an enjoyable and safe one." 
Main works for A-Ring Road project 
The length of the road is 6.7 km, and the aim of its development is to facilitate traffic flow and reduce congestion in Central Doha through developing 9 intersections in 5 phases. The first phase includes developing Al Riffa intersection and converting Dar Al-Kutub roundabout to a signal-controlled intersection, where the second phase includes developing both Grand Hamad Intersection and the AKA Al-Asmakh Intersection. The third phase includes developing Nasser Bin Khaled Intersectin and Al Kahraba Intersection. Whereas the fourth phase includes developing the AKA Ain Al Qood Intersection. Finally, the fifth phase includes developing Al Diwan intersection and Musherib Intersection. 
The main works implemented included cultivating green areas on an area of 26 thousand square meters, planting 855 trees, implementing cycling paths with a length of 3.1 km. This also includes a pedestrian path with a length of 13.4 km, as these paths are characterized with high-quality granite paving materials to match the design of Central Doha, in addition to providing 194 parking bays along the extension of the road. 
In addition, it includes installing storm water drainage network with a length of 23.5 km, a drainage network with a length of 2.8 km, potable water network with a length of 6.4 km, treated wastewater network with a length of 7.1 km. 
A-Ring Road connects metro stations located along the extension of the road starting from Qatar National Museum station, passing through Msheireb metro station, to Al Bidda Park station, aiming to promote the transition between vital destinations and the rest of the areas in the city. 
A-Ring Road is characterized as being a vital route that links various commercial, residential, and service facilities and various tourist destinations such as National Museum of Qatar, Museum of Islamic Art, Souq Waqif, Al Bidda Park, as well as development projects in Al Doha such as Msheireb Downtown Doha.
Supervisory Committee of Beautification of Roads and Public Places in Qatar 
The Committee works in coordination with several ministries and entities in Qatar such as the Ministry of Municipality, Ministry of Environment and Climate Change, Ministry of Transport, Ministry of Culture, Qatar Museums Authority, Qatar Railway Company, Private Engineering Office and others. It aims to humanize cities with its vision to create a balance between people and the environment as well as changing the car-dominated culture into a pedestrian and cyclist friendly culture.  The Committee's main responsibility is to provide public services and spaces that promote a healthier lifestyle, aiming to achieve a joint vision with other common stakeholders. 
To achieve our common goal, the committee works hand in hand with them to increase the amount of green areas in cities and residential neighborhoods, provide safe lanes for pedestrians and cyclists, and develop outdoor leisure destinations such as plazas and public parks and beaches. This is in addition to developing Central Doha and the Corniche. Furthermore, we work on developing the public realm by adding street furniture, bicycle parking spaces, decorative street lighting, and displaying artworks and sculptures to enhance outdoor spaces.