'Banana Island Festival with Beyonce' is fake news – Banana Island Resort confirms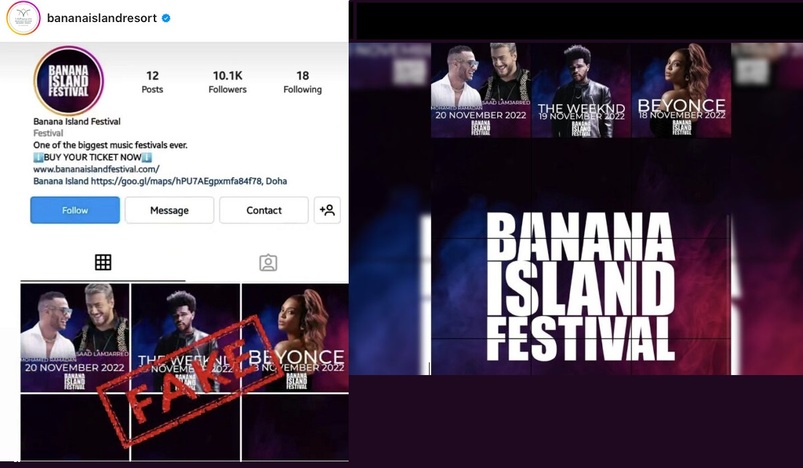 Beyonce and other big stars concert in Banana Island is 'fake news'
News about the alleged music festival on Banana Island Resort Doha, which recently emerged online has been confirmed as fake.
"We are not selling tickets for any supposed festival. Please do not buy tickets from them and please help us to report them. Anybody can report using his or her own account. Thank you," Banana Island said on an Instagram post on June 22, 2022.
The website was promoting the festival on social media, promising to feature a concert of global American superstar Beyonce as a headlining act, alongside Canadian singer The Weeknd, Egypt's "Number one" Mohamed Ramadan, and Moroccan artist Saad Lamjarred. It also listed major global companies as sponsors of the event, including Qatar Airways, state-owned petroleum company QatarEnergy, Pepsi and McDonalds.
Some of the icons for the concerts direct the readers to the website's home page. It also claims that it is selling 15,000 tickets of each artist's concert, which will allegedly take place between November 18-20 of this year.
The platform has announced that tickets were available for purchase allowing for only a crypto currency payments for the tickets using Coinbase, an American cryptocurrency exchange platform. This is despite Qatar Central Bank's (QCB) warning against dealing with any unlicensed financial institution or service provider. QCB released the statement recently, after the launch of CoinMENA, the first regional digital asset exchange, in Qatar.
However, Banana Island Resort has confirmed that no such event is set to happen and it has no affiliation with the festival. It has also encouraged the public to refrain from any ticket purchases.
Spreading fake news in Qatar could lead anyone to a prison sentence. The Ministry of Interior (MoI) had earlier warned against circulating rumours which is a "serious offence that can expose one to legal accountability." It has urged people to get the information from original sources and to stay away from rumours and anonymous stories.