Ashghal Paves the Way to Lusail Stadium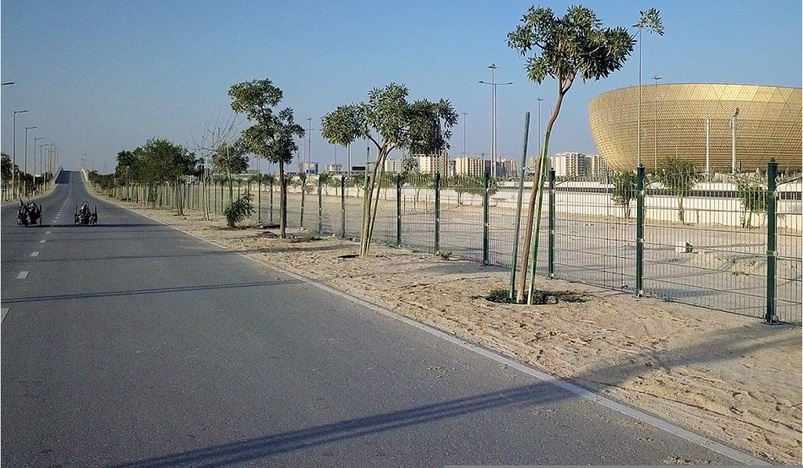 Lusail Stadium
The Public Works Authority 'Ashghal' announces the readiness of roads leading to Lusail Stadium to welcome fans of Lusail Super Cup and FIFA World Cup Qatar 2022 Finale. Lusail Stadium, with the largest capacity among all FIFA World Cup stadiums, is hosting Lusail Super Cup match on Friday, September 9, 2022.
The journey to Lusail Stadium begins through the unique Al Khor expressway, and from the South where the gate of Lusail expressway is decorated with iconic 5/6 arches. For those coming from Doha South and other areas of Doha, Al Majd road is considered the ideal strategic road to connect Lusail Stadium with more than 30 residential areas.
Ashghal's role went beyond constructing roads that connect areas together, as the scope of work extended to the construction of an advanced network of pedestrian and cycling paths, in an effort to create a healthy lifestyle and to connect nearby residential areas to the stadium and the most important leisure attractions and facilities., the most vital of which is the Olympic track that extends for 33km along Al Khor road. With the opening of 5/6 Park on Lusail road, the public has a place to enjoy their time near Katara, the Pearl, and Lusail.
Al Khor Expressway
Al Khor Expressway is a direct way to Lusail Stadium with its car parking area in both directions. The expressway is 33km long and contains 10 interchanges. It is considered a vital connection point to link Northern and Eastern areas with Doha city, in addition to around 20 residential areas such as Simaisma, Umm Qarn, Tinbak, Wadi Al Banat, Rawdat Al Hamama, Lusail, the Pearl, Legtaifiya, Al Tarfa, and others. It also facilitates access to Mesaieed and Dukhan through its interchange with Al Majd Road.
Al Khor Road provides traffic capacity of 2000 vehicles per hour in both directions, thus improving traffic movement and reducing travel time to reach the stadium, while providing a path to the metro in its median island.
With the urban development witnessed by Lusail City during the past few years, Al Khor Road has succeeded in becoming a development axis in the North-Eastern area of the country, along the East coast from Doha up to Al Khor and Ras Laffan.
The road also connects Lusail Stadium and Al Bayt Stadium, and facilitates access to Al Rayyan Stadium and Education City Stadium through its connection with Al Majd Road, facilitating movement of fans between stadiums during the World Cup, as well as providing free traffic flow for those coming to and from various recreational areas such as Lusail Boulevard, 6/5 Park, Katara, Simaisma beach, Al Farkiya beach, amongst others.
Al Majd Road
Al Majd Road is distinguished as a highway consisting of 7 lanes in each direction, between Mesaieed, Al Khor and Lusail. The 130km long road has the capacity to accommodate more than 14,000 vehicles per hour. The road includes 18 interchanges to provide traffic flow between Southern and Northern Qatar without passing inside Doha city, which reduces the travel time to more than 50%. 
Al Majd Road serves many areas, first of which is Mesaieed, Al Wakrah and Al Wukair, as well as Southern Doha areas including Ain Khalid, Um Al Seneem, al Waab, Al Aziziya, Al Murra, Abu Nakhla, Mekaines, Muaither, Al Sailiya and Al Mirad. 
The Road offers a direct link to several stadiums such as Al Bayt, Lusail, Al Janoub, Al Thumama and 974. It enhances traffic flow from and to vital locations such as Hamad Port, Hamad International Airport, Industrial Area and Logistics Zones. Moreover, it facilitates access to commercial centers and malls such as Mall of Qatar and the Central Market, in addition to touristic areas such as the Pearl and Katara, and entertainment facilities like Al Rufaa Celebration Complex, Al Daayen and many beaches like Sealine, Al Wakra, Al Khor, Semaisma beaches among others. 
Lusail Expressway
Lusail Expressway is located in a vital area that links Doha to Lusail City and includes various public destinations such as the Pearl, Katara and Diplomatic Zone, in addition to a large number of residential neighborhoods, hotels and commercial centres. The 10 km road with its 4 lanes in each direction and a number of state-of-the-art tunnels and bridges, effectively contributes to improving traffic flow and provides easy access to various destinations.   
The road is characterized by having separate lanes for pedestrians and bicycles, which are more than 8km long each. One of the most important architectural icon in Qatar '5/6 arches' is located in the Lusail Road.
Al Shamal Road
Ashghal has developed Al Shamal Road, expanded its lanes and constructed many intersections to facilitate traffic flow and provide a direct connection to various areas. Furthermore, Ashghal constructed service roads along Al Shamal road that are 200km long, in addition to two new intersections in Izghawa and Umm Slal. Development and expansion works have been implemented for 3 interchanges such as Al Huwaila, Al Kheesa, Al Kharaitiyat and Izghawa, and others.   
Roads surrounding Al Khor Expressway
The project includes the development of seven separate roads with a total length of approximately 26 km. The roads provide three lanes in each direction and six interchanges. The capacity of these roads increased after their developmental works to provide a free traffic flow in all directions. The seven roads are located in Wadi Al Banat, Rawdat Al Hamama, Tanbek and Umm Qarn. This is in addition to the development of three roads in Al Daayen area. The project included the construction of a 29 km pedestrian path and 10 km shared pedestrian and cycling paths.
Pedestrian and Cycling Paths surrounding the Stadium
Ashghal and the Supervising Committee of Beautification of Roads and Public Places in Qatar, in cooperation with the relevant entities, led by the Ministry of Municipality, made a great effort to increase the green areas as part of the beautification works, in addition to shading pedestrian and cycling paths and sitting areas. These paths are connected to all World Cup stadiums, fan areas, commercial areas, fan accommodations and parks, as well as bus and metro stations, and Park and Ride locations.
To enhance seamless commute and transportation for the visitors and fans, the roads implemented by Ashghal to serve Lusail Stadium are featured with an advanced network of connected lanes for pedestrians and cycling through which one can reach Lusail Stadium and the vital places surrounding it. This shall encourage individuals to follow healthier commute modes and create a different commute experience on the way to Lusail Stadium. 
Those lanes are connected to Al Khor and Lusail roads, and from there to Lusail Stadium. They contribute to connection with the Metro Stations of Lusail, Katara, Legtaifiya, Qatar University and Al Qassar. They also connect with Doha Golf Club, Duhail Sports Club, Qatar University, Doha Festival City, and the Cultural Village- Katara.
The Olympic Cycling Track 
The Olympic Cycling Track is 33 km long and 7 m wide, enabling it to host many world sports competitions. It was designed to allow a 50 km speed, specifically due to providing 29 no-stopping tunnels and five bridges. It is also worth mentioning that Ashghal has provided five car parking along the racetrack near Qatar University, Lusail Metro Stations, Lusail International Racetrack, Semaisma Intersection and Al Bayt Stadium to encourage practicing cycling any time and from any place. 
To facilitate the usage of the lanes, 80 bike parking racks, 100 seats and 20 lounges were provided along the track.
Multiple Lanes
The Supervisory Committee of Beautification of Roads and Public Places in Qatar implemented plantation and irrigation works and built safe and connected pedestrian and cycling lanes. It also provided the necessary street furniture for resting (benches - bike parking spots) in several streets in Lusail Stadium's surrounding area, main ones being:
- Arab League Street of 6.4 km
- Arab League Street, phase 2 of 9.5 km
- Al Tarfa Street of 5.5 km
- Al Buhaira Street of 6.2 km
- Legtaifiya Street of 4.4 km
- University Street (Legtaifiya to Al Buhaira) of 1.5 km
- Al Ebb Street of 3 km
5/6 Park 
The Park includes open areas with landscaping covering about 107,000 m2 of the park, including about 11,800 m2 of bushes and a landscaped fence in addition to almost 1,500 trees.
The park includes several facilities qualifying it to be an attraction point for visitors and tourists, as it includes family shaded sitting areas, kids' playing areas that are suitable for different age groups, areas for celebrations and art exhibition.
The park also includes areas for exercising, pedestrian lanes of 1.3 km, running lanes of 1.3 km, cycling lanes of 880 m and bike parking racks. Internal pedestrian lanes were implemented using materials that brings a natural Saharan character reflecting Qatar's domestic environment. 
The park also includes several service buildings and kiosks that contain restaurants, coffee shops, restrooms, prayer rooms and many others. The park is provided with park furnishings and light poles to enable its visitors to enjoy the park at night. 
Bus Depots
Ashghal completed the total works of the bus depots in Lusail which is among the State's plan to develop the transportation sector. The Lusail bus depots provide parking spots for almost 474 buses that serve the FIFA World Cup 2022 matches and about 21 express buses that serve fans commuting between Al Khor and Lusail.
It is worth noting that Lusail Stadium is located 15 km North of Doha and hosts several matches during the FIFA World Cup 2022 competitions starting with the match of Argentina and Saudi Arabia on 22 November and ending with the World Cup final match on the 18th of December in line with the celebrations of Qatar's National Day.