Ashghal Opens Al Waab Street to Traffic After Completing 5.5 km of Reconstruction Work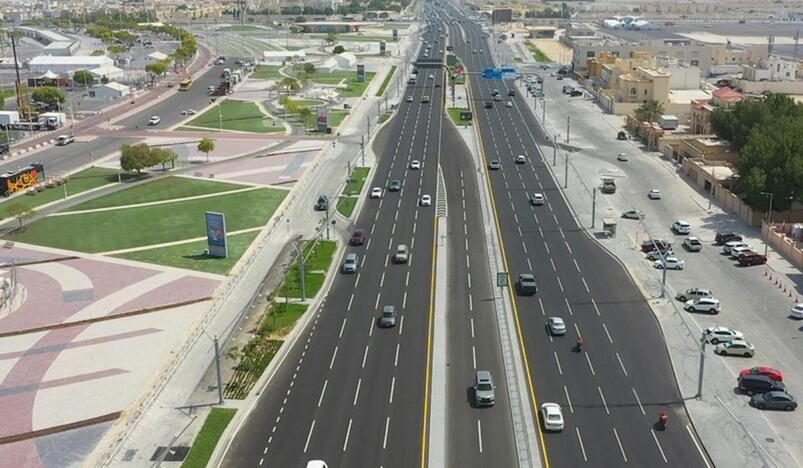 Ashghal Opens Al Waab Street to Traffic
The Public Works Authority 'Ashghal' announces the opening of Al Waab Street completely to traffic after completing 5.5 km of developmental works to facilitate traffic movement for residents of Al Waab, Al Aziziya, Mehairja, Baaya, Luaib, Muraikh and Muaither.
With the completion of the upgrading works, Al Waab Street will be a vital link for road users coming from Doha Expressway, Sabah Al Ahmad Corridor, Al Furousiya and Al Sailiya Street, providing an alternative route for the paralleling Salwa Road.
Ashghal improved the previous road from 3 lanes into 4 lanes in each direction linking Sabah Al Ahmad Corridor to Al Furousiya Street, while developing parts of the surrounding local roads. Four junctions have also been developed, namely Mehairja intersection, Khalifa Olympic City Intersection, Sports Hall Intersection and Baaya Intersection. As a result, it increases the road capacity from 12,000 vehicles per hour to 16,000 vehicles per hour, providing Al Waab Road users with accesses to the residential areas and facilitating the access to the shopping malls, sport and recreational facilities in the area.
In addition, the project provides 3 km of cycling paths and 15 km of pedestrian paths, extending across most parts of the road. Additionally, about 102,000 m2 of green areas have been planted.
In addition, infrastructure services have been developed as part of the project, such as 15,000 meters of rainwater drainage network, 2,600 meters of potable water network pipes and 12 km of electricity networks. In addition to 440 lighting poles, 81,000 tons of asphalt, 185,000 m3 of excavation materials extracted and 295,000 m2 of paving materials used.
Sports and vital facilities
Al Waab Street is located in a densely populated area with a vital commercial activity, since it has many malls, commercial shops, recreational facilities, government institutions, sport facilities such as Aspire Zone and Khalifa International Stadium, which will host several World Cup matches in 2022.
Eng. Yousef Abdul Rahman Al Emadi, Director of Projects Affairs, confirmed that all infrastructure projects are expected to continue after the FIFA World Cup, in accordance with the Qatar National Vision 2030, specifically the projects in residential areas and citizens' land plots. He pointed out that Ashghal is exceptionally keen on implementing various infrastructure projects in conjunction with the government's plans.
Eng. Bader Darwish, Highway Projects Department Manager, stated that due to its vital location, which links many densely populated areas, streets and vital facilities, Ashghal has developed Al Waab Street to raise its efficiency. The development projects will achieve traffic flow, reduce traffic congestion in the surrounding streets and shorten the journey time between Al Rayyan, Muaither, Al Aziziya, Baaya, Luaib, Mehairja, and Al Sadd.
Eng. Saad Al Dosari, Project Engineer, confirmed that Al Waab Street has been redesigned to make use of the spaces on both sides of the road to implement the required expansion works and increase exits and entrances to the street for the surrounding areas, residential and commercial facilities. In addition to improving service roads and expanding intersections to achieve great traffic flow, which will shorten the journey time.
He added: Around 75% of the materials used to develop Al Waab Street are locally manufactured. The project took about 2,128,591 working man hours.
It is worth noting that Ashghal has developed and implemented many vital roads in recent years, particularly Salwa Road, Al Rayyan Road, Sabah Al Ahmad Corridor, Al Waab Street, Al Furousiya Street, Al Khufous Street, and others. Consequently, these projects improved traffic flow in West Doha and provided more options for road users.